10 Things We Love About Crab Derby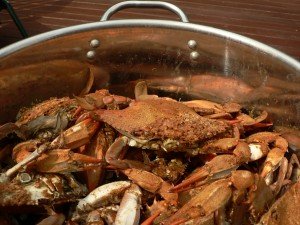 Labor Day weekend is kind of bittersweet for us.  In some ways, it signifies the end of summer, and even though we often have many more days of great weather ahead, we start to feel the pressure to get all the summer fun in that we can.  For a native Crisfielder, Labor Day weekend means National Hard Crab Derby.  If you've not experienced Crab Derby, you should definitely put it on your to-do list, as it's an Eastern Shore classic.  Here are the top 10 things we love about Crab Derby.
The Small Town Festival Vibe
Crisfield is typically a quiet town so when Crab Derby weekend comes around, everyone gets excited.  Crab Derby's main location is the Somers Cove Marina (that's where you'll find vendors, food, carnival rides, races, etc), but we love how Crab Derby is really a city wide celebration. While Crab Derby is Crisfield's most populated weekend, it is by no means crowded, and the small town feel is always present.
Affordable
Family fun needs to be affordable, especially during back to school season, and Crisfield has kept that in mind.  Fairground admission at the Somers Cove Marina is free on Friday and Sunday.  On Saturday, admission is only $3 per person, but all of the Crab Bowl events that day are free with the exception of the evening Concert.
Parade
In Crisfield, the Saturday morning of Labor Day weekend usually involves getting up early to claim your spot along Main Street with your chair for the parade.  Locals often leave their chair and return closer to the 11:00am start time.  We always look forward to the performances by Somerset County High School bands and the ECI float!  Sit near the judges stand next to Subway to hear the commentary and you'll soon get a feeling of Crisfield's small town atmosphere.
Mike Sterling 10K Race/5K Walk
Avid runners will love this course!  Fast and flat, the course travels through the bayfront city and neighborhoods.  This is a great way to get in your morning workout before binging on crab and funnel cakes at the festival!
The Crab Derby
The crab derby is just what it sounds like… a race of crabs. For a small fee you can buy your own crab to race. Come prepared with a great name in mind for your crustacean champion!  Be sure to get to the Somers Cove Marina soon after the grounds open at 12:00pm to ensure you'll have a little racer of your own. At 2:30pm the first round of crabs are loaded into the ramp. The race to the bottom is surprisingly quick and definitely exciting.  
Crisfield Reunion
Crab Derby is affectionately called the Crisfield Reunion.  Crisfielders that have taken their lives elsewhere often make it a point to come back for Crab Derby, and it's easy to see why.  We love to see new and familiar faces in town!
Crab Cooking Contest and Recipes
Full disclosure: we are total recipe hoarders, and we love anything using Maryland Blue Crabs.  The Crab Cooking Contest during Crab Derby is a great way to get some authentic, Crisfield family recipes, and do a little taste testing!  The contest takes place at Crisfield's First Baptist Church on Somerset Avenue at 9am on Friday and admission is free.  The winning recipe can be found at http://www.nationalhardcrabderby.com/md/crisfield/derby/default/contest/cooking-contest.html
Boat Docking Contest
This is by far one of our favorite Crab Derby events. Sunday from 1pm – 4pm at Somers Cove Marina you can watch some seriously skilled boaters compete to see who can get their boat docked the quickest.  While the event is $17 for admission, you're sure to have an entertaining afternoon filled with excitement.
Crab Picking Contest
Picking crabs is usually an activity we take at a leisurely pace, enjoying the company of those around us.  Not so for these lightning fast competitors!  Watch as some of the fastest crab pickers in Crisfield compete to see who can amass the most crabmeat in the given time.
Fireworks
The official end of Crab Derby and the summer.  At 9pm on Sunday grab a seat along the Somers Cove Marina and enjoy the show.
While we're in Crisfield we're also going to check out Janes Island State Park for some hiking trails and kayaking, get an old fashioned soda (or maybe a chocolate zip!) from Gordon's Confectionery, visit the J. Tawes Historical Museum and stop by the Ward Brothers Workshop (by appointment only).  We're counting down the days and hope you'll join us!
More information on the National Hard Crab Derby can be found at http://www.nationalhardcrabderby.com/.
The post 10 Things We Love About Crab Derby appeared first on ShoreBread.