11 Best Places for Pizza in Ocean City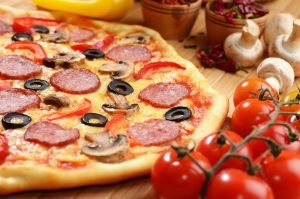 Vacationing in Ocean City usually consists of a night of cracking crab legs or dipping fresh peel-and-eat shrimp in cocktail sauce for dinner, but sometimes you prefer to eat on a budget, and sometimes your kids may want that go-to pizza pie that they know best. The town is filled with countless pizza shops and Italian restaurants, and we have a few of the best for you and your family to enjoy after a long day out in the sun.
If you're looking for something along the boardwalk…
Facing the ocean on the boardwalk at 11th street, Pizza Boy attracts locals and vacationers every summer with affordable prices, outdoor dining, and a satisfying menu. Customers have claimed it to be the "best pizza on the boardwalk" in numerous online reviews.
Open late hours into the night, Tony's Pizza is famous for being the token pizza restaurant on Ocean City's boardwalk with a full bar and roof deck overlooking the beach.
Offering everything from slices of plain cheese to "Marie and Dean's Special" with sweet peppers and mushrooms, Piezano's is open 10am-1am everyday, and until 2am on Saturday nights, on South Atlantic Avenue of the boardwalk.
Across from Ripley's Believe It or Not! on South Atlantic Avenue, Caruso's is great for large crowds or a carryout dinner for the kids.
Locations throughout the town at 70th street, 41st street, 3rd street and South Division Street, Dough Roller is famous for pizza and pancakes. Most know the name for its breakfast reputation, but the pizza is a close runner-up.
Away from the boardwalk…
A local favorite on 94th street of Coastal Highway, Lombardi's is open 11am-10pm daily and serves pizzas with homemade dough, steering clear of preservatives. Their specialty pies topped with anything from freshly made lean ground beef to virginia baked ham continue to draw in the crowds each season.
Delivering to the entire town of Ocean City, Pino's is located on 81st street. Create your own 16", 20", or 28" (feeds 10!) and add your choice of toppings. Don't forget to add your side order of boneless wings or pineapple and bacon cheesy breadsticks.
On 128th street, you will find fresh, homemade pizza in–surprise!–the shape of a square. As a newer business in town, Squarz received positive feedback and reviews for its first summer, and has added customers' favorites to the happy hour menu upon requests.
For a sit-down dinner in a more sophisticated environment, visit Touch of Italy at the Holiday Inn on 67th street. Cooking their homemade dough in an 800 degree wood-fired oven, they have a variety of freshly made, handcrafted pies. Their 'il migliore' otherwise known as 'the best' has smoked mozzarella, broccoli rabe, Italian sausage (hot or sweet), garlic, grated Italian cheese, and evoo.
Featuring a sports bar, take-out area, gelato station, and even a special section for locals-only, locations can be found on the northern end of town on 125th street as well as 14th street of the boardwalk. If you like your sauce on the heavier side, and a little Italian dessert afterwards, Grotto's is where to go.
Since 1962, Ponzetti's has been a token pizza place in Ocean City on 144th street. With a sports bar and flat screen TVs covering the walls, Ponzetti's offers specialty Hawaiian, BBQ and Taco pizzas for affordable prices. They even have 'Take and Bake' pizza pies that you can throw in the freezer to bake later.
If you're looking for something more on the seafood-side, but want to stick with pizza, check out  Bj's on the Water's Pizzette Crab Imperial, an individual garlic and cheese white pizza topped off with crab imperial. Want a fresh baked pizza topped with steamed shrimp? Try the Margherita Pizza at Mione's Pizza & Italian Restaurant.
The post 11 Best Places for Pizza in Ocean City appeared first on ShoreBread.