18th Annual Berlin, MD Spring Celebration Happening This Weekend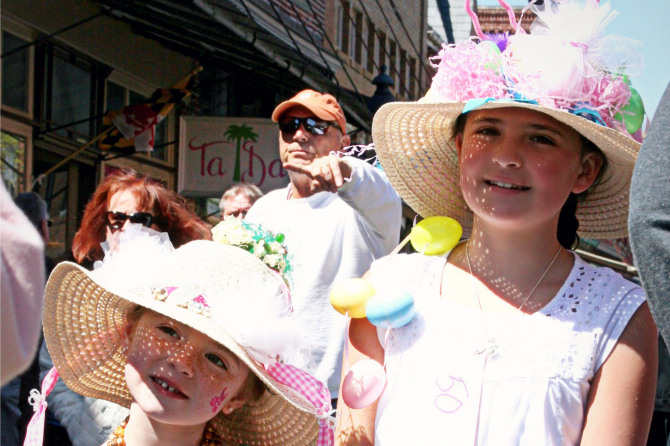 Berlin, MD, chosen as the location for several major motion pictures over the years, is about to thrown a celebration filled with all the charm and whimsy that can only be found in historic small towns. Where else could your child participate, for instance, in a Grand Finale Easter Bonnet and Mad Hatter Parade right through the heart of the town?
This Saturday, little girls and mini-mad hatters will parade down Main Street, wearing Easter bonnets and mad hats of all shapes and sizes. The handmade pieces will feature everything from "found" objects from nature, to children's own creative, artistic touches, to recycled goods, and traditional ruffles and bows. Winners will be chosen in each of four categories this year: Mad Hatter Overall, Easter Bonnet Overall, Go-Green Recycled Bonnet or Hat, and Adult Overall. That's right, adults may enter too! Judging takes place just after the parade in front of the grandstand.
The Grand Finale Easter Bonnet and Mad Hatter Parade is just one of the many stand-out events taking place all over Berlin, MD Saturday, March 30, 2013. For the 18th consecutive year, locals and visitors will take to the streets for a day of family-friendly activities welcoming in the arrival of spring (and hopefully warmer weather). The day kicks off with a pancake breakfast with the Easter Bunny as the guest of honor at Rayne's Reef. Three seatings are available—8:30am, 9:30am., and 10:00am; children are $6, adults are $8, and reservations are required; call 410.641.4775.
This year the popular Easter Egg Hunt formerly held on the lawn at the Taylor House Museum, will take place instead at Stephen Decatur Park at 11:00am. Children ages 2 -10 are invited to participate in this free egg hunt. Also keeping in mind the egg-theme, is the egg drop contest. Visit the Berlin Chamber website for official rules.
To further the children's delight, Jolly Roger Amusements brings many of their favorite rides into town, (located in the municipal lot across from Cupcakes in Bloom). Expect to find face painting, pony rides through town, and many more kid-friendly activities.
The 18th Annual Spring Celebration is a community and family-oriented event appropriate for all ages. Beginning Saturday March 30th with the Easter Bunny Pancake Breakfast, and commencing around 4 p.m. Sponsored in part by Barrett Chevrolet, the Berlin Coffee House, and St. Paul's Episcopal Church Mouse Thrift Shop. Additional information and registration for the Easter Bonnet and Mad Hatter Parade can be found at the Berlin, MD Chamber of Commerce website.
Photos by Ami Reist.