2017 Lewes Tulip Celebration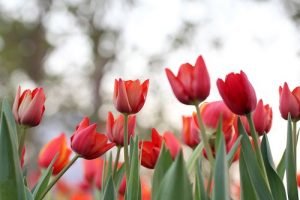 We all know the saying "April showers bring May flowers," but in this case, the committee has expanded the 2017 Lewes Tulip Celebration in hopes to actually see tulips bloom during the week-long celebration. This year, the number of tulips that will be planted increased to 19,500 from 15,000 in 2016!
The 8th Annual Tulip Celebration will take place April 6 through the 15th with special events April 6-8. The Lewes Tulip Celebration is a partnership with Lewes in Bloom, The Lewes Historical Society, Lewes Parks & Recreation Commision, the Zwaanendael Museum, the Historic Lewes Farmers Market with new participants this year, the Lewes Chamber restaurant members who are participating in the inaugural and new event "Lewes TWO-Lips Culinary week."
The Lewes TWO-Lips Culinary Week is a newly added event for the 2017 Tulip Celebration in collaboration with the Lewes Chamber of Commerce and its members in the food and restaurant areas chaired by chamber board member Rich Garrahan, owner of Crooked Hammock Brewery. It is the first time ever that the board members have organized a Culinary week so make sure you build up an appetite for this special event! This is not your typical restaurant week, each participating restaurant will provide a specialty menu offering that will be available April 6 through April 13. Patrons who order this item will be entered into a raffle to win a one night stay in Lewes with gift certificates and merchandise donated from the participating restaurants.
A photography contest will also be held at the Tulip Celebration with judging in six categories: Lewes Architecture, Lewes Landscape, Quintessential Lewes, Tulips, Lewes Food, and newly added category, Lewes in Black and White. Get your cameras ready because professional photographers and chamber members will be judging your work! Monetary awards will be decided for first, second, and third place in each of the six categories.
Not only is there a Culinary Week and Photography Contest, but the week long event has plenty of other fun-filled activities in store for attendees such as a, tiptoe to the tulips trolley tour, tiptoe to the tulips map, quilt and art exhibits and so much more! Owner of Floral Inspirations, Ken Norman, will also make an appearance in Zwaanendael Park where he will provide a walk-through tutorial on how to arrange tulips with simple and creative tips and ideas, perfect for Easter weekend!
So stop and smell the flowers and join Lewes in their 8th Annual Tulip Celebration to kick off the spring season. For more information on this event visit www.leweschamber.com or For more detailed information, contact the Lewes Chamber of Commerce at (302)645-8073.     
The post 2017 Lewes Tulip Celebration appeared first on ShoreBread.