8th Annual St. Michaels Sea Glass Festival Expands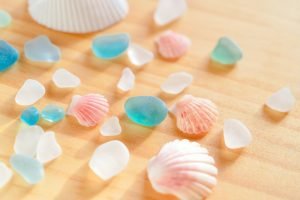 The 8th annual Eastern Shore Sea Glass and Coastal Arts Festival in St. Michaels, Md. will now have a larger, waterfront location at the Chesapeake Bay Maritime Museum (CBMM). The Sea Glass Festival will be at CBMM on Saturday, April 6 from 10–5 pm. and Sunday, April 7 from 10-4 pm. The new venue also expands the festival activities. It will now include scenic river cruises, live music, food, and libations.
Festival Expansion
"The festival has grown every year over the past seven years, and simply outgrew its previous location," said Eastern Shore Sea Glass and Coastal Arts Festival Founder and Organizer Kim Hannon. "I'm so excited about co-hosting the event with the Chesapeake Bay Maritime Museum this year. CBMM's 18-acre waterfront campus will offer plenty of room and amazing views and exhibits, in addition to what the festival offers."
"We're delighted to host the Sea Glass Festival at CBMM," commented CBMM President Kristen Greenaway. "Our numerous indoor and outdoor spaces lend themselves very well to festivals, and we have confidence that this year's Sea Glass Festival attendees will be excited with the changes. The festival also helps introduce a potentially new visitor to CBMM's mission and vision."
The Sea Glass Festival will feature more than 70 artisans. Many will be from the local Delmarva area, and others travelling from as far away as New England. Artisans will exhibit and sell coastal and sea-glass related jewelry, home décor, art, and more. The festival also includes educational lectures about sea glass and its history along the shores of the Chesapeake Bay. Miles River cruises aboard CBMM's 1920 buyboat Winnie Estelle will be offered throughout the two-days.
Sea Glass Center Opening Reception
The Sea Glass Center will host an opening reception and preview of its sea glass exhibit at CBMM's Van Lennep Auditorium on Friday, April 5 from 6-8:00 pm. Based in Maine, The Sea Glass Center is a non-profit organization preserving and presenting the historical, artistic, and cultural significance of sea glass through education. The exhibit features Chesapeake Bay sea glass and other beach-found items, and will be on display during the festival and at CBMM through June 29.
The two-day festival ticket includes entrance to the Eastern Shore Sea Glass and Coastal Arts Festival, educational lectures and documentaries, live music, all of the exhibitions and historic structures on the campus of the Chesapeake Bay Maritime Museum and is set at $15 for adults; $12 for seniors and retired military; $6 for children 6-17; and $5 for CBMM members, member's children 6-17; and active military (ID required). Advanced admission tickets can be purchased online at cbmm.org/seaglassfestival, with tickets also sold at CBMM the day of the event. Vendor information and more about the festival is also at seaglassfestival.com.
Boat rides, food and beverages will be available for purchase, including beer, wine, and cocktails. Additional free event parking will be available at St. Michaels High School, with a complimentary shuttle service to and from CBMM running throughout the day.
For safety reasons, CBMM festivals do not allow non-service dogs. No carry-on alcohol from dock or land allowed.
Chesapeake Bay Maritime Museum
The Chesapeake Bay Maritime Museum is a non-profit educational organization. The museum works to preserve and explore the history, environment, and culture of the entire Chesapeake Bay region. CBMM's fulfills this mission through values of relevancy, authenticity, and stewardship, along with a commitment to providing engaging guest experiences and transformative educational programming, all while serving as a vital community partner. For more information, visit cbmm.org or call 410-745-2916.
The post 8th Annual St. Michaels Sea Glass Festival Expands appeared first on ShoreBread Eastern Shore Lifestyle Magazine.