Abbey Burger Comes To OC, Offering Variety Of Burgers, Craft Beer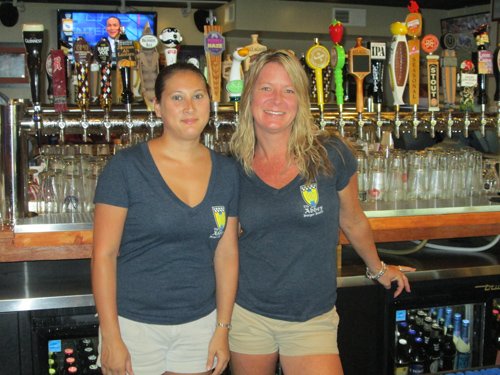 OCEAN CITY — Boasting thousands of burger combinations and more than 100 beers, the Abbey Burger Bistro in Ocean City is a destination for the serious foodie and the casual diner alike.
The original Abbey Burger is located in Baltimore and has developed a reputation as an outside-of-the-box burger joint that specializes in eclectic meats and tons of toppings. The Ocean City Abbey at 12601 Coastal Highway opened in late-June and continues the original bistro's emphasis on great burgers. The new building is much, much larger, however, than the Baltimore location and is looking to develop its own reputation in the resort, said managing partner Brendon Smith.
"There are plenty of places in town where you can go get a burger and there are probably two or three where you can go get 50 toppings on your burger just like here. But we have different kinds of meats," he said. "We have, like, 14 different kinds of meats. We have kangaroo, wild boar, ground turkey, ground chicken, [and] Kobe beef. Our black angus is aged for 14 days. There are steakhouses in town that don't even do that with their steaks."
Besides the exotic list of meats, topping choices range from peanut butter to crab dip to white truffle oil. There are vegetarian options as well, like fried green tomato and roasted portabella mushroom burgers. Carnivores can look forward to more than just burgers, with appetizers like crab mac-n-cheese, Abbey's buffalo wings and "alligator bites," which are exactly what they sound like.
Many of the meats are ground in-house, said Smith, and many of the signature sauces are made at the Abbey as well.
To complement the food, the bistro offers more than 100 varieties of beer, about a quarter of which are on draft. Besides Natural Bohemian (Natty Boh), which is Baltimore's "official beer," all beers on tap at Abbey are craft.
"Everything else is a craft beer. We try to really keep it local," said Smith.
Besides the beer, Abbey is also famous for its spiked ice cream shakes like the Berger Shake with Berger cookies and Godiva liqueur and the Cinnamon Toast Milk Shake with cinnamon whiskey and RumChata.
Abbey puts a lot of effort into being family friendly, said Smith, and all of the shakes are also available non-alcoholic. Likewise, the bistro's atmosphere keeps a good balance between dining and the bar and is big enough to accommodate families as well as the sports crowd, which is a demographic Smith hopes to see more of coming into the fall.
"We're really trying to pull from the sports crowd, which goes well with burgers and beer. In November and December, we have a market to pull from with the festival of lights outside," he said. "We'll have a crowd out there and it'll be our job to get them in here."
The summer has been successful for the Ocean City Abbey Burger and the plan is to stay open for most or all of the off-season.
"We're kind of up in the air between Jan. 2 and March 15 whether we're going to close down or we're just going to do weekends," said Smith. "We're going to play it by ear. If the business is here, we'll stay open."
Smith has a history with the Abbey in Baltimore, working there for four years but commuting from his home in Ocean City every weekend. It's a welcome relief for him to cut down on his work commute drastically with the new Abbey, which he wants to see become as successful as the smaller sister restaurant in Baltimore.
"I've worked at the Abbey for the past four years and I think it's one of the most consistent places I've worked in. And it does definitely have a niche," he said.