Add Power Packed Cranberries To Your Holiday Menu This Year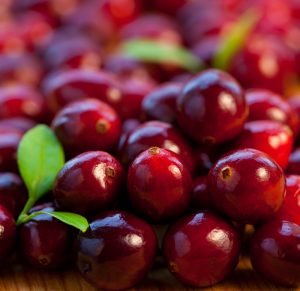 Known as one of our "super foods", cranberries are a staple on dinner tables this time of year usually in the form of a sauce or garnish to our main courses. But did you know that a half cup of cranberries only contains 25 calories? Additionally, the nutrients in cranberries have been linked to the prevention of certain types of cancer, improved immune function and decreased blood pressure! Who knew there was so much power packed in one little berry? More often than not, cranberries are simply too tart to eat as a raw food, so we thought we would explore a few different recipes that hold this special little berry in high regards. Enjoy!
Fresh Cranberry-Apple Relish
1 12-ounce package fresh cranberries
1 granny smith apple, finely chopped
2 scallions, sliced
2 tsp orange zest
1/3 cup orange juice
3 tbsp sugar
salt & pepper
Place cranberries in a food processor; and pulse until chopped, 3 to 4 times. Transfer cranberries to a bowl and add apple, scallions, orange zest and juice, and sugar and stir to combine. Season with salt and pepper. Chill and enjoy!
*Recipe courtesy of Country Living
Baked Brie with Roasted Balsamic Cranberries
1 lb wedge brie cheese
2 cups fresh cranberries
½ cup white sugar
¼ cup balsamic vinegar
pinch kosher salt
a few sprigs of fresh thyme
Preheat oven to 400·
Mix together the sugar and balsamic vinegar; add cranberries and toss to coat. Pour cranberries onto sheet pan and roast for 5 minutes. Stir cranberries and place back into the oven. Place brie in oven at the same time on a separate sheet pan. Heat both for 5 minutes more. Remove from the oven and allow to cool for 2 – 3 minutes, then place brie on a serving tray and top with roasted balsamic cranberries. Garnish with fresh thyme.
*Recipe courtesy of The Wicked Noodle
Acorn Squash with Walnuts & Cranberry
1 acorn squash, cut in half
½ cup walnuts, roughly chopped
½ cup cranberries, fresh or frozen
4 tbsp brown sugar
2 tbsp butter
Preheat oven to 375·
Combine walnuts, cranberries and brown sugar. Toss to combine.
Cut the acorn squash in half. Remove and discard seeds.
Split the mixture between two halves of the squash. Top with 1 tbsp butter each half.
Place in a baking dish, loosely cover with foil and bake in the oven for 1 hour 15 minutes, to 1 hour 30 minutes, or until fork tender.
*Recipe courtesy of Let The Baking Begin
Cranberry Christmas Cake
3 eggs
2 cups sugar
¾ cup butter, softened
1 tsp vanilla
2 cups all-purpose flour
12 oz fresh cranberries
Preheat oven to350·
With a mixer, beat the eggs with the sugar until slightly thickened and light in color, about 5 – 7 minutes. The mixture should almost double in size. The eggs work as your leavening agent in this recipe, so do not skip this step. This mixture should form a ribbon when you lift the beaters out of the bowl. Add the butter and vanilla; mix two more minutes. Stir in the flour until just combined. Add the cranberries and stir to mix throughout.
Spread in a buttered 9×13 pan. Bake for 40-50 minutes, or until very lightly browned and a toothpick inserted near the center of the cake comes out clean. Let cool completely before cutting into slices.
*Recipe courtesy of Barefeet In The Kitchen
The post Add Power Packed Cranberries To Your Holiday Menu This Year appeared first on ShoreBread Eastern Shore Lifestyle Magazine.