An Abundance of Talent at the OC Center for the Arts in August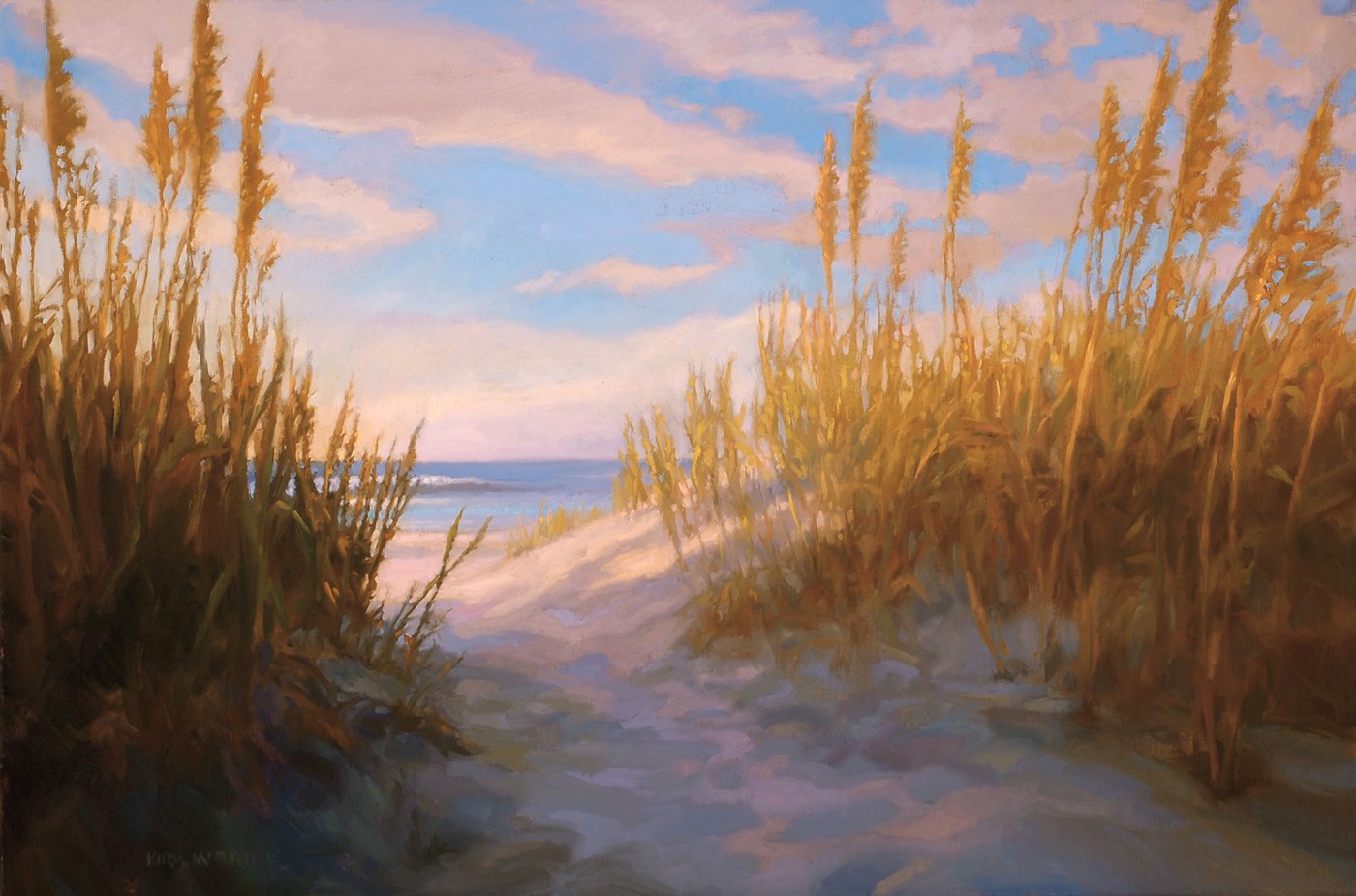 Take a break from the sun and visit the OC Center for the Arts during the month of August.  Some of the finest artists on the Eastern shore will be exhibiting their work throughout the month starting with the opening reception on Friday, August 2 from 5-7 pm.  Featured artists in the gallery will be Kirk McBride, Lynne Lockhart and Ed Challenger.  Artist David Simpson will be the artist in residence for the month of August.  Featured in the galleria will be an Abstract Art Show with 2D painting and drawings by Art League of OC members and local artists with Michael Morris as the judge.
The August reception is being sponsored by Glitter and Gold, one of the fabulous corporate sponsors of the Art League of OC. Representatives from Glitter and Gold will be on hand during the August 2 reception to give out information about their art jewelry and goldsmithing services.  Ann Coates of   Bishops Stock Fine Art, Craft and Wine of Snow Hill, MD will be providing the wine for the reception.  There will be samples of some of the wines that are featured in their new wine gallery.
Michael Morris, also known by the artist name Mijomor, is a native of Delaware and has been an art educator in Maryland since 1975. He's exhibited in galleries across the Eastern Shore including Salisbury University's Atrium Gallery, University of Maryland Eastern Shore's Mosely Gallery, and Delaware State University's Art Center/Gallery. Morris is a complex artist with a dynamic illustrative style, exploring both day-to-day and surreal scenes.
"Everything has a moment when light and shadow create something breathtaking to view." Kirk McBride is constantly looking for those moments to inspire his oil paintings. He travels often and paints a variety of subjects from seascapes to mountains, from city scenes to landscapes, from foreign cafes to interiors of his own home and studio. The light and shadow relationship being the unifying theme that runs throughout his work.
Winning "Best in Show" at the first local art show he entered encouraged Kirk to make painting a lifelong pursuit. He's been at it for over 30 years now, first part-time in watercolors, and since the late '90′s, full-time in oils. Kirk graduated from the University of Maryland in 1974 and has studied with nationally recognized painter, and fellow surf industry veteran, Ken Auster.  Kirk often paints "plein air" (outdoors) and uses those small plein air paintings, along with sketches and snapshots as studies for his larger studio pieces. He has been elected a"Signature" member of the Mid Atlantic Plein Air Painters Association. Kirk has been juried into a number of plein air painting competitions and exhibitions where he has won awards. He has been invited to paint in the Laguna Beach Plein Air Invitational four times, has been juried into Plein Air Easton three times and Paint Annapolis five times. His home and studio are on Maryland's Eastern Shore.
Lynne Lockhart hails from the Eastern Shore of Maryland and was raised on her family's farm in Rhodesdale.   For the past 15 years, Lockhart has lived in Berlin, Maryland, just ten minutes from the Assateague Island National Seashore and herds of wild ponies which are often the subject of her work.
Her educational background includes a degree in biology from Salisbury University in Maryland and advanced study at the Pennsylvania Academy of the Fine Arts in Philadelphia. Her study of anatomy has filled miles of canvas and motivates every aspect of her art.
Painting "en plein aire", Lockhart has participated in many outdoor events. Her landscapes often place human presence in the distance, beyond a natural world. Working from sketches, memory, photographs and life, her commissioned paintings portray horses, dogs, and prized cattle, as well as a myriad of still life in its every form.  This year she was accepted as a signature member of the Society of Animal Artists.  She won the Kimbel Oelke Memorial Award for painting in 2006 from the American Academy of Equine Artists. Lockhart's paintings have been selected to show in the annual "Arts for the Parks" exhibit in Jackson Hole, Wyoming. Adding to her credits, her paintings have been displayed in exhibits at the Governor's Mansion in Annapolis; the Wustum Museum in Racine, Wisconsin; the Ward Museum in Salisbury, Maryland; and the Academy Art Museum in Easton, Maryland.
Artist, Ed Challenger was educated at the Philadelphia Museum School of Art, which is now University of the Arts.  After a career in commercial art as an art director and illustrator, he taught design and illustration at the York Academy of Arts, in York, PA.  He then became a self-employed sculptor, exhibiting all over the east coast, working in steel, bronze and cold cast bronze.  His work has won numerous awards and was exhibited and sold at the Philadelphia Museum of Art Retail Sales Gallery.  Upon retirement, Ed began to paint full time and has been recognized as one of the region's most versatile artists, working in oil, pastel, egg tempera and printmaking.
"I knew at a very early age that I was interested in art.  There was never a question that it would be a big part of my life," says Ed.  "Art, for me, is being into the painting, whether it is representational or abstract.  I feel that a distinct style or genre stifles my creativity, so I go in many directions in my work.  The act of painting or printing and making something is a joy and maybe people looking at my works will experience the joy I felt in creating them."
In 1999, August artist in residence, David Simpson, reconnected with the art world at Salisbury University, where he achieved both a philosophy degree and a fine arts degree in painting. The subjects in the oil paintings he creates traditionally are focused on the human figure, landscapes, and seascapes. Most recently his paintings have focused on the elements of texture, color, and light via seascapes. In the spring of 2012, he graduated with Masters in the Art of Teaching from University of Maryland Eastern Shore.  David is now showing work locally at community art organizations, winning awards, and teaching private lessons. In addition, he recently became a board member for the Worcester County Arts Council where he currently holds the office of Treasurer. As an adjunct professor, David is thoroughly happy to be able to professionally contribute to the promising art community at UMES. Promoting the growth of the arts in our local community is something David Simpson believes in.
Featured in the Members' Spotlight for August will be artist, Stasia Heubeck.  Stasia is an accomplished oil painter and pastelist. She studied at the Schuler School in Baltimore. She teaches oil painting and specializes in portraiture and figurative work.
The Art League of Ocean City, which resides in the OC Center for the Arts on 94th St. bayside, is a non-profit organization dedicated to bringing the visual arts to the community through education, exhibits, scholarship programs and public service projects.  OC Center for the Arts is open daily from 11-4 pm.
For more information, contact the Art League of Ocean City at 410-524-9433 or visit the website at www.artleagueofoceancity.org.