Arts Alive in Berlin This Weekend for "Paint Berlin" Event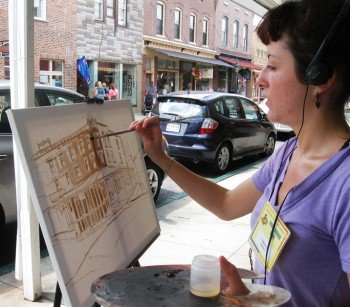 We've known for some time now that Berlin is #mdscoolestsmalltown but it's weekends like this one that solidify that sentiment. For starters, the Annual Berlin Fiddler's Convention is returning Friday and Saturday(stay tuned for our preview later in the week). In addition to a weekend full of bluegrass and pickin' there's also the 4th Annual Plein Air, "Paint Berlin" event to revel in. Presented by the Worcester County Arts Council, the streets of Berlin will be teeming with artists hard at work along the streets of downtown Berlin  from Thursday, September 19 to Saturday, September 21.
The "Paint Berlin" event came to fruition four years ago, when Worcester County Arts curator Anna Mullis began envisioning arts events for downtown Berlin. "I had been brainstorming ideas and we thought that would be a great enhancement to the arts scene in Berlin," explained Mullis this week, adding that with successful Plein Air events in towns like Snow Hill and Ocean City, it only seemed natural to test the artistic waters  in Berlin. "It's a great historic town, Berlin, and we just thought it would be a great event for the artists," Mullis said.
The event has grown leaps and bounds since its inception four years ago. Mullis reported that in the first year, 12 artists registered for the event. That number has tripled this year, with 31 artists registered. Artists include a mix of both local artists and artists from out of state. "That's a big increase since past years so we are very excited about it," said Mullis. Part of the reason for the spike in registration is the bigger payouts available to this years' winners. The grand prize winner will take home $1000. The new event date is also beneficial, said Mullis, explaining that they decided to "Paint Berlin" in September this year rather than in August. This weekend's Fiddler's Convention will also help garner additional attention.
Artists will begin painting at the location of their choice in downtown Berlin on September 19th. Residents and visitors can observe artists at work at their easels through Saturday, when the artists will put down their brushes and await the results. All of the artwork will be on display at the "Wet Paint Sale" at the Atlantic Hotel on Saturday from 6:30pm to 8pm. Accomplished artist Corinne Beardsley will judge the artwork and select the winners for 1st, 2nd, 3rd and honorable awards for monetary prizes. In addition, visitors will have an opportunity to vote for the "People's Choice" award. All of the artwork will be on display and available for purchase. Mullis also hopes to display the artwork at the Worcester Country Arts Gallery for an exhibit.
Children will also be able to join in on the fun this year. "We wanted to involve children so we are offering a free workshop for children ages 8 to 12," said Mullis, explaining that the Worcester County Arts Council's high school volunteers would be working with the younger kids on coloring in a design of the Atlantic Hotel and Rayne's Reef.
"We really received great support for the event this year," Mullis said, emphasizing the generous support for the Town of Berlin, the Community Foundation of the Eastern Shore and event sponsors Brian Garret and Mr. and Mrs. C.R. Jenkins. "Because of their support, we were able to provide bigger awards and a nice display at the Atlantic Hotel," said Mullis.
With the event going strong in its fourth year, Mullis looks forward to the future of the Plein Air event in Berlin. "I am very, very happy this year with the growth," she concluded.