Best Of – Ocean City Restaurant Week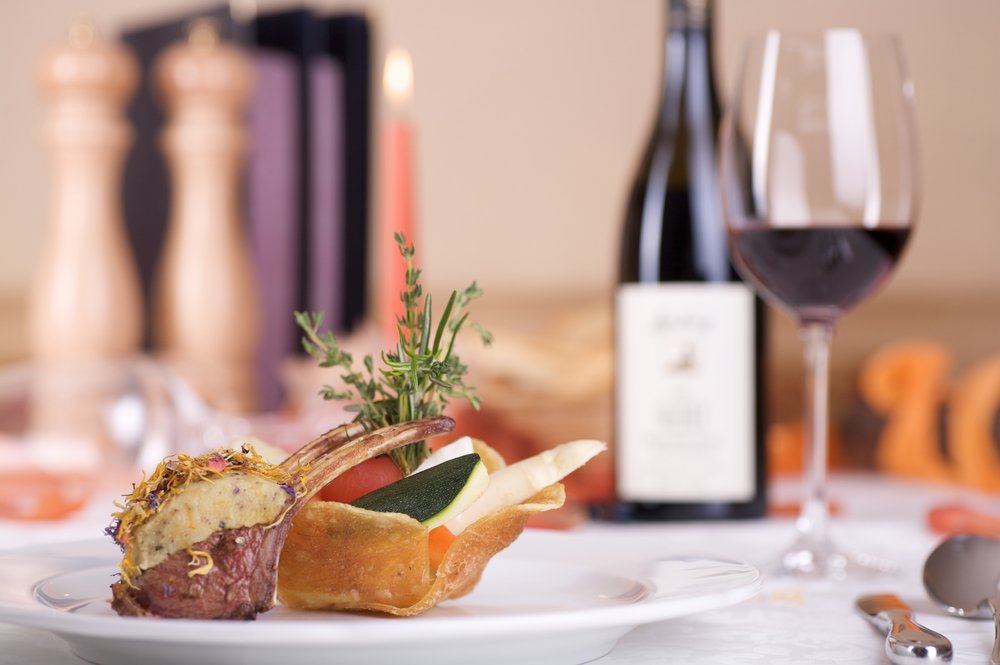 We are one week into the two-week Fall Ocean City Restaurant Week, and so far the prix fixe menus have not disappointed. Whether we've already devoured a dish or have it included in our 'must-eat' list of Restaurant Week dishes, we're presenting you with a 'Best Of' Ocean City Restaurant Week. There are any number of dishes to enjoy, but don't hesitate, as Restaurant Week comes to a close Sunday, October 27. Here are a few of our suggestions…
121 81st Street, Ocean City, MD
410-524-8100
The Hobbit will soon close for the season, so we suggest getting your final Hobbit fix with their prix fixe menu featuring three courses for $30. What to get? Well, we suggest starting with the Shrimp & Andouille Cake, a hearty mix of jumbo gulf shrimp, andouille sausage and a moutard sauce. Or go a lighter route with the Cherry and Cheddar Salad. Its mixed baby greens, white balsamic vinaigrette, dried bing cherries, cashews and aged white cheddar. For entrees, we're partial to the Mahi Rockefeller; fresh mahi-mahi, baby spinach, Parmesan cheese, bacon and the Chef's choice of starch and vegetable. For the land-lover, there's also the Fall Spiced Pork Chop to consider. An oven roasted 12-ounce bone in pork chop with a fall spice rub, apple cider & cracked mustard sauce, bruleed sweet potato and ricotta stuffed acorn squash.
The Longboard Café
6701 Coastal Highway, Ocean City, MD
443-664-5639
The Longboard Café is Ocean City's latest newcomer, offering a little bit of everything from drink specials to inventive sandwiches, stunning salads, and gourmet burgers. The surf-themed restaurant has been receiving rave reviews from our readers, so what better way to test the waters than with the cafe's Restaurant Week specials. Available Wednesday through Sunday , there is a $10 menu available for lunch along with a three course for $30 special available after 6pm. From the $10 menu, we're going for the cup of cream of crab soup with the hickory bacon burger. The massive burger is a blend of chuck, brisket and short-rib hand pattied and topped with apple wood bacon and homemade hickory BBQ sauce. For dinner, start with the St. Croix Chopped Salad  (chopped lettuce, roasted corn, apples, bacon, tomato, macadamia nuts with honey-lime vinaigrette), move on to the Figs in a Blanket or the Grilled Lamb Chop Lollypops and finish off your feast with the Stuffed Bone-In Pork Chop  stuffed with apple and sage stuffing and topped with a burgundy-butter sauce.
Horizons Oceanfront Restaurant – Clarion Resort Hotel
10100 Coastal Highway, Ocean City, MD
410-524-3535
http://www.clarionoc.com/ocean-city-md-horizons-oceanfront-restaurant
Located in the Clarion Resort Hotel, Horizons offers a stellar line-up for Restaurant Week. There's two options here, either an entrée and a second course for $25, or all three course for $30. For five more dollars, we're opting for three courses. For starters, there's the Pistachio-Encrusted Eggplant drizzled with a creamy rosemary goat cheese sauce. If you're in the mood for soup, start with the creamy butternut crab soup with fried sage and crème fraiche. For your entrée, we suggest the Wild Mushroom Orecchiette served with broccoli rabe, aged cheddar and thyme roasted tomatoes. Wine recommendations for this dish include the Worthy Red Meritage or the Etude Pinot Noir. Desserts are your choice of Horizon's selection of Desserts by Rita or made-in-house fruit pies. Nothing says fall quite like a warm piece of pie.
11805 Coastal Highway, Ocean City, MD
410-524-3396
We stopped by Jules recently for their Restaurant Week menu and found ourselves in a serious internal battle over what to get. Decisions, decisions. From the appetizer selection, we found ourselves split between the Fried Green Tomato Tower and the House Smoked Fish Plate, ultimately going with the House Smoke Fish Plate.  For the second course, we were partial to the house salad, mainly for the maple walnut vinaigrette, which did not disappoint.  For the third course, be prepared for a tough decision, as everything looked heavenly. The Seafood Pasta was a clear front-runner for us however, as it includes a combo of scallops, shrimp and lobster, tossed in a tomato seafood based vodka cream sauce and served atop angel hair pasta. As an added bonus, the early bird gets the wine. If you're seated between 5 and 6pm you'll receive a complimentary glass of wine.
Captain's Table
Located in the Courtyard Marriot, 15th St. and the Boardwalk, Ocean City, MD
410-289-7192
Roll-up your sleeves and dive on in by starting with the Jamaican Jerk Chicken Wings served with a honey mustard dipping sauce. For the second course, it's a toss-up between the Salmon Wellington – pan-seared Atlantic salmon topped with a mushroom duxelle wrapped in puff pastry and finished with a lemon beurre blanc – and the chicken breast served over sauteed spinach and infused with prosciutto and finished with hollandaise. All entrees arrive with the Chef's Choice of vegetable and starch. For dessert, there's your choice of bananas fosters, mixed berry tart or carrot cake, but with a classic cream cheese icing, we're opting for the carrot cake to finish off our feast.
6601 Coastal Highway, Ocean City, MD
410-723-6762
Galaxy 66 Bar & Grille is a consistent Restaurant Week participant, and typically one of the top restaurants on our list. This year is no exception, with Galaxy 66 offering three courses for $30. Start with the Curry Chicken Tempura or the Tenderloin Tips before slicing into the Pan Seared Duck Breast served over roasted figs, arugula and goat cheese salad with a chipotle honey. The Award Winning Cheesesteak is always a safe bet. The wildly popular sandwich features slow roasted rib-eye with caramelized onions, chiffonade romaine, chimichurri mayo and black mountain cheese sauce, all piled high on a house-made roll with fries. For dessert, stick with the apple pie, after all, it is apple season!
BJ's on the Water
115 75th Street & the Bay, Ocean City, MD
410-524-7575
For Restaurant Week dining with epic sunset views, head to BJs on the Water. The views are spectacular no matter what time of day you visit, and with lunch and dinner specials for Restaurant Week, you have all day to enjoy BJ's prix fixe menus.  From 11am to 5pm, stop by BJ's for their $20 prix fixe lunch special. Start with a Maryland Crab Soup, BJ's French Onion Soup or Soup du Jour before diving into your lunch entrée. We went for the Pork Barbeque Sandwich, a massive serving of pork slow-cooked over charcoal, hand-pulled and smothered in BBQ sauce and served on a Kaiser roll. For dessert, it's your choice between an Ice Cream Sundae and Maddy's Famous Peanut Butter Pie. For dinner, the prix fixe menu expands to three courses for $30. Entrées are served with a baked potato and dinner rolls. Because it's National Seafood Month, we suggest the Crab Imperial. What arrives is jumbo lump crabmeat tossed in BJ's special Imperial sauce.
Hemingway's at the Coral Reef

Located in the Holiday Inn at 17th Street, Ocean City, MD
410-289-2612
http://www.ocmdhotels.com/hemingways
There's only a few days left to take advantage of Hemingway's prix fixe Restaurant Week menu, with the special only available from October 20-24. With four courses for $40, you don't want to miss this one. The options and combinations are endless so we'll make it easy for you. Start with a small garden salad before devouring your Island Bruschetta. For entrees, the Yucatan Platter includes a generous mix of broiled seafood including a mini crab cake, shrimp, scallops and the Chef's choice of fish, accompanied by three sauces and a starch and vegetable. Wait, there's more. For dessert, selections are presented to you at the time of service so you're on your own with this one.