Best Of – Sunset Views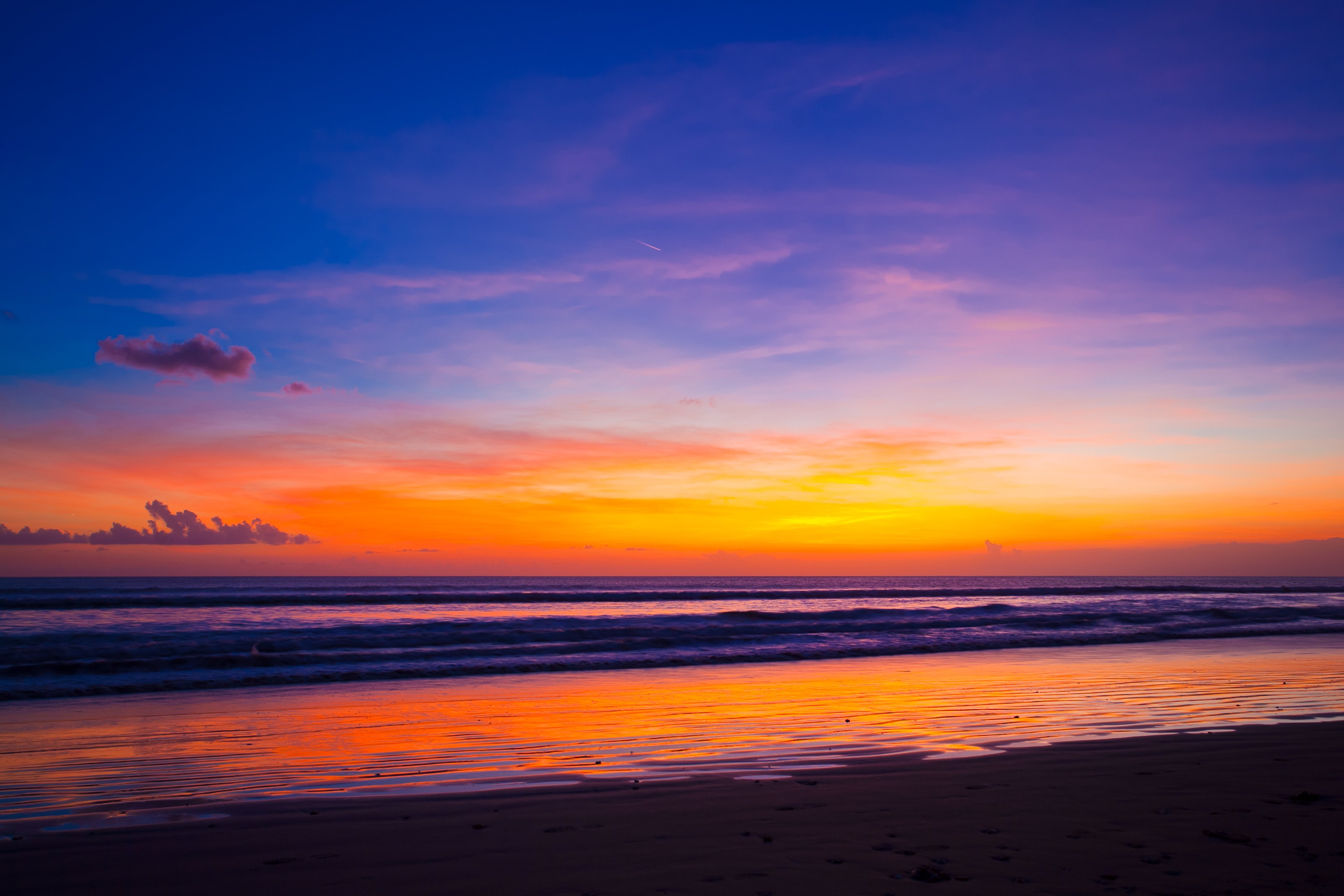 In case you hadn't noticed, sunsets have been downright breathtaking lately. Most evenings, the sky is lit up with rich hues of red, orange, and pink, causing even the busiest and surliest person to slow down for a minute to enjoy a truly breathtaking, end-of-summer sunset. Of course sunrises are equally stunning, but our chances of being awake at that time aren't nearly as good, so we'll focus on the sunsets. It's Friday, and what better way to enjoy a Friday evening than with a quality happy hour sunset. One of the perks of living at the beach is the abundance of outdoor dining spots with killer views. Whether you're at The Lobster Shanty in Fenwick or seated at the outside bar at Mickey Fins in West Ocean City, you're sure to catch an impressive sunset. Here's a few of the spots that we frequent…
12952 Inlet Isle Lane, Ocean City, MD
410-213-9033
Micky Fins Bar & Grille has bragging rights to insanely beautiful sunsets. Located in West Ocean City, locals like to head here to avoid having to go "into town" and wrestle with traffic and parking. To boot, there's ample outside seating along with an outside bar with a view of the harbor, the bay, Assateague, the inlet, and of course, the setting sun. If you've really had a rough work week, saddle up for the Bait Bucket – a jumbo 48-ounce Smirnoff Orange Crush or Cuervo Golden Margarita. There's more than just booze to enjoy though, the Baja fish tacos and the lobster tail tacos are a great way to kick off your weekend.
The Angler
312 Talbot Street, Ocean City, MD
410-289-7424
angleroc.net
Easily some of the best sunsets in downtown Ocean City. While The Angler is just a stone's throw from M.R. Ducks and shares the same sunset view, we included The Angler in our line-up this week because the new outdoor bar and dining area is a huge improvement over the former space. We always enjoyed the sunset view from the Talbot Street restaurant and bar, but with a refurbished bar and larger outdoor seating space, we find ourselves here more and more lately. The happy hour only sweetens the deal, with specials running from 3 to 6pm and including $1.75 domestic cans, $2.50 Landshark drafts, $3.50 rails and house wines, $.50 wings, clams and oysters and $6.99 half-pounds of steamed shrimp.
12723 St. Martins Neck Road, Bishopville, MD
410-641-1199
The Restaurant at Lighthouse Sound was recently honored as OpenTable's Top 100 Scenic Restaurants (stay tuned for our insider's profile next week), and if you've ever been to Lighthouse Sound, you know it's a well-deserved honor. The views are unbeatable; it's as simple as that. Located in Bishopville (for out of towner's who don't konw, that's just a couple miles off of Route 90) the restaurant and golf course are ideal for enjoying sunsets. Whether you're enjoying a few drinks, dinner, a special occasion, or a wedding, be sure to catch the sunset views here…and the crab cakes.
121 81st Street, Ocean City, MD
410-524-8100
The Hobbit was also included in OpenTable's Top 100 list, and we couldn't agree more. On the opposite side of the pond from Lighthouse Sound, the expansive windows at The Hobbit yields expansive views. Located in the bottom floor of the Rivendell Condominiums, The Hobbit is an ideal place to stop in for an appetizer and a cocktail at the bar, or for a sit-down dinner. The good news is, no matter where you're situated in the restaurant, you're pretty much guaranteed a front-row seat to a beautiful Ocean City sunset. Happy Hour runs Sunday through Thursday, from 5 to 7pm. Happy hour specials knock $1.50 off beers, $2.00 off glasses of wine and liquor drinks, 50 percent of bottles of wine, as well as a selection of $5.00 full-sized appetizers.
201 60th Street, Ocean City, MD
410-524-5500
Fager's Island was one of Ocean City's first bayside bars, staking a claim over thirty years ago on sunset happy hours. Today, Fager's Island has transformed itself from a small bayside bar into a full-service bar and restaurant offering fine dining, live entertainment, dancing, drinks, and many other amenities. Sunsets can be enjoyed from inside or outside, but we suggest sitting outside on the deck this time of year. While it's still warm out, we highly suggest heading to Fager's on Thursdays for the Pacifico Paddle Party. From 5 to 9, OC SUP & Fitness hosts free happy hour paddleboard sessions from the Fager's Island Gazebo, along with $3.50 Pacifico beers.  Also included is live music by The Bullbuckers and a beach cruiser raffle.
4507 Coastal Highway, Ocean City, MD
443-664-2201
The 45th Street Village has seen its fair share of changes over the past 10 years, but one thing that's remained consistent is the outstanding sunset views. Before being redeveloped, locals would sneak back to the abandoned space to catch a glimpse of the epic sunsets, but thanks to the 45th Street Taphouse, we now have a legitimate spot for enjoying our summer sunsets. What's more, there are 36 specialty beers on tap, with styles ranging from light to heavy brews. For snacks, think the Taphouse Pretzel, served with a spicy Guinness mustard or NattyBo Cheese.
Que Pasa
Van Dyke St. & the Bay, Dewey Beach, DE
302-226-1820
Craving Mexican food? Perhaps a heavy-handed margarita while watching a summer sunset? Que Pasa in Rehoboth fits the bill, with outdoor seating and waterfront views. Homemade guacamole, fresh seafood, and a serious selection of tequilas and margaritas will certainly catch your eye, but don't miss the sunset! Also noteworthy is Taco Tuesday – $7 gets you two tacos and either a beer, margarita or a soft drink. The daily specials are not to be missed either, so check out the website or Facebook page before stopping in.
37310 Lighthouse Road, Selbyville, DE
302-436-2305
For waterfront dining in Fenwick Island, shoot down Route 54 and grab a seat at Twining's Lobster Shanty. Every table has a great view of the marsh, which means an equally great view of an August sunset. Happy Hour at the Sunset Bar runs from 11:30am to 6pm daily, with a number of food and drink specials. For snacking, order the chunky lobster guacamole – it's a mix of two of our favorite things, guac and lobster meat. For bigger bites, there's enough lobster options to make your head spin – lobster newburg, lobster thermidor, lobster tails, lobster pot pie, lobster cakes – you get the drift. If you're a fan of Nantucket's Restaurant, than you'll be sure to fall in love with the Lobster Shanty, after all, its under the care of the same ownership.
Judith M
Bahia Marina
443-859-7581
www.judithmfishing.com
Nothing says sunset quite like a sunset cruise. Taking a ride aboard the Judith M is one of our favorite ways to enjoy a sunset on the water. Bring your camera, you kids or a group of friends and enjoy a drink from the full-service bar while taking in the scenery…and maybe even a dolphin sighting or two. The Judith M Sunset Cruises run from 7:30 to 9pm nightly. Admission is $21 for adults, with kids under 12 riding free. The boat leaves from the Bahia Marina at Fish Tales, which offers plenty of free parking, as well as a bar to scoot over to as soon as you jump off the boat.