Best Of – The Local's Summer
Ask any resort beach town local what their favorite time of year is and 9 times out of 10 they will tell you it is the month of September. Sure we love summer, and look forward to it with mounting anticipation all year long, but the truth of the matter is, as soon as summer arrives, we are secretly counting the days until September hits. It's not that we don't appreciate the summer crowds, the lucrative benefits of tourists, or all of the summer hype; it is simply that when September hits, locals finally get the chance to enjoy all of the perks of summer, minus the pitfalls of large crowds. Beaches, bars and restaurants are free reign once again, and we revel in the chance to get out and enjoy the beautiful late summer weather. Biking the boards, finally getting caught up on summer reading on the beach, or checking out that restaurant you've been hearing about for months are just a few options for locals this month. Keep reading for a few places you'll find us.
Fish Tales
2207 Herring Way, Ocean City, MD
410-289-0990
ocfishtales.com
Fish Tales is one of many favorite Ocean City bars that closes down during the colder months, which means we want to squeeze in as many sunsets as we can in the next month or so. Fish Tales yields a high volume of crowds in the busy summer months, so September is our favorite time to head down to the docks for a few cold beers. Or grab a cool cocktail and spend a few hours in the swings with your toes dug in the sand. For the little ones, there's the pirate ship playground. For food, the Thai Shrimp is a classic favorite – a little bit spicy and a little bit sweet – along with the shrimp salad, tucked in an Old Bay wrap. Bike Week returns next week, and as any local and biker knows, Fish Tales is one of the definitive places to be.
117 49th Street, Ocean City, MD
410-524-4900
Seacrets is a veritable stomping ground for visitors to Ocean City. On any given weekend or holiday throughout the summer, 'de bay' transforms into a sea of bodies. Rafts are full, tables are jam-packed, and the drinks are flowing. For locals, Seacrets is certainly still an option, but for many, it's more fun once the shoulder-season rolls around, affording you the chance to enjoy the palm trees in a more relaxed setting. Seacrets is known for their Pain in de Ass and Rum Runner frozen concoctions, but a lesser known favorite is the Seacrets Bloody Mary. With just the right amount of spice and Old Bay, throwing back a few of these makes the perfect 'Sunday, Bloody Sunday.'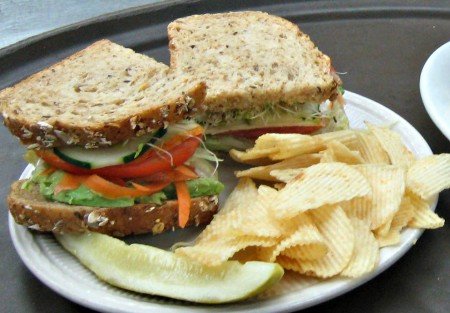 Malia's Cafe
1800 N. Baltimore Avenue, Ocean City, MD
443-664-2420
True Ocean City locals lament over the days when the original Mad Hatter's Café was around. The impossibly adorable joint was a tribute to all things Alice in Wonderland, with murals covering the walls, and an entirely themed menu. We were crushed when they closed their doors, but thrilled when Malia's opened in the Spinnaker Motel, bringing back the delicious creations of one of Mad Hatter's original owners, Malia Ricks. Picking a favorite menu item is next to impossible, so we'll give nod to the fact that it's one of the few vegetarian-friendly options in town, with veg-options like Ariel's Avocado, the Health Nut, Malia's Wrap and more.
Sushi De Kanpai
109 W. Main Street, Salisbury, MD
410-912-1440
sushidekanpai.net
School is back in session at our local colleges, Salisbury University and Wor-Wic Community College. Higher education isn't easy, and in our opinion some of the best brain food is sushi – no particular reason, it just is. Not far from SU, in the downtown strip of Salisbury is Sushi De Kanpai. It's easily our favorite sushi spots in Salisbury, with a number of rolls we can't get enough of. For the spicy eater, order the Caliente roll – tuna, avocado, spicy mayo, wasabi tobiko and jalapenos topped with crabmeat and tempura bits. A house favorite is the Kanpai roll, with tuna, smoked salmon, scallops, crab, avocado and tobiko wrapped in sliced white radish and dressed with a spicy sauce. For the non-sushi lover, there are a number of cooked options to choose from, with an entire menu of authentic Japanese food for the tasting.
Blue Coast Seafood Grille

1111 Highway One, N. Bethany Beach, DE
302-537-0100
www.bluecoastseafoodgrill.com
We've been hearing all sorts of delicious new reviews about Blue Coast this summer, but as Ocean City natives, traveling up Coastal Highway to Delaware in the height of summer is a rather daunting task. Now that traffic is significantly more manageable, trips to Delaware restaurants like Blue Coast are a priority rather than a distant dream. Blue Coast Seafood Grille opened in 2001, and has received rave reviews ever since from the likes of the Washington Post, Attache Magazine, Delaware News Journal, and now ShoreBread. The Shaved Brussels' Sprouts are dressed with Parmesan, candied nuts and a garlic mustard vinaigrette and are unnervingly good. For mains, there's a number of options, but for a heartier choice, go for the NY Strip Steak with Parmesan herb fries, tomato veal gravy and a sunny side-up egg. Dessert is a must, not matter how full you are, with warm bread pudding, key lime pie, toasted marshmallow brownie or strawberry ice cream pie.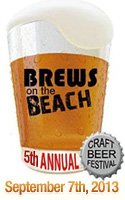 Hooper's Crab House – Brews on the Beach
12913 Ocean Gateway, Ocean City MD
410-213-1771
At the height of summer the parking lot at Hooper's is nothing short of intense. Crabs are a summer staple, but what many people don't know is that crabs are at their best in September. What many people also don't realize is that Hooper's boasts an on-site brewing company, Fin City. This weekend is the ideal time to slip down to Hooper's Crab House to try a few of the Fin City brews at the 5th Annual Brews on the Beach Craft Beer Festival. Tickets are $25 in advance and $35 at the door. The beer fest lasts from noon until 5pm, with live entertainment, great food, great beer, and the chance to meet some of our local brew masters. Local brews on a beautiful September Saturday afternoon? Doesn't get much sweeter than that.
30287 Southampton Bridge Road, Salisbury, MD
410-860-4653
When the weather is as nice as it has been lately, golfers find themselves calling in sick and skirting chores around the house for the chance to get out on the golf course. The Eastern Shore is littered with excellent golf courses to choose from, but if you're looking to tee-off in Salisbury, head to Nutter's Crossing. The lush fairways roll over sloping hills, past eight water hazards and through a maze of over 50 bunkers to rolling greens built to USGA standards. The clubhouse is a perfect place to relax before or after your game for lunch or dinner.
2808 Philadelphia Avenue, Ocean City, MD (multiple locations)
410-289-1134
Much like coffee, everyone has their favorite doughnut shop. For us, it's Fractured Prune. Just writing about the hot, hand-dipped doughnuts makes us salivate. To be fair, they do warn you that their doughnuts may be habit-forming, so proceed with caution. The specialty doughnuts are incredibly difficult to choose from, so we'll just give you a teaser of a few. For starters, there's the French Toast doughnut with a maple glaze and cinnamon sugar. Next up is the Black Forest, covered in raspberry glaze, coconut and mini-chocolate chips. The Snickers is a sinful creation of caramel glaze, peanuts and mini-chocolate chips, while the Morning Buzz provides a mouthwatering bite of mocha glaze and Oreo cookie crumbs. There's even a create-your-own option, with your choice of glaze, toppings, and sugars.