Best of…Soft Shell Crabs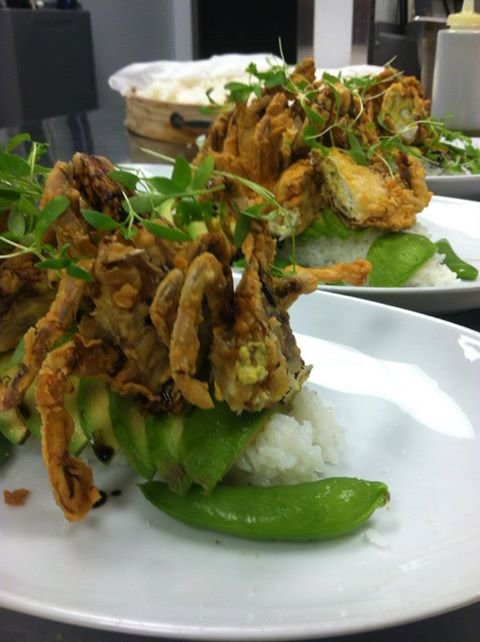 Picking a favorite summer food is no easy feat. After all, there are in-season fruits and veggies to select from, ice creams and frozen-yogurts abound, and any number of fresh catches landing on our docks daily. For the Delmarva seafood lover, the summer months mean the return of Soft Shell Crabs – and what a glorious return it is. So what makes the soft shell so special? Well, for starters it's one of those foods that can't be found year-round. Each year soft shells join the ranks of our seasonal visitors, arriving in May and leaving us in September. And did we mention the soft shell sandwich is now the official state sandwich of Maryland?
There's a number of ways to prepare soft shell crab – pan fried, deep fried, sauteed, baked, broiled – with more ways to coat, baste and the dress the beloved crustacean. While there are a number of restaurants throughout Maryland and Delaware boasting soft shells on their menus right now, not everyone does soft shells right. Too much heat and the skins burns right up, too much batter and, well, all you taste is batter. We've come up with a sampling of some of the best soft shell crab dishes at the beach right now…
112933 Sunset Ave. West Ocean City, Md. 21842(Sunset Marina)
410-213-8098
While strolling through Sunset Marina (or West Ocean City for that matter) you can't help but gravitate towards Sunset Grille. Many people frequent the dockside bar and grille for the expansive indoor and outdoor seating, nightly live entertainment, the dockside bar, or, you guessed it, the sunset views. While we are fans of all of the above, its the soft shell crab sandwich that caught our eye most recently. Bigger isn't always better, but in this instance, we're partial to bigger. The two massive soft shells come tempura battered and tucked in a corn-dusted roll. It definitely requires two hands…or a knife and fork.
OC Wasabi
3316 Coastal Highway, Ocean City, Md. 21842(located in the 33rd St. Plaza)
410-524-7337
When asked where the locals go, OC Wasabi is certainly one of the first names to roll off your tongue. Beyond the artfully rolled sushi is a friendly staff and an enticing selection of sakes and cocktails. We would be hard pressed to pick a favorite roll, but when we're craving soft shells, we point our chopsticks toward the Spider Roll. Each piece is overstuffed with soft shell crab – its almost too much for one bite. For an even bigger soft shell indulgence, opt for the Spider's House, which includes two soft shell crabs, battered and fried, along with a colorful variety of vegetables.
11805 Coastal Highway, Ocean City, Md. 21842
410-524-3396
We love dining just about anywhere, from roadside picnic tables to poolside bar stools, but oftentimes we enjoy treating ourselves to the atmosphere of true fine dining. At Jule's Fine Dining, Chef Sanders consistently delivers winning dishes, including Smith Island soft shell crab. More unique to our soft shell line-up is the cream of soft shell crab soup. Just about every seafood joint along Coastal Highway has their own renditions of crab soup, but it's not often you find a cream of soft shell crab soup on the menu. At Jules, each spoonful yields chunks of fried Smith Island soft shell crab and lump blue crab meat. Don't be shy, its OK to lick the bowl clean.
9301 Coastal Highway, Ocean City, Md. 21842
410-524-7037
At the north end of Ocean City, Liquid Assets stays true to fresh and local, from their wines to their desserts. It's fairly common for patrons to stop in for a glass of wine and a cocktail, only to find themselves tucking into a three-course meal without blinking an eye. With summer well underway soft shell crabs have been making an appearance on the specials list as of late. The most recent favorite being the Smith Island soft shell crabs, described as Liquid Assests take on the spider roll, with soft shells served over sushi rice, avocado, local sugar snap peas, cilantro and aged soy sauce.
Fenwick Crab House
100 Coastal Highway, Fenwick Island, Del. 19944
302-539-2500
The Fenwick Crab House prides themselves in all things crab, and that includes crab of the soft shell variety. First on the hit list are soft shell crabs provençal, a decadent dish showcasing two jumbo soft shells sautéed in a garlic herb butter and finished with diced tomatoes. For a more traditional take, there's good, old-fashioned deep-fried soft shells, served with fries n' slaw. Next up, spider bites, a generous portion of medium soft shell halves, breaded and fried, and served with a remoulade sauce. Last, but certainly not least, the soft shell crab sliders – served on two mini, soft pretzel rolls. You'd be hard-pressed to find more soft shell options under one roof.
601 Coastal Highway, Fenwick Island, Del. 19944
302-539-2607
Tucked between Ocean City and Bethany Beach, Nantucket's draws Marylanders and Delawareans alike with high quality seafood straight from the docks. That includes soft shells this time of year, from the soft shell entree to the soft shell BLT. The jumbo soft crabs at Nantucket's are corn dusted, seared until crisp, and sauteed and served atop a fresh-roasted corn, red pepper and cilantro relish. For a true summer sandwich, bite into a soft shell BLT. It's pan fried soft shells on a Kaiser bun, with applewood smoked bacon and romaine. It's safe to say that the only thing better than soft shells are soft shells topped with bacon.
Nage
19730 Coastal Highway, Rehoboth Beach, Del.
302-226-2037
www.nagerb.com
Nage initially caught our attention with their Farm to Table specials. Every Thursday, Nage features a Farm to Table series highlighting a different local, sustainable, and organic farmer. It doesn't get more local than that. It came as no surprise then when we heard mentions of a killer soft shell dish on special at the Rehoboth bistro and wine bar. The Virginia soft shells are tasty on their own, but paired with a mash of caramelized turnips and drizzled with a country ham vinaigrette is heaven.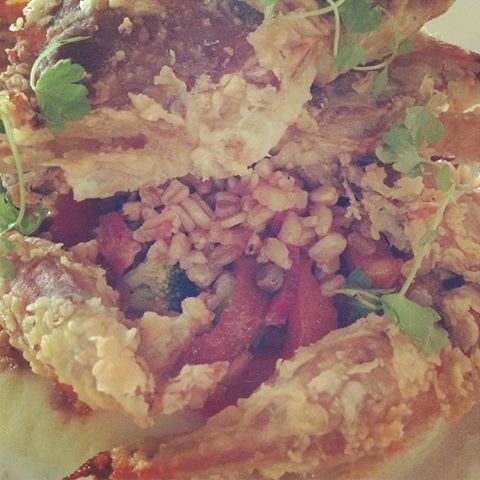 Hooked
8003 Coastal Highway, Ocean City, Md. 21842
410-723-4665
Hooked Restaurant is the third and newest restaurant for the Indian River Seafood Group, and so far it's living up to its predecessors, Just Hooked and Off the Hook. Soft shells have been presented a number of different of ways over the past few weeks, with each dish leaving us salivating.  There's soft shells served on a warm bed of farro salad with grilled broccoli, roasted peppers, speck vinaigrette and sweet onion; soft shells paired with marinated tomatoes, wild mushrooms, barley salad, and arugula; and soft shells on a  bed of arugula with radishes, watermelon slices, cherry and yellow tomatoes, corn and a corn puree.