Big Oyster Brewery Makes Big Strides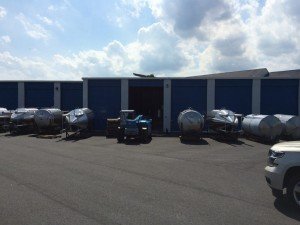 Two years ago, Jeff Hamer opened the Fins Ale House on Coastal Highway across from the Safeway in Rehoboth featuring a large craft beer selection, with a focus on local breweries. The extensive craft beer selection was so popular that after a year in business Jeff thought, "why don't we just brew our own?" And this, Shorebread fans, is how Big Oyster Brewery was born. We sat down with Jeff and Big Oyster's brewers, Andrew and Red, to discuss the brewery's upcoming expansion project.
Head Brewer, Andrew Harton, got his start in the craft beer industry by working as an assistant at Iron Hill Brewery for four years. During those four years, he worked at three of their different locations, learning the ropes on how to brew good beer. Andrew also learned a thing or two about making good beer during his days as a homebrewer. Assistant Brewer, Red Killpack, has worked for the brewery's owner, Jeff Hamer, for 11 years. Red began his career with Jeff as a busboy and has over time worked his way up to Assistant Brewer. Andrew told us that when the new brewery is opened, Red will take over as the primary brewer for the existing location in Fins Ale House and Andrew will move to the new brewery to manage the brewing processes there.
The new venue, named Big Oyster Brewery & Restaurant, is going to be located on Kings Highway in Lewes, just past Cape Henlopen High School. This location is ideal for many reasons. Not being far off the Junction and Breakwater Trail, the new location will be a great spot for bicyclists to stop and grab a bite to eat or enjoy some libations before resuming their ride. Ferry goers will have to drive right past the new restaurant on their way to the terminal; a great excuse to make a quick pit stop. The large boat ramp at the end of the road makes the brewery a prime location to stop and grab a few cans or growlers to go before launching the boat for a nice afternoon. The new brewery intends to can their beers so they are beach-goer and boater friendly. Also, the huge year-round neighborhood behind the new location gives the brewery a large target audience that will quickly become excited about another fun place to eat without having to hop on the highway or drive into town. Hamer anticipates a "brisk business" to emerge quickly.
Hamer was even kind enough to give us a sneak peak of the blueprints for the new building. The new structure is going to look like a huge barn from the outside (the jury is still out on its color, however) representative of the local farming community nearby. Inside the 6,000 square foot structure, there will be a huge production brewery. The brewery will only be separated from the restaurant area by a huge glass window. Hamer says this is because he wants visitors to be able to see where the beer they are drinking comes from and he hopes it will encourage them to ask questions about their processes. Another room, also encased in glass, will house a devoted barrel aging room. The other side of the restaurant will contain an open kitchen so guests feel like they are a part of the space. Hamer and the team drew a lot of inspiration for their new endeavor from a brewery tour of Asheville, NC, what many are touting as the new craft beer mecca of the East Coast.
Harton explained that the menu for the new restaurant will contain "more of what you'd expect from a craft brewery but with the old seafood favorites" their patrons have come to love. They also plan to incorporate their new beers with the food by offering pairings and special beer dinners. This is one of Hamer's favorite things about their small size – they get to interact more with their loyal followers and supporters during beer dinners and other events where they can solicit honest feedback. The large, communal tables and shareable menu items will encourage a more family-style atmosphere. The group calls the new feel "upscale casual."
In their current space, Big Oyster Brewery has a 7 barrel brewing system that allows them to produce 800 barrels of beer per year. Now, this may seem like a lot of beer to some. But, the new brewery will feature a 15 barrel brewing system with eight 30-barrel fermenters, allowing them to produce an estimated 5,000 barrels of beer a year. The goal is for the new restaurant to be open by the end of this year and the brewery plans to begin distributing their beer on the Eastern Shore of Maryland around November or December. Their next steps are to push into the Annapolis and DC markets next spring.
Keep your eyes on the team at Big Oyster because owner, Jeff Hamer, also has a few other surprises in the works (though, he wouldn't reveal the specifics to us, just yet). Oh, but before we go, did you know that the oyster shells on their iconic tap handles are real oyster shells from oysters shucked at their bar? Yep. Now, if that's not a great way to recycle, we don't know what is. You can keep tabs on the group here on their Facebook page.
The post Big Oyster Brewery Makes Big Strides appeared first on ShoreBread.