Birders Rejoice! It's Delmava Birding Weekend!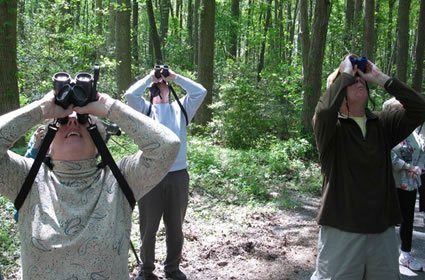 The Delmarva Birding Weekend is back for its 19th year, poised to once again serve as a celebration of the spring migration of thousands of warblers, shorebirds, waterfowl and raptors. From April 24 through April 27 bird enthusiasts will congregate on the Delmarva Peninsula to traverse cypress swamps, tidal wetlands, barrier islands, upland fields and primeval forest in a collective effort to spot and record bird species.
The Delmarva event is a unique one, developed by a team of non-profits and local businesses in an effort to promote eco-tourism and low-impact tourism on Delmarva. Our resort-heavy area often includes high-impact tourism, but what many people don't realize is the economic value of birds and their habitats through low-impact tourism. The weekend usually draws anywhere from 150 to 200 participants, according to Delmarva Low Impact Tourism Experiences Director Jim Rapp. The economic impact is estimated at $100,000; although Rapp pointed out that the larger impact is in making people aware of the fact that Delmarva is a birding destination all year long. It also serves as a reminder to people of the many amenities and attractions along Delmarva. Participating birders will also be helping birds by promoting bird and habitat conservation.
The Delmarva Birding Weekend is organized by Worcester County Tourism, the Beach & Beyond, along with a host of other sponsors and partners, resulting in a weekend packed with activities. Birders will find themselves in various habitats across the Eastern Shore, including but not limited to Redden State Forest, Ayers and Trappe Creek, Newport Farms, Assateague, Berlin and Ocean City. This year's schedule includes sunset paddles at Ayers Creek, an Owl Prowl at Shad Landing, Warblers on the Water, Warblermania and much, much more.
Both Friday and Saturday's birding events will culminate with Berlin and Ocean City Tally Rally's, respectively. Friday evening, from 5pm to 7pm, birders are invited to enjoy beer and good company at Burley Oak in America's Coolest Small Town, Berlin. Birders will tally the birds that they have seen on their Thursday and Friday adventures while learning about local hotspots from the Delmarva Birding Week guides. There's more…at 6:30 birders will head across the street for twilight birding at Berlin Properties North. As Burley Oak does not serve food, birders are encouraged to bring dinner or snacks with them. Saturday, the Tally Rally moves to M.R. Ducks in Ocean City. Held from 4pm to 6pm, the event is planned in conjunction with the culmination of the Shorebird Explorer trip, which returns to the adjacent Talbot Street Pier at 4pm. Birders will help guides compile the species checklist before heading back out for evening trips and the following days adventures.
More than 400 bird species have been reported across the region, with 202 species tallied during the 2009 event. For a look at previous years' tallies, click here. For birders interested in attending Delmarva Birding Weekend, visit delmarvabirding.org. For information on nearby places to stay and eat, check out www.ocean-city.com. And good luck birders!