Blackwall Hitch's Halloween Murder-Mystery Dinner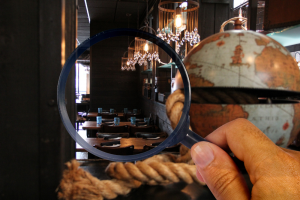 As all the little ghouls and goblins wandered the streets trick-or-treating, Blackwall Hitch hosted their very own Murder-Mystery dinner on Halloween Night. The Shorebread team had the pleasure to attend this exciting, spooky event! Tickets were $45/person, including the horror-story event and a 3-course dinner.
Murder-Mystery
Beginning at 6:30, guests were seated at the large table at the front of the restaurant. With a total of ten guests, the small-size group made for an intimate, personal experience, giving each person the chance to participate in the storyline and challenges presented.
The event was hosted by Vince Wilson a Master Hypnotist, skilled mentalist and illusionist with over two decades of experience and a lifetime of interest in magic, myth, and history. This was his first time presenting the Sherlock Holmes Ghost Stories, and Blackwall Hitch's first time hosting a special murder-mystery dinner.
He began with an ancient wooden box, passing it around the table for each person to attempt opening it for the clue inside. With no initial success, Vince supplied a few hints and we were able to unveil the first of many clues. Along with various interactive activities throughout the night, he incorporated history, literature and ghost stories as we all worked together to find out how the victim of the night was murdered. Of course, we don't want to give away any secrets, but every aspect of the murder-mystery was executed with precise detail and came together at the end of the night!
Dinner
The 3-course meal included one choice from each course of starters, entrees, and desserts.
Starters
Jack o' Lantern Soup A ghoulish purée of Autumn Squash, Garlicky Kale & Crumbled Sausage 
Death by a 1,000 Beets Salad Layers of Ash-Roasted Ruby Beets with savory Goat Cheese served with House Salad, Croutons & warm Beet Vinaigrette
Entrées
Black Devil Fresh Squid Ink Pasta served with marinated & grilled Calamari, Jumbo Shrimp & PEI Mussels in a spicy Marinara Sauce
Green Goblin Whole Arugula & Pesto-Crusted Rainbow Trout deboned & butterflied served with Cauliflower Hash 
Skull & Crossbones Grilled Espresso-Rubbed Bistro Steak Medallion with Roasted Bone Marrow & Seasonal Vegetables
Desserts
Pumpkin Spice Cheesecake
Hand Dipped Caramel Apples
Needless to say, our second visit to Blackwall Hitch was just as wonderful if not better than the first! The savory flavor in each bite of every plate brought out was not only our opinion, but the opinion of all the dinner guests. Superb service, melt-in-your-mouth entrees and desserts, and exciting, engaging entertainment made the night one we will not forget. We couldn't have thought of a better way to spend the Halloween evening!
Vince Wilson's next appearance is at Harpoon Hannah's in Fenwick Island, Delaware on Friday, November 2 where he will present his Dracula Show.
The post Blackwall Hitch's Halloween Murder-Mystery Dinner appeared first on ShoreBread Eastern Shore Lifestyle Magazine.