Blue Water Development Hosts Moment of Peace Adventures for Fun on the Water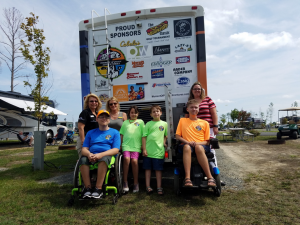 Blue Water Development recently hosted Moment of Peace Adventures (MOPA), a nonprofit which organizes memorable hunting adventures for children 18 years and under with severe physical disabilities or life-threatening illnesses, for a weekend of water-themed activities. The fun took place at Blue Water's campground, The Resort at Massey's Landing in Long Neck, DE, and at other nearby attractions.
The fun-filled weekend included:
Three nights at Massey's Landing
Resort activities such as paddle boarding and swimming
Meals at the Resort
Touring the Ocean City boardwalk
Visit to the Ocean City Life-Saving Station Museum
During a fishing trip that departed from Massey's Landing, the kids were joined by TV hunting personality Corey Brossman. MOPA participant Dorian Burnell, 16, became a Junior Bowfishing Association of America record holder for the 180.9lb butterfly stingray he caught during the outing. (Photo below)
"This is our third trip to Massey's Landing, and they have gone far and above our expectations with every trip being more and more amazing," said MOPA board member Sherry Whitmoyer, whose son Austin is a long-time MOPA participant. "Massey's has made every trip a memory of a lifetime."
During this visit to the luxury campground Bruce Lambert, MOPA's President, unveiled the new Massey's Landing sponsorship logo on the corporate RV used to transport the children. The kids also presented Blue Water with a copy of their scrapbook which documents their outings and features their time at Massey's Landing. "For every adventure, we provide taxidermy work of the animal or fish caught and put together a video and scrapbook," explained Whitmoyer. "The video will be shown at our annual Sportsman's Night Out Dinner in February, which has already sold 700 tickets with a waitlist."
"I'm so touched by the special scrapbook," said Rafael Correa, Chief Financial Officer of Blue Water. "It's an honor to continue hosting MOPA at Massey's Landing, and we look forward to organizing future adventures here and at our other properties to provide memorable outdoor experiences for these kids. This is what we love to do, and we're thrilled to be an official MOPA sponsor," he added.
In addition to sponsoring MOPA, Blue Water recently hosted Big Brothers Big Sisters of the Eastern Shore at Sea Rocket Adventures, and sponsored a keynote address by Principal Baruti Kafele at the opening kickoff for Worcester County Public Schools (WPCS) on August 29th.
Become involved with Moment of Peace Adventures by visiting http://momentofpeaceadventures.com.
About Blue Water Development
Founded by Jack and Todd Burbage in 2002, Blue Water Development is a real estate developer specializing in commercial and hospitality properties operating mainly in Delaware, Maryland and Virginia. Blue Water's diverse portfolio includes three luxury RV resort properties: The Resort at Massey's Landing in Millsboro, Del., KOA – Chincoteague Island in Chincoteague, Va., and Sunset Beach RV Resort in Cape Charles, Va.; four hotels: Bethany Beach Ocean Suites, The Commander Hotel in Ocean City, Md., Aloft Hotel in Ocean City, Md., and Fairfield Inn & Suites on Chincoteague Island; and three recreational venues: Blue Water Golf, Maui Jacks Waterpark in Chincoteague, Va., and Sea Rocket in Ocean City, Md.
Raising the bar in the real estate industry, Blue Water has earned a stellar reputation for its commitment and dedication to the development and constant improvement of superior properties known for their sophisticated designs, gracious floor plans and superior amenities.  For more information visit www.bluewaterdevelopmentcorp.com.
About Moment of Peace Adventures
Moment of Peace Adventures (MOPA) is a non-profit corporation. Our mission is to send youths 18 years of age and under who have a severe physical disability or a life-threatening illness on a hunting or fishing trip. We hope to provide a memorable experience and a moment of peace that they can forget about their problems and to enjoy nature and the outdoors. Learn more at http://momentofpeaceadventures.com.
The post Blue Water Development Hosts Moment of Peace Adventures for Fun on the Water appeared first on ShoreBread Eastern Shore Lifestyle Magazine.