Boardwalk Buddy Walk Returns for 12th Year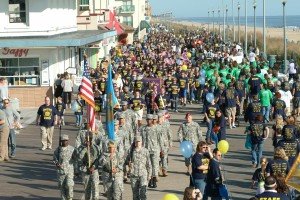 If you're not familiar with the Boardwalk Buddy Walk, we can't say enough positive things about this group. In our article last year, we detailed the organization's national award of Buddy Walk of the Year. We recently caught up with Executive Director, Michelle A. Hetherington, to talk about last year's success and this year's event.
When we met with Michelle last year, she explained that the event had been raising around $65,000 a year. They anticipated the same in donations for last year. We were happily surprised when Michelle told us that they actually raised $75,000 during last year's event, with over 1,200 runners! The best part is that all the donations collected stay right here in Delaware. Donations are made to Best Buddies Delaware, the local chapter of the Special Olympics, Chimes, and other local organizations that are dedicated to helping those with cognitive disorders.
The organization is currently preparing for their 6th Annual Dewey Beach Buddy 5k Run/Walk held on Sunday, August 13th. Boardwalk Buddy Walk teams up with Best Buddies of DE to organize the event. The Dewey Beach Lions Club includes all-you-can-eat pancakes, eggs, bacon, sausage,  home fries, juice, coffee and more for runners. If you're interested in coming out for a good cause, you can register online here.
Finally, mark your calendars for their largest annual event, the 12th Annual Boardwalk Buddy Walk at 9 AM on October 7th. The night before, the organization holds a huge Buddy Up Party from 5 PM to 8 PM at the Dewey Beach Lions Club. They host a silent auction, have food donated from local restaurants, and a cash bar. It's such a fun event and we can't stress enough that all the money goes to a worthy cause. Check out their website here for more information on this year's event.
Michelle and the organization are always looking for new ideas and volunteers. If you're interested in getting involved, contact Michelle Hetherington at [email protected] or through their website at http://boardwalkbuddywalk.com/.
The post Boardwalk Buddy Walk Returns for 12th Year appeared first on ShoreBread.