Bring on the Brews: Eastern Shore Brewery Round-up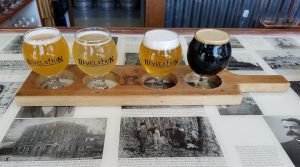 The Eastern shore is known for many things including tourist attractions, agriculture, aquaculture, fishing, and hunting. However, there is one industry that we've seen substantial growth in since 2008 and that is craft breweries. The number of breweries in Maryland alone has ballooned from about a dozen a decade ago to nearly 30 today. With so many to choose from it can be difficult picking which one to visit which is why we have grouped them by proximity for your convenience.
Salisbury is home to both Evolution and Rubber Soul breweries which are just a few miles south of 3rd Wave in Delmar Delaware. Evolution Craft Brewing Co & Public House offers its guests a variety of hand-made draft microbrews along-side their local, seasonal food that makes for the perfect pair. Their rustic ambiance and railroad pub feel attract visitors from all over. Rubber Soul and 3rd Wave Brewing Co's are much smaller in size. Jesse Prall, owner of Rubber Soul Brewing Company, focuses on classic styles of beer done the right way at his quaint cyclist themed bar while 3rd Wave specializes in seasonal fruit beers and sours. Not to mention, 3rd Wave Brewing Co is the area's only female brewery.
Route 50 is also laced with breweries. As you make your way between Salisbury and Ocean City you will find Tall Tales, Burley Oak, and Fin City Brewing Companies. Located in Parsonsburg, Maryland Tall Tales is well known for their uniquely crafted and fable themed named beer. Burley Oak is located within the city of Berlin and focuses on maintaining sustainable practices by using local materials and craftsmen. Their goal is to produce unsurpassable beers using both new and traditional brewing methods. Fin City Brewing Company is located right where Route 50 turns into Ocean City. You will see their logo within the rafters of Hooper's Crab House which overlooks the Assawoman Bay. All of their beers are dedicated to the fishing industry on the shore, therefore they making each one as unique as the species of fish around them!
Ocean City lines coastal highway with Backshore Brewing and the OC Brewing Company. Backshore Brewing Company is located along the boardwalk on 10th Street. Backshore makes both traditional and non-traditional craft beer along with their signature drink, Hooptea which is a homemade alcoholic tea beverage which can be enjoyed at their outside seating that overlooks the Atlantic Ocean. Then hop on the bus to head to the OC Brewing Company which offers guests more of sports bar feel with their numerous big screen TVs. They also give tours of their facility where guests can sample any of 24 house made beers and/or grab a hardy bite to eat.
Moving up the coast into Delaware you will find Dogfish Head, Revelation Craft Brewing Company, Dewey Beer Company, and Crooked Hammock. Dogfish Head is located in Rehoboth and is the smallest commercial brewery in the United States. They became the home for "original beer, original food, and original music." Revelation Craft Brewing Company isn't too far away, located in West Rehoboth. Their brewing inspiration stems from local based flavors and seasonal influences to create an array of truly memorable craft beers. After visiting where craft brew got its start and Revelation, hit up Dewey Beer Company on Coastal Highway for an exceptional happy hour from 3-6 (except Saturday and Holidays). They promise that your beer only travels 30 feet or less from their brew site right to your table! Then make your way to Crooked Hammock in Lewes, Delaware for their craft beer tour where you can get free beer samples, a full pint of beer, a commemorative Perfectly Crooked Brew Tour mug and koozie!
We could go on and on about all of the cool breweries in Delmarva but we think it's time you go see for yourself. Go see what all the hype is about, we promise it'll be worth it then comment below to tell us about your own Eastern shore brewery bar hop!
The post Bring on the Brews: Eastern Shore Brewery Round-up appeared first on ShoreBread.