Celebrate National Cheese Lover's Day on the Shore!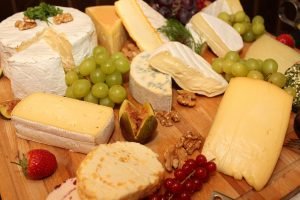 If this National Cheese Lovers Day article caught your attention, there is no doubt you are a huge fan of cheese!
What's not to like about it?! It's one of the most versatile, flavorful and amazing foods to ever exist. From cheddar, gouda, and blue to shredded, melted, and sliced — cheese is a fan favorite all over the world.
With that said, it's time to get your eating pants on because Sunday, January 20 is National Cheese Lovers Day! Not to be *cheesy,* but here on the Eastern Shore it's safe to say cheese holds a special place in our hearts. There are various restaurants and eateries all along the shore that offer some amazing cheese selections whether placed on a cheese board, sprinkled on pizza, or even paired with some crackers and wine, it's the best! We have created the ultimate list of destinations to visit on the Eastern Shore to get your cheese fix for all you cheese lovers out there.
Find Your Cheese
Wine, Cheese & More in Chincoteague, VA
Wine, Cheese & More is the ultimate place to pick up some gourmet cheeses from around of the world! Not only do they offer a great selection of scrumptious cheeses but they also offer delicious desserts, snacks and wine. This is a great stop if you are ever exploring Chincoteague! For more information, be sure to check out their Facebook page here.
Liquid Assets in Ocean City, MD
If you've ever visited the town of Ocean City, MD for the ultimate getaway or even if you live local, you should know that Liquid Assets is one of OC's most valued restaurants. They are known not only for their fine-dining atmosphere, but they have an entire menu section dedicated to cheese! Trust us, you'll want to see this for yourselves. This glorious menu is organized by firm, semi-firm, semi-soft, soft and blue cheeses so it's safe to say Liquid Assets does NOT disappoint with their cheese selection. They even have Charcuterie selections for additional snacks and flavorful eats. Yum!
Lewes Gourmet in Lewes, DE
Lewes Gourmet is very well-known for their great selection of exotic cheeses. From white Stilton infused with ginger and mango to aged cheddar from Devon, Lewes Gourmet in Lewes, DE is your one stop shop for all things cheese. Not only do they have one of earth's most heavenly foods, but they have other items like jams, breads and salt water taffy! You can't beat it. Visit their site here for more information on everything they offer.
Touch of Italy in Rehoboth Beach, DE
If you love Italian food and delicious cheeses, Touch of Italy is your go-to destination. Luckily, Touch of Italy has various locations up and down the Eastern Shore. From Ocean City, MD, Rehoboth Beach, DE, Downtown Lewes, DE, to their recently opened location Wilmington, DE, it is a MUST to stop here and enjoy some amazing cuisine. Now let's talk cheese! Touch of Italy offers some amazing cheeses for the cheese lovers out there. They offer Burrata: handmade mozzarella stuffed with stracciatella, a delicate Italian-style cream, accompanied by roasted tomatoes, roasted cippolini onions and EVOO; Bagna Cauda: an assortment of Italian cheeses melted together in our wood-fired oven with a hint of white wine and garlic cloves, served with crostini. No matter what you choose, you will not be disappointed by this amazing restaurant! Be sure to check out their website here for more information and even to make reservations.
Seaside Country Store
When you are driving through Fenwick Island, DE, we highly recommend stopping at Seaside Country Store located on 1208 Coastal Hwy. The great thing about this location is it has a dedicated food room and better yet, a cheese counter! Seaside Country Store stresses that cheese is their best selling item so hurry in fast! Cheeses range from horseradish cheddar, southwest fiesta cheddar, to jalapeno cheddar and swiss with almonds. They have a large range of cheeses so no matter your preference, the Seaside Country Store has your back! Check out their site here for more information!
There's more to National Cheese Lovers Day than visiting local spots to indulge in delicious flavor. It's a time to discover some amazing fun facts about the best dairy product!
Cheese Fun Facts
Cheese was 'accidentally' created over 4,000 years ago. Coincidentally, cheese was actually made by accident. Legend has it, milk was stored in a container lined with an animal's stomach. The enzyme from the stomach caused the milk to separate into liquid (whey) and solid (curd) – and that curd? That would be cheese!

Over 25% of cheese in the U.S is made in Wisconsin (the rest comes mostly from California, Idaho, and New York).

The most stolen food item in the world is cheese, with 4% of all cheese being sold end up stolen.

Gouda accounts for over half of the world's cheese consumption.

Wisconsin produces around 2.6 billion pound of cheese each year.

Every pound of cheese, required 10 pounds of milk.

A

2005 study

found that eating cheese 30 minutes before bed helps you sleep better.
No matter your preference, cheese is without a doubt one of the Eastern Shore's most favored food to ever exist. What is your favorite cheese? How do you like it prepared? What's your favorite dish with cheese in it? Be sure to share with us or tag us on social media: @Shorebread
Sources: Newsfeed.time.com, Tasteofhome.com, Cheese.com, Buzzfeed.com
The post Celebrate National Cheese Lover's Day on the Shore! appeared first on ShoreBread Eastern Shore Lifestyle Magazine.