Celebrating National Food Day on The Shore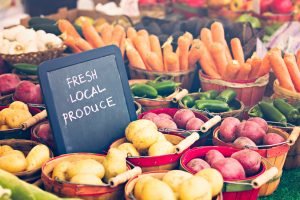 Sugary drinks, salty snacks and factory-processed meats, fruits and vegetables are often associated with eating out. Today, October 24th, is National Food day, an annually observed day that aims to help people eat healthy and eat "real." Here on Delmarva, there are lots of restaurants that focus on providing fresh, locally grown, farm-to-table meals for their customers. Celebrate this healthy holiday at some of these local favorites!
Chef Justine Zegna opened this farm-to-table restaurant off of Pitts St. in Berlin in March of 2014. With a rustic, warm atmosphere, this welcoming spot focuses on close relationships with local farmers, bakers and companies that all share the "local, small and handmade" mentality. Closed on Sundays, The Blacksmith is open at 11:30 a.m. daily, serving fresh soups and salads, empanadas, organic chicken and more!
Off the Hook in Bethany, Just Hooked in Fenwick, Hooked in Ocean City and Hooked Up Ale House & Raw Bar in Millville make up this popular local chain. Each location offers unbeatable daily specials such as an all-day happy hour on Sundays at Hooked and twenty-five cent wings on Thursdays at Hooked Up. The restaurant group's chefs focus on "freshness, creativity and comfort" in order to create the farm-to-table experience.
Located in Rehoboth, this "farm-to-fork fresh" restaurant offers an upscale ambiance with fresh seasonal produce, cuisine and seafood, and organic meats and poultry. Their seasonal menus change daily, keeping the freshest items available to customers for this "Delaware beach picnic" dining experience.
From small personal plates to large platters, Our Harvest, located in Fenwick, offers simplistic foods that will remind you of your "grandmother's cuisine." They stand by the statement that "extraordinary doesn't need to be expensive." With leather bar stools and couches, the welcoming atmosphere goes hand-in-hand with the quality food.
Found in Ocean View, Good Earth has seasonal, weekly menus crafted by Executive Chef Nino Mancari. Organic and locally sourced, menu items range from chickpea salad sandwiches served on gluten free bread to Smith Island crabcakes. Not only is Good Earth a place to go eat, but also has shops in Ocean View and Rehoboth, as well as places to stay on the farm through Airbnb! Good Earth also hosts special events.
Recreating their ancestors' meals and recipes, DiFebo's is a family-based business with the mindset of providing fresh, homemade dishes created with their Italian parents' and grandparents' techniques. The two locations in Rehoboth and Bethany each feature specific menu items.
Good nutrition is the main part to living a healthy lifestyle and feeling your best, so stop by one of these restaurants focused on providing high quality foods this National Food Day! We also recommend Barn 34 and Rare & Rye in Ocean City for an ideal, healthy dining experience.
The post Celebrating National Food Day on The Shore appeared first on ShoreBread Eastern Shore Lifestyle Magazine.