Chesapeake Bay Maritime's Annual Oysterfest!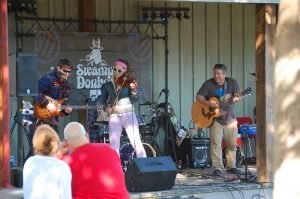 Aw *shucks* it's time to get ready for the Chesapeake Bay Maritime Museum's OysterFest 2018! Taking place on Saturday, October 27, the annual Oysterfest is ready for another year of sippin,' slurpin' and savoring one of the most cherished sea creatures on the Eastern Shore — Oysters!
OysterFest is an opportunity to celebrate one of the most delicious types of seafood to ever exist. Offered in a variety of cooking styles oysters can be eaten steamed or raw along with oyster fritters, crab cakes and so much more! That certainly sounds like a party for your taste buds if you ask us!
Even if you aren't a hardcore oyster lover there are other fun activities to do such as enjoy live music including a return performance by Swamp Donkey Newgrass, river cruises aboard Winnie Estelle, oyster stew cooking competitions, and there are even some fun activities for the little ones!
If you're looking forward to partaking in some adult beverages, OysterFest is offering local craft beer and spirits and some great Rum cocktails from Lyon Distilling Company as well as oyster shooters, and scrumptious Chesapeake-style Bloody Marys feature George's Bloody Mary Mix.
On top of all of the fun mentioned already, local chefs will offer cooking demonstrations of their signature oyster dishes with a blind taste test to follow to be crowned this year's OysterFest champion of oyster stew. Who doesn't love some well-earned bragging rights?!
The fun doesn't stop there! Get your *mussels* ready because there are some amazing competitive Chesapeake-themed games including cornhole, giant oyster reef Jenja, a scavenger hunt, activities fun for friends and family, AND a chance to build a take-home model boat for three dollars! No need for snorkeling gear either. The Phillips Wharf Environmental Center's Fishmobile will provide festival-goers with an opportunity to explore fish, terrapins, horseshoe crabs, blue crabs, oyster toadfish, oysters, and more.
Like we've heard before, "The World is Your Oyster" so we hope it'll lead you to have a fantabulous time at this year's Chesapeake Bay Maritime Oysterfest! For more information, please be sure to check out the official website of Chesapeake Bay Maritime Museum by clicking the link here!
The post Chesapeake Bay Maritime's Annual Oysterfest! appeared first on ShoreBread Eastern Shore Lifestyle Magazine.