Church Fire Victim Released From Hospital; Community Plans Benefit Friday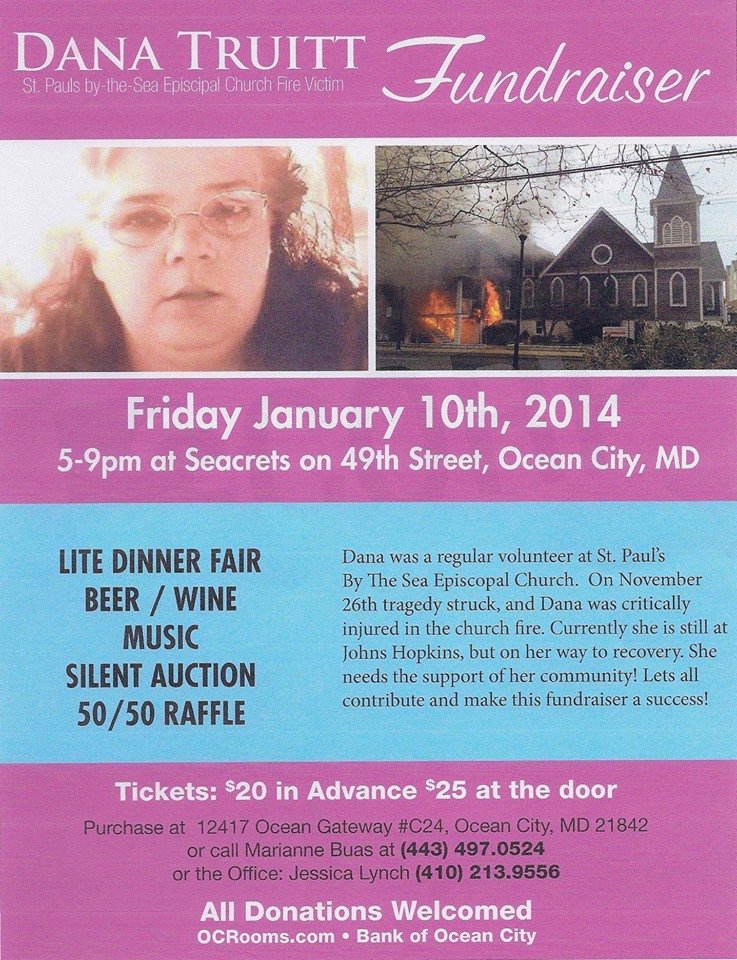 OCEAN CITY – The woman battling back from injuries sustained in last year's St. Paul's by the Sea Episcopal Church fire was released from the hospital over the weekend and the community is planning to come together for a fundraiser this Friday.
The benefit for Dana Truitt will be held Jan. 10, from 5-9 p.m. at Seacrets on 49th Street. The event will include lite dinner fare, beer and wine, live music, a silent auction and 50/50 raffle.
Marianne Buas, owner of the Buckingham Motel, along with her husband, Spiro, are spearheading the fundraiser as Truitt and her fiancé have been long-time employees of the hotel.
"She [Truitt] volunteers at the church three days a week, which is amazing … because a lot of people donate their money but because she doesn't have much money she donated her time," Buas said. "She doesn't have much and these bills she is getting are going to be tough. She was in the hospital for over a month. She is going to have to be in physical therapy several days a week here in Berlin and she will have to be taking trips to Baltimore [Johns Hopkins Bayview Medical Center] every week."
In developing the fundraiser, the Buas family has found helping hands along the way. Julie Smith of the Angler Restaurant will be preparing the food and collecting donations from other restaurants for the event, as well as Seacrets providing the space and beer and wine, and Greene Turtle North being a ticket outlet, along with many others.
"Everybody we call is eager to donate something," Buas said.
Truitt was spending her morning at the church's rectory, which was home to the Shepherd's Crook food pantry, on Nov. 26 to prepare for a community Thanksgiving dinner when tragedy struck.
The investigation into the fire revealed a suspect, later identified as John Raymond Sterner, 56, of Ocean City, purchased gasoline at a nearby Shell station at the foot of the Route 50 Bridge, walked several blocks to Baltimore Ave., doused himself in gasoline, set himself on fire and then entered the Shepherd's Crook.
Sterner was found deceased inside the building by first-arriving firefighters. During a search of the second floor of the structure, firefighters found the church pastor, Rev. David Dingwall, who was unconscious. Dingwall was quickly removed from the building and treated briefly at the scene by Ocean City paramedics before being transported to Atlantic General Hospital, where he later succumbed to his injuries. The Ocean City Fire Marshal's Office ruled Sterner's death a suicide and Dingwall's death a homicide.
Shortly after setting himself ablaze and entering the Shepherd's Crook, Sterner came into contact with Truitt.
In a telephone interview with The Dispatch from her hospital room at Johns Hopkins Bayview Medical Center in early December, Truitt recounted the events just prior to and after the blaze.
Truitt said she saw Sterner set himself on fire and come directly into the church rectory. Sterner attempted to prevent her from fleeing, but she was able to force her way past him. However, she was not able to get by the burning man before he came into contact with her and caught her on fire as well.
"He was able to grab my right side," she said at that time. "He grabbed me and said 'you're not going anywhere' and I said 'you watch me.' That's what I did."
Truitt was outside and on fire and attempting to take her burning clothes off when help arrived.
"I was outside and I started to take my clothes off when the fire company finally showed up," she said. "They said 'come on, get in the ambulance' and I walked to the ambulance and that's when they started cutting the rest of my clothes off. They said 'Dana, we don't know how you're doing it honey, but you're talking and can you tell us what happened and everything. I was telling them what was going on."
Truitt did not wake up until nine days later in the hospital suffering from third-degree burns, and over this past weekend she was released to return home over a month after the fire.
Reached on Monday, Truitt was in good spirits and happy to be home in Ocean City. Although she has not fully recovered, she hopes to attend the fundraiser on Friday for at least an hour or so.
"I am healing up fine. The doctors keep saying how happy they are with the way my face and arm are healing,' Truitt said. "It is just wonderful that everybody has come together for somebody that they don't even know to help and support them. I am so grateful … if it wasn't for Spiro and Marianne I don't think I would be this far."
Tickets for the Dana Truitt Fundraiser are $20 in advance or $25 at the door. Tickets can be purchased 12417 Ocean Gateway #C24, at Greene Turtle North on 116th St., at the Madison Beach Motel on 9 North Baltimore Avenue, or call Buas at 443-497-0524 or Jessica Lynch at 410-726-0736.
Donations are welcome at OCRooms.com through the website's donation link on the main page. The method of payment on the website is through PayPal.
An account has been opened in her name at the Bank of Ocean City titled the Dana Truitt Donation Fund. Donations can be made at any Bank of Ocean City branch or by mail to the Dana Truitt Donation Fund, C/O Bank of Ocean City, P.O. Box 150, Ocean City, Md. 21843.