Clear Skies to Yield Spectacular Rocket Launch Views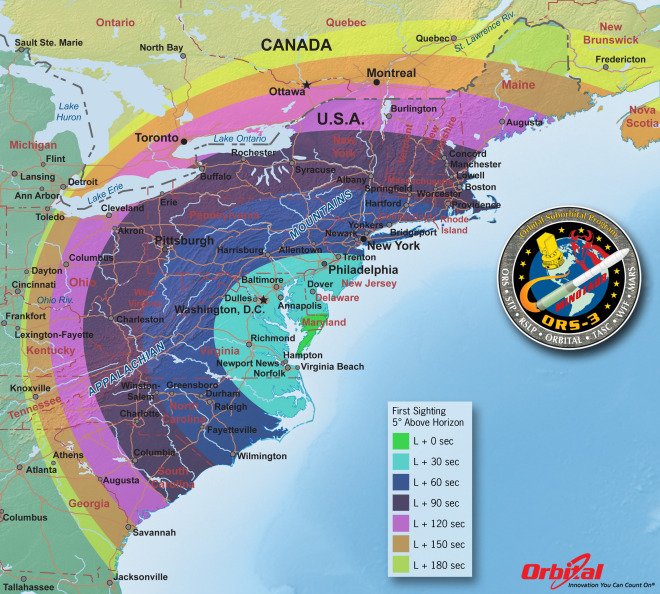 Look to the skies tonight, more specifically around 7:30 pm, to catch a glimpse of the rocket launch. An Air Force Minotaur I rocket is scheduled to lift-off tonight, November 19, from NASA's Wallops Flight Facility.
This is the second Minotaur launch from Wallops in the last three months. The launch will also set a record of 29 satellites launched from a single rocket. As the NASA map above shows, the launch will be visible from northern Florida to southern Canada and as far west as Indiana. That's a potential viewing radius of up to 1,000 miles. Since we are situated in the zone closest to the launch, the launch will be visible to us almost immediately. This also means that we will have some of the most advantageous views right here inOcean City and along Assateague. Sure, watching a rocket launch would have been a tad bit more enjoyable during last nights' milder temperatures, but the crisp, clear skies should make for a terrific view nonetheless.
In addition to stepping out your front door or posting up along the coastline, you can also head to the NASA Visitor Center on Wallops, the Chincoteague National Wildlife Refuge and Assateague Island National Seashore for views of the launch. If you plan on heading to Assateague Island, NASA officials are encouraging viewers to be on the island by 6pm before the entrance gates close. You can also watch the launch live online, courtesy of NASA, beginning at 6:30pm.
The Orbital Sciences Minotaur 1 is a four stage rocket capable of boosting up to 1300 lbs. into low-Earth orbit. The rocket is set to deploy 28 cubseats, including the TJ3Sat, the first satellite built by students to be launched into space. The mission is to launch STPSat 3, a host spacecraft for five experiments and sensors to measure the space environment. Similar rocket launches are slightly unusual for the East Coast, which should yield a surprising show tonight for thousands of East Coast residents. However if you witnessed the September 6 Minotaur 5 rocket launch, expect an equally spectacular show.
Android viewers have the bonus option of downloading the new "What's Up at Wallops" app, which provides updates and information on the launch, along with a compass showing the precise locations for viewing the launch.
As always, if you snap any great photos, please share them either on our Facebook page or via e-mail to [email protected].