Creative Ideas for Conquering the Winter Blues with the Worcester County Arts Council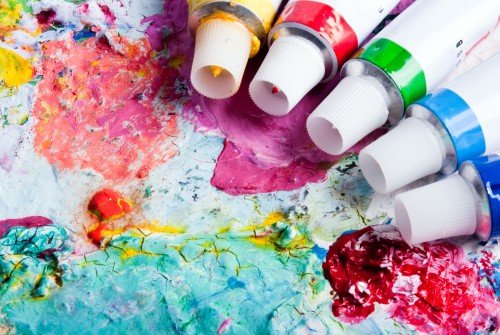 Art is a powerful way to learn…and to kill those wintertime blues. As we trudge our way through the winter months, one way to lighten your spirits is by expressing yourself through art. The Worcester County Arts Council is spotlighting some excellent arts classes right now, with upcoming workshops for kids and for adults. Take a look at the list below and register for one of the upcoming art enrichment classes today:
Children's Classes – Ages 5-10; Fee: $25 per class(supplies included); Instructor: Erika Rittling Uebell
Wood Panel Painting – January 21-22, 4:15 pm – 5:15 pm
Inspired by artist Jasper Johns, students will create their own letter or number using acrylic paint on wood. Students will be taught various techniques using acrylics. They will also be introduced to a variety of Johns' works.
Keith Haring Symbols – February 4-5; 4:15 pm-5:15 pm
Inspired by Keith Haring's symbols, such as a "radiant baby," students will create their own symbol on a stamp. The students will then use their stamp to create a print using ink and cray pas.
Chiarosuro Still Life – February 18-19; 4:15 pm-5:15 pm
Chiarosuro in art means the contrast from light to dark. Students will be shown a variety of works that represent this technique. Using acrylics on canvas students will create a black and white still life painting.
Adult Classes
Paper Making – January 29; 6:30 pm – 7:30 pm; Instructor: Erika Rittling Uebell

In this introduction to paper making class, participants will explore various techniques using pulp to create a functional piece of paper of their choice or a work of art. Fee: $20; supplies included.
Introduction to Drawing: February 1, 8, 15, 22, Saturdays 10 am – 12pm; Instructor: Marina Borovok
Learn to draw what you see using line, shape and creating form with graphite. Advance the skills you already have to help you a better artist. Fee: $25/single participant/lesson, or $80 in advance for 4 lessons. All materials provided.
Introduction to Acrylic: February 12: 6:30 pm – 7:30 pm; Instructor: Erika Rittling Uebell & Kate Russell
This class is for beginners wanting to learn how to paint. Participants will learn simple techniques on mixing colors, brush work, texture and blending. Fee: $10. Canvas will be provided. Please bring your own paint and brushes.
Oil Painting: February 1, 8, 15, 22, Saturdays 10am-12pm; Instructor: Marina Borovok
If you have never painted in oils before, or if want to expand on your skills, this course gives you the basics you need to produce original work. Learn color mixing skills, paint application and how to work with oil painting mediums. Fee: $40/single participant/lesson or $120 in advance for 4 lessons. All materials provided.
Wreath Creations: February 26; 6:30pm-7:30pm; Instructor: Kate Russell
Using a variety of greens, participants will learn how to create a simple wreath. Inspired by the upcoming spring, box, wood, ribbon, moss and birch bark will be provided to create a beautiful wreath. Fee: $20. All supplies included.
Watercolors to the Beach and Beyond: March 3-5; 9:30pm-3pm; Instructor Nancy Ellen Thompson
Enjoy watercolor at its best! Learn new and effective ways to paint water, waves, sand, reflections and beach scenes. Nancy Ellen Thompson will be instructing techniques to create luminous water and skies using a beautiful limited palette of colors. This workshop is for all levels of expertise from beginner to master. Fee: $165 for 3 day session. Supplies will be provided upon registration.
Worcester County Arts Council members will receive a 10 percent discount on class registration fee. Space is limited and advanced registration is required.