Day Trippin' – 21st Annual Berlin Fiddler's Convention
Thousands of people will flock to downtown Berlin this weekend (ShoreBread included) to celebrate the 21st Annual Berlin Fiddler's Convention. The weather forecast is in our favor, the list of competing bands is ever-growing, and the local vendors are busy  prepping for a good old-fashioned bluegrass throw-down. Over the past few years, Berlin has evolved into an arts hub for our local community, and over the past 21 years, we've seen downtown Berlin transform each September into the unofficial headquarters of bluegrass, with the highly anticipated Fiddler's Convention. The Fiddler's Convention will take center stage once again this weekend as bluegrass musicians travel from all over to not only compete, but to also enjoy a weekend of jamming with fellow artists.
Elaine Brady, Chairperson of the Berlin Fiddler's Convention, reported this week that they expect anywhere from 6,000 to 10,000 people to turn-out for the two-day event. The number of performers is typically around 50, but with registration available up until the competition starts, Brady is still unsure of the exact number of performers for this year's competition. Headlining acts include last year's bluegrass band competition winners, the Saltwater String Band, as well as Reno & Harrell Sons of Legend. Both headlining bands will perform Friday and Saturday. While Brady gave nod to the talented headliners, she made note of the true heart of the event – the competition. "It's really the competition that everyone comes for," she said. "People come from all over to see these really talented individuals."
Friday night serves as a kick-off event for the weekend, with performances by both headliners from 7pm to 10pm, along with a tribute to our local champs, the Berlin Little League, who recently brought home the Maryland State Little League baseball title. Reno &  Harrell Sons of Legend and the Saltwater String Band return Saturday, performing from 10am to noon, prepping the crowds for the showcase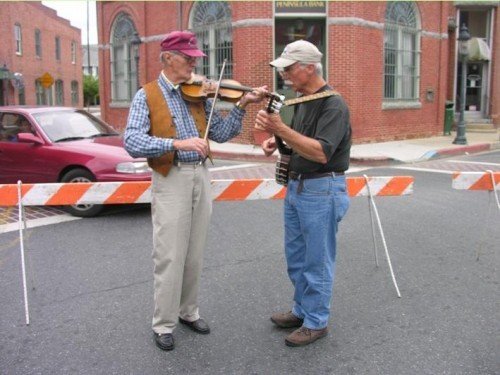 event – the competitions. Competitions are held for five categories, including guitar, banjo, mandolin, fiddle, and bluegrass band. "It's just absolutely phenomenal, the talent of the musicians," remarked Brady. In addition to the regular competition, there is also a youth competition. "People are amazed by the talent of these kids," said Brady.
As one of the town's largest events, preparations for the 21st Annual Fiddler's Convention have been underway for some time now, with a host of local vendors lined up for Saturday, as well as an entirely new set-up this year to accommodate crowds and new town businesses. Brady explained that while the convention's focal point used to be in front of The Atlantic Hotel, the event would include the northern end of Main Street as well this year, with a stage set up in front of Tex-Mex Friday night. "Because we've got new businesses in the north end of downtown, we wanted to create a flow from north to south," explained Brady. Also new this year, is a dedicated handicap parking lot. The public parking lot adjacent to the Berlin of Chamber of Commerce will be reserved exclusively for handicap parking, making access to the center of the events more readily available.
While past years' have included an official third day for the gospel jam, Brady explained that the convention would technically only run two days this year. Don't fret just yet, Brady noted that there would most likely still be participants gathered at the Taylor House Museum on Sunday for a more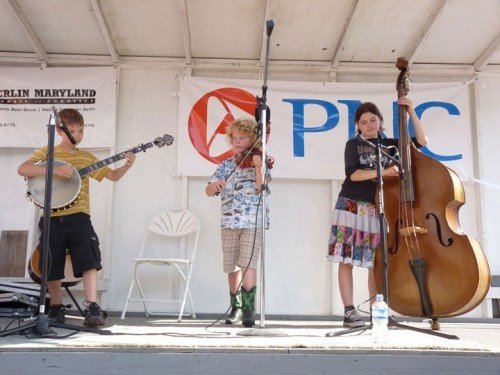 informal gospel jam. The Sunday jam originally started as an casual gathering of musicians said Brady, "and we decided to go back to its roots, so that's how this year's Sunday jam will be." Keeping an informal, organic flow of events has been important since the beginning, added Brady, "We don't want to make the event so structured that some of those fun things get taken away."
While the event has a schedule of performances and a time frame of events, the main stage won't be the only place to find pickin' and toe tappin' this weekend. "As the musicians start coming into town they'll be tucked into areas of town and street corners jamming with one another," said Brady. Musicians hail from all over, and with 21 years under its belt, the Berlin Fiddler's Convention has made quite a name for itself in the bluegrass world. That doesn't mean local faces won't be seen on the stage, Brady made note of one local family with all four children signed up to compete.
Whether you're a bluegrass enthusiast or not, we highly recommend Day Trippin' to downtown Berlin this weekend for a first-hand look at some of the best bluegrass pickers around. After all, who doesn't love spending a Saturday listening to good tunes and reveling in the sunshine and good vibes, all while tapping your toes and enjoying a bite to eat. See ya'll there!
Until next time…