Day Trippin' – OC Bikefest and Delmarva Bike Week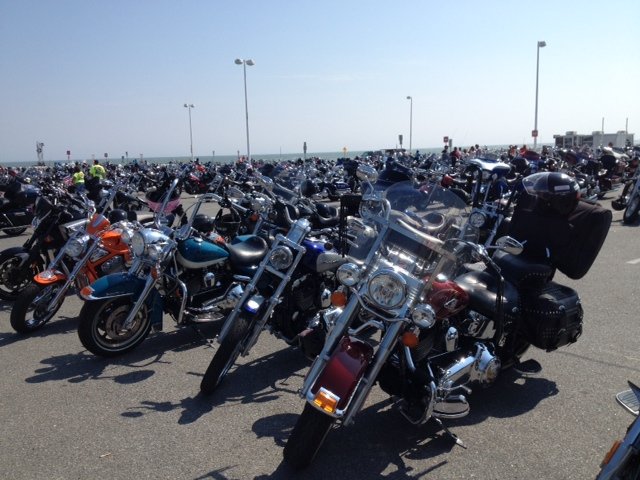 It's that time of year again, the time of year when the consistent throttling of motorcycle engines fills the air. Over the past few days, more and more motorcycles have poured into town for OC Bikefest and Delmarva Bike Week. Thousands of bikers will roll through town over the next few days, and with all the events planned – including a biker wedding – ShoreBread couldn't resist Day Trippin' on two wheels this week.
For the first time, OC Bikefest and Delmarva Bike Week are combined into one. OC Bikefest promoter Cliff Sutherland of OC Jams LLC announced in March that his company had purchased Delmarva Bike Week in an effort to keep the event rolling through Ocean City. For the most part, the logistics of Delmarva Bike Week will remain the same, with two vendor locations at Perdue Stadium and Winter Place Park in Salisbury. OC Bikefest headquarters will be at the Ocean City Roland E. Powell Convention Center and the Inlet Parking Lot downtown. Both venues promise big excitement, with concerts, stunt shows, custom bike builders, motorcycle vendors, shops, rides and more.
The Convention Center will feature bike manufactures such as Star Demo Fleet and Victory Motorcycles – both of which will be offering demo rides. Rommel Harley Davidson will also be on site with over 100 motorcycles for sale as well as a full-service station. Access to the events at the Convention Center is free of charge. The Inlet Parking Lot events are gated, and require admission due to live entertainment occurring throughout the weekend on two stages.
There are two stages set up in the Inlet Parking Lot, with shows planned for Thursday, Friday, Saturday, and Sunday. Show times and concerts vary so visit www.ocbikefest.com for more details. Headlining bands include the following:
Kashmir – Led Zepplin Tribute Band
Blizzard of Ozzy – Ozzy Osbourne Tribute Band
Jacklyl with Jesse James Dupree
Three Dog Night
WAR
Bastard Bearded Irishmen
Jamiah on Fire and the Red Machine – Jimi Hendrix Tribute Band
New this year to OC Bikefest is an on-site biker wedding. This is the first year for the Biker Two Wheel Wedding. One Lucky Couple will be legally wed on the Main Stage at the Inlet, this Saturday, September 14. Interested couples were required to submit their photo and an essay of 200 words-or-less telling why they wanted a biker wedding. "We had about two months to pull it together and much to our surprise we had almost two dozen entries," explained Caroline Fellman, Senior Editor of Fast Lane Biker Magazine Delmava, this week. "This was a joint effort with Barefoot Bride of Ocean City who are simply fabulous," she added. After reviewing the submissions, Cale and Brittany were selected, and will take the ride of a lifetime and tie the knot on the Saturday at 4:45pm. Cale and Brittany will receive free weekend admission to OC Bikefest, plus four additional passes for the day of their wedding for their bridal party. Prizes also include event and ceremony coordination courtesy of Barefoot Bride, a Harley-Davidson photo-op, bride and groom tux and gown rental, wedding rings, wedding night accommodations, bride's hair and makeup, flowers, wedding cake, and reception at the Fast Lane Biker Delmarva Lounge at the Inlet. In addition to the Two Wheeled Wedding on Saturday, an additional couple will be married at the Two Wheel Wedding Chapel Friday at 5pm, courtesy of Barefoot Bride. "He is active duty military and he and his fiancé have a child together," explained Fellman. "It simply felt like the right thing to do."
Last but certainly not least on our trip itinerary, the Ives Brothers "Wall of Death" and the Circus Una Motorcycle Thrill Show. The Circus Una all-female, daredevil duo will roar through the air once again this weekend. It truly is a sight to be seen – the trapeze artist and rider balance upon a thin wire, with a finale 360 revolution around the wire. The "Wall of Death" is equally awe-inspiring. The motorcycle stunt show features stuntmen riding their motorcycles and a high-powered go-cart on a 15-foot vertical board wall.
As if the Two Wheeled Wedding and Inlet and Convention Center events weren't enough, there are a number of bars and restaurants around town joining in on the two-wheeled fun. Fish Tales, Seacrets, de Lazy Lizard, Hooters and Hooper's are just a few of the bars to stop at along your ride around town, or to simply take a look at some quality bikes. We're doing more than Day Trippin' this week, we're four-day-trippin' all over Ocean City and Delmarva, joining the masses for live music, events, a biker wedding, and of course, riding. Until next time…