Day Trippin' to Cove Road Beach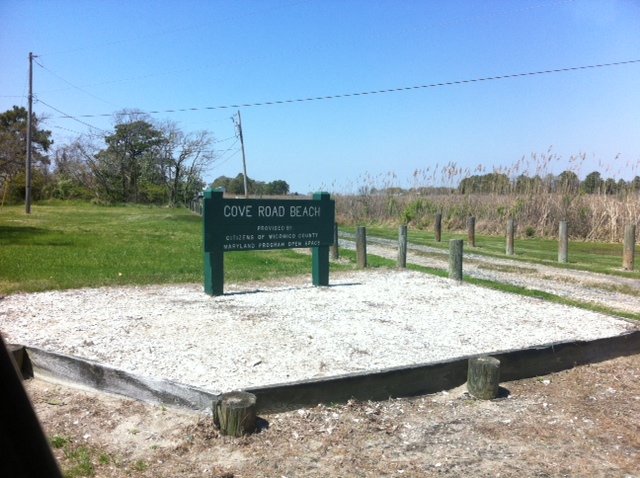 Last weekend, ShoreBread was in the mood to discover new places on the Shore that we haven't been to before. We set out to the town of Bivalve and found a natural hidden gem.
Cove Road Beach, also known as The Cove, is a small beach located only 15 miles away from Salisbury, down Maryland's Blue Crab Scenic Byway (we had almost as much fun driving down the tree-lined roads as we did at our destination). As we arrived, we found a semicircle shaped beach of white sand situated on the banks of the Nanticoke River.
This narrow stretch of shoreline is a best-kept secret among the Bivalve locals because it provides a day at the beach without the crowds of Ocean City. Although it does not offer a boardwalk, restaurants or any of our other favorite OC amenities, it does provide a more private sandy spot. The Cove is also great for fishing, crabbing and has shallow waters, perfect for young swimmers. During our visit we saw a brave soul jump into the still chilly waves to join his dogs in a game of fetch.
Because the Nanticoke is a tidal river, you can find the water at different heights on the beach depending on the time of day. We've heard the best time to visit is after 3 p.m. when the beach is at its widest. The Nanticoke's brackish water also provides a home to many different species of wildlife including endangered and protected creatures. While visiting the Cove you could also catch a glimpse of Nanticoke inhabitants like bald eagles, diamond-back terrapins, red and grey foxes, or rockfish.
While catching a few rays stretched out on the sand, we also found some interesting information about the body of water stretched out in front of us. The Nanticoke is 64.3 miles (103.5 km) long starting in southern Delaware and ending in the Tangier Sound. Its watershed encompasses 30,000 acres, with over 50,000 acres of tidal wetlands.  These wetlands are important for humans by reducing floods and filtering pollution from water but are also a place for migrating birds to rest, mate and nest.
Areas along the Nanticoke also contain the largest contiguous forests that survive on the Delmarva Peninsula. These are "virgin forests" that have never been cut down or harmed before. The Nanticoke Watershed also has four types of forests, deciduous, evergreen, mixed, and forested wetlands. These varieties of habitats only increase the diversity of wildlife that can be found in our area.
After a great day at the Cove, we packed up our picnic and headed home, already mentally planning out when we could return, swim suit in hand, to enjoy the natural beauty of the secluded coast.