Downtown Salisbury's Cake Art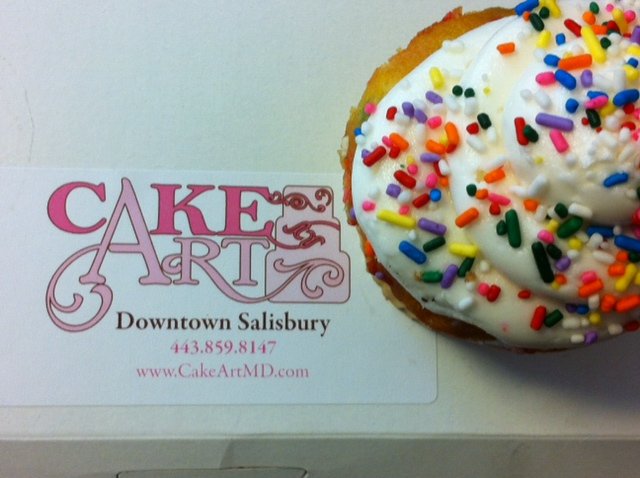 Leaving Downtown Salisbury and stepping into Cake Art is like taking a sweet escape into Candy Land. Once inside, the sugary aroma pairs with the colorful interior, giving rise to the dreamlike atmosphere of the cupcake shop. The local confectionery, run by Susan Patt, has been spreading treats all over the Eastern Shore since 2009.
According to Patt, Cake Art's variety of cupcake flavors is "why people come here". On any given day, the store has eight to ten cupcake flavors available to order or buy directly at the store. The options are also displayed on Cake Art's FaceBook, Twitter, and Instagram pages, so you can check out the flavors before you try them. Staple flavors like Reese's and Oreo are always in stock while other seasonal favorites, like Pink Lemonade and Cotton Candy, rotate seasonally. Some fall favorites that Cake Art has been baking up include Pumpkin Spice. Patt told us that "customers have been asking when we will have the Caramel Apple."
Patt's recent advents include flavors like Pineapple Upside Down cake and a Banana Split cupcake. The banana split follows true sundae style composed of banana and pineapple flavors in the cake mix with strawberry icing and a cherry on top. Also coming soon, is a cupcake "Happy Hour." Cake Art will stay open late and feature cupcake flavors inspired by alcoholic beverages.
From creating whimsical wedding cakes to an enormous cake replica of Seacrets in Ocean City, Patt holds true to her idea of keeping each item "custom for the customer." Her attention to customer service has also won her both Wedding Wire "Bride's Choice Award" and Metropolitan Magazine's "Best Cupcake" for three years consecutively. Most recently, Patt has also been nominated by Maryland Capital Enterprises for the Palmer Gillis Entrepreneur Award.
Patt's favorite part of owning Cake Art is the sense of community she feels from her job. Cake Art's cakes play an important role in the big events in her buyers' lives, oftentimes leading to a lasting relationship between Patt and the customer. Patt explained that customers first begin by "buying their wedding cake with Cake Art, then a cake for their baby shower… then birth day cakes… a second baby shower." Patt also tries to make an impact on the community through her business. Cake Art recently became a member of LORA, Local Owner Restaurant Association, helping to support local business in Salisbury. Cake Art also donates goods to Women Supporting Women, Relay for Life, and other local charities.
ShoreBread floated out of Cake Art on the same sugary cloud that we floated in on, this time with a pumpkin spice cupcake. Easily one of the best pumpkin spice cupcakes we've had, it had the perfect amount of cinnamon in the cake with a large dollop of butter-cream frosting on top.