Easter Events on the Shore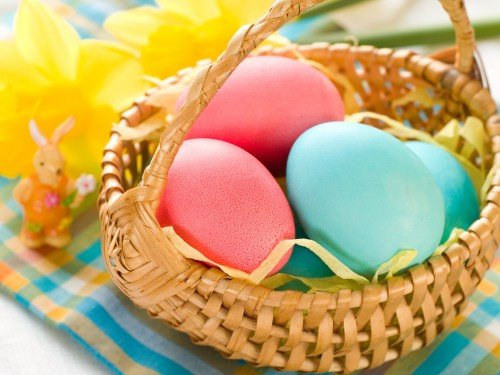 Finally! Easter Weekend is here, and for ShoreBread that means lots of egg-citing events to consider. Beyond the usual visits to church and family dinners, there are a number of events that we are going to attend with our families and friends this weekend. Check them out here:
Layton's Chance's Adult Easter Egg Hunt
April 16, starting at 6:00
4225 New Bridge Rd, Vienna, MD 21869
410-228-1205
Start Easter early with a not-so-traditional egg hunt. At the beautiful Layton's Chance Vineyard & Winery, you or a partner will be blindfolded and then guided by the other seeing team member in a quest to pick up eggs. Prizes include free gift tickets for wine and gift cards. We recommend hunting with a glass of wine in hand, you are at a winery after all!
Easter Art & Craft Fair and Kids' Fun Fair
Friday, April 18 10:00 a.m. – 5:00 p.m
4001 Coastal Highway, Ocean City, MD 21842
410-213-8090
Get artsy this Easter at the Art and Craft Fair! The Ocean City Convention Center is hosting a bevy of local artists displaying wearable art, floral arrangements, lawn and garden décor and fine arts. Also for the kids make sure to check out the magic shows, juggling and egg hunts!
Great Easter Bash and Hunt
April 19, 11:00 a.m. – 2:00 p.m
201 W. Fairfield Drive, Salisbury, MD 21801
410-749-9428
Come out to celebrate the season! Egg hunts for kids up to age 10, moon bounces, face paintings food and more!
Bunnypalooza 2014
April 19, 8:00 a.m.
Starting at Garfield Parkway, Bethany Beach, DE 19930
302-537-7723
Before you pack on the calories with an Easter brunch, join in the entertaining 5k Walk/Run. This is not your typical running course, there is live music, face painting and other festival activities for you to participate in along the way. Proceeds go to Quiet Resort Charitable Foundation (QRCF) which helps find scholarships and other support to citizens in the Bethany-Fenwick area.
Community Egg Hunt
April 20, 11:00 a.m. – 1:00 p.m
Stevenson United Methodist Church Berlin, MD
410-641-1137
Come out to America's Coolest Small Town for an egg hunt! The Easter Bunny will have just left town and scattered his eggs around Berlin, make sure to collect as many as you can find.
And of course…Happy Easter:)