Fager's Island 4th Annual Surf Swap and Paddle Board Event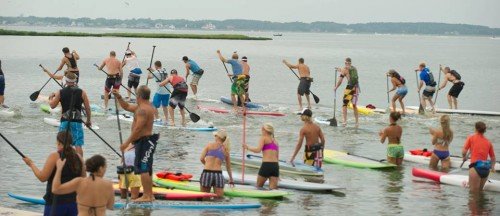 Maryland Coastal Bays Program (MCBP) – partnering with OC SUP and Fitness and Fager's Island Restaurant – is hosting an all day family event that includes paddle board races for SUP owners looking for a challenge, surf swap for watersport enthusiasts who want to trade or sell their equipment, surf shops selling items at discounted prices, surf board demonstration, artists, children's games and activities provided by the Coastal Stewards, a casual kids SUP relay and teams of two fun SUP relay for novice paddle boarders (paddle boards provided) and of course food and drink special accompanied by live entertainment, on Sunday, June 1, on 60th street and bayside.
This event offers something for everyone.  Activities schedule:
8:30 -9:30 am-Packet pick up & Race Day registration for paddle board owners looking for a challenge. There will be 2.5 Rec Race & a 5 mile Elite SUP race You can register in advance at https://paddleguru.com/races/SurfSwapChallenge
9:45 am-Meeting for Racers
10:00 am-Start for 2.5 Rec Race & 5 mile Elite SUP Race
11:00 pm- 11:45 pm -Registration for KIDS SUP Race & Two Teams of 2 FUN relay SUP Race
Surf Swap begins
12:00 pm-KIDS SUP Race (Boards will be provided) cost is $10 per child.
1:00 pm – DJ paddle battle kick off and then Team of 2 FUN SUP Race, teams will be placed in heats with a maximum of 6 teams (boards will be provided). Teams of two are open to anyone interested in having fun while contributing to the Maryland Coastal Bays Program. Partner with your other half, friend, family member or working cohort and relay paddle for the coastal bays. For only $30 registration includes the paddle, use of equipment, commemorative t-shirt, a  sandwich and soda/or beer.
2 pm-Colossal Fossil Band begins
Awards & prizes to follow!
Proceeds from the race go to the MCBP, the non-profit organization committed to protecting the five coastal bays behind Ocean City and Assateague Island.  There will also be raffles including a beautiful new SUP, a Solace Paddle and a beach cruiser bike.
Check it out on FaceBook under Fager's Island Surf Swap and Paddle Board Race. For more information call Sandi at 410-213-2297 ext 107 or email [email protected].