Gabby Gobble 5k Looks Forward to 3rd Year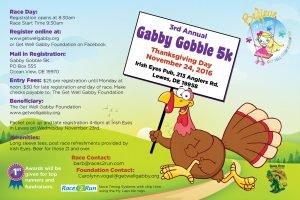 The ShoreBread team enjoys nothing more than backing a good cause and the Gabby Gobble 5k is one cause that we just love to support. All the proceeds from the Gabby Gobble 5k go to benefit the Get Well Gabby Foundation. If you're not familiar with the story of Garbriella Martha Vogel, you can learn more about her story here on their website. But, we have to warn you, it's a little bit of a tear-jerker. However, Gabby's parents are now committed to helping other children get well. In our original article on the inaugural Gabby Gobble 5k the organization pledged to give $125,000 to the DuPont Pediatric Hospital in five years. Well, we sat down with Carolynn Vogel, Gabby's mother and President and Co-Founder of the Get Well Gabby Foundation two years later to see how they are tracking on that goal.
Carolynn does most of the planning for the Gabby Gobble 5k herself with team of dedicated volunteers. Now heading into its 3rd year, this annual event has been nothing short of successful. Remember that $125,000 pledge we talked about in our 2014 article? Well, the Vogel's just sent in their final payment back in August. While Carolynn considers the Get Well Gabby Foundation a small organization, it's hard to look at that number and think that they haven't made a huge impact on the lives of other children. In addition to this huge donation the foundation has made to the DuPont Pediatric Hospital, the foundation has donated another $13,600 to individual children and families, collected and donated over $51,000 in new books to seven different hospitals (three local hospitals including: Hershey Medical Center, CHOP, and DuPont Pediatric Hospital).


Last year, The Gabby Gobble 5k raised $27,000 with just under 1,000 runners. Vogel told us that "People are excited about the cause and want to raise money for our cause." We can't help but be excited about a great cause ourselves. For those of you that can't make it to Lewes for the event, there is also an option to sign up as a virtual runner. In fact, Carolynn's cousin signs up as a virtual runner every year, shares her fundraising page with all of her friends, and then does the run at her house in North Carolina every Thanksgiving morning. Carolynn told us that "she loves being able to help from a distance." For those that are less than enthusiastic about running, Carolynn shared her tagline with us: "I run the run, I don't run in the run."
The event costs $25 to register in advance online or $30 to register the day of the run. Carolynn expects another 1,000 runners this year but would love to exceed their goal of 1,200 (hint, hint). The cost of the event is low considering all the amenities runners get for $25: a long sleeve t-shirt, swag bag with all kinds of fun items from their sponsors. Not to mention, Irish Eyes provides bloody mary's, beer, hot dogs, and hamburgers to runners (the alcoholic beverages are obviously reserved for those over 21 only).
Packet pick up or day-of registration takes place at Irish Eyes on Wednesday, the 23rd, from 4 to 6 PM. Thursday morning packet pickup and registration opens at 8:30 AM at Irish Eyes in Lewes. The race begins at 9:30 AM. The foundation encourages participants to bring extra cash as local businesses donate items that are raffled off after the run. This year's hottest raffle item is a workout and personal training package from Body Works in Rehoboth valued at $190. Other items include: restaurant gift certificates, a beer pong set valued at $80, comic book gift baskets, spa gift certificates, and so much more. They strive to make sure there is a raffle item there that anyone can fall in love with. Free crafts are also available for the kids to keep them occupied during and after the race. There will even be a prize wheel where you win every time! Let's not forget to mention that there are awards for top runners, top fundraiser, largest team, and best dressed (festive attire is highly recommended!).
The event is usually over by noon so you still have plenty of time for your Thanksgiving celebration afterwards. And, Carolynn wanted us to send you off with one final thought, don't forget to "BELIEVE in a cure!" While their organization is small, with the community's help, they can make a huge impact.
The post Gabby Gobble 5k Looks Forward to 3rd Year appeared first on ShoreBread.