Get Ready for OC Sunfest 2018!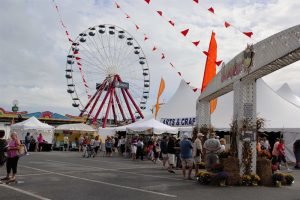 What better way to celebrate the end of an amazing summer season in Ocean City than with the famous Sunfest arts, crafts, and music festival!? This 44th Annual event will take place on September 20-23 at the Ocean City Inlet.
As the sun shines and the ocean air surrounds the festival tents, crowds will enjoy musical entertainment, delicious foods, and unique arts and crafts. Admission is free.
Over 180 artist and almost 300 vendors will fill the Inlet parking lot. Sunfest brings excitement and joy to people of all ages, locals, and vacationers! With the combination of food, beverages, entertainment, and beach activities for the whole family, the festival puts a smile on everyone's face.
Additionally, Sunfest will offer unique things to observe and do this year. You can explore the large T-Mobile exhibit or Duke's Mayonnaise exhibit, observe a live Ocean City Police Department K-9 demonstration, and even get the chance to test-ride fat tire bicycles on the beach. The OC Painting Experience will allow visitors to create their own artwork.
Join us for the ribbon cutting ceremony on Thursday, September 20 at 10:15 am on the outdoor stage! Sunfest goes from 10 am to 10 pm Thursday through Saturday, and from 10 am to 6 pm on Sunday. There will be live music featured throughout the entire event!
All entertainment is free for everyone, aside from the Headliner performances. Headliners start on Thursday night with a show by Forever Tina performing Tina Turner's greatest hits. On Friday, the American southern country rock group The Cadillac Three hit the stage. Then, on Saturday, the Comcast Entertainment Pavilion will fill with ticket holders to the sold-out Daughtry concert.
Since this exciting, eventful festival draws in such large crowds, parking can get a little tricky! We strongly suggest you take advantage of the town's transportation services for the Sunfest weekend!
The West Ocean City Park and Ride on Route 50 provides a convenient location for attendees with free parking and shuttle service to and from the South Transit Center on S. Division Street. That lands you just one block from Sunfest! The shuttle service is $3 to ride all day. In addition to this, the Special Event express shuttle will also be running to and from the Convention Center. You can park your car in the Convention Center lot and head to Sunfest with no worries! This service is also $3 to ride all day.
However you plan to get to Sunfest… we can't wait to see you there for free entertainment, mouthwatering food and beverages, and tons of activities and family fun!
The post Get Ready for OC Sunfest 2018! appeared first on ShoreBread Eastern Shore Lifestyle Magazine.