Gotta Have This Stuff: The Audio Bulb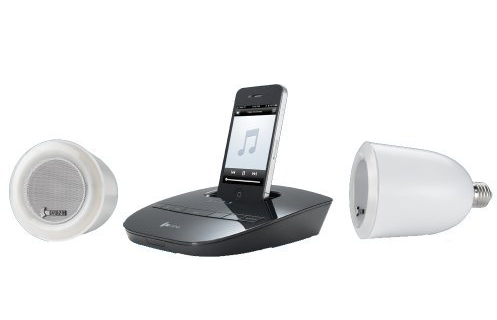 Which tech gadgets, products, apps, and software do you want or need? Which products do you 'gotta have? Each week, a bona-fide tech expert from D3Corp of West Ocean City, MD will discuss tech products that you've 'gotta have live, on the air, on Ocean 98.1. Listen to the Gotta Have This Stuff segment on Irie Radio at 8:00 am on Thursdays as Bulldog chats with a tech-geek and recent ShoreBread happenings. Visit the 'Gotta Have This blog for more information or to check out past discussions about things you've 'gotta have. View this week's tech item below:
The Audio Bulb is a wireless music and lighting system. The Audio Bulb is a light bulb that has built in speakers and actually plays music wirelessly. The 2.25-inch full-range speaker connects to any light bulb socket. The Audio Bulb is ideal for recessed lighting in your home, office or work space.
The Audio Bulb requires no real setup. Just twist the light bulb into a socket – just like any other light bulb, connect your audio source to the standalone base, and press play. Music sources that are compatible with the Audio Bulb include iPods, iPads, iPhones, Androids, MP3 players, televisions, modern stereos, laptops, and PC computers.
Up to 8 Audio Bulbs can be synced and placed throughout your home. With a wireless range of 50 – 100 feet, you'll be able to hear your tunes without obstructions. Two separate zones can be created using multiple Audio Bulbs.
The energy efficient LED light bulb comes with a remote control that controls all music and lighting. The remote controls the brightness/dimness of the light as well as the volume.
Audio Bulbs can be purchased for $299 on Amazon with each additional bulb costing just $99 each. This price includes shipping and handling. To learn more about the Audio Bulb, check them out on Amazon.
Have cool stuff to tell us about? Send it to [email protected] and we'll check it out and pass it along to our resident techie.