Greek Festival Comes to Ocean City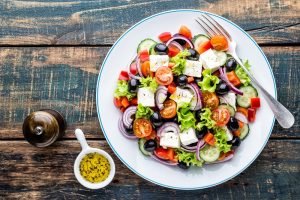 Authentic Greek cuisines, live Greek music and performances, unique art jewelry vendors and imported goods from Greece are coming to the Ocean City Convention Center from July 27-29 for the 29th Annual Greek Festival!
Head over to 40th St. for an unforgettable cultural experience. Some of the enticing, ethnic foods will include gyros, souvlaki, keftethes, lamb shanks, moussaka, pastitsio, dolmathes, tiropita, and more. For dessert, try the rice pudding, loukoumades, or kourabiethes! You've probably tried–or at least heard of–baklava, but have you ever tasted koulourakia, a twist on traditional Easter cookies rich in eggs and butter?
If you have no idea what most of these foods are, that's all the more reason to come out to the festival to expose your tastebuds to a whole new world! Check out the full cuisine menu here.
The festival begins at noon each day, ready to serve these traditional Greek foods for dine-in or carry-out. The event is free, so you may come and go as you please, but we encourage you to stay and enjoy the festival throughout the afternoon and evening!
Along with delicious, mouth watering cuisines, absorb the genuine Greek ambiance each day from noon to 2pm with live Greek music. Boston Lykeion Dance Troupe, and Ocean City newcomer, will present three sets on Saturday night, and The Golden Flame Band will perform each night from 5-8pm for the ideal Greek dining experience and dancing atmosphere.
As if Greek food, music and dancing aren't enough to draw us in, there will also be a marketplace full of vendors providing unique artisan crafts, toys, imports and more!
If you're feeling lucky, be sure to purchase a raffle ticket, big or small! To win up to $10,000 (between $5,000-$10,000 depending on sales), you can purchase a $100 raffle ticket. Only 200 tickets are available for this raffle, so your chances to win the big bucks are high! If you're not looking to spend much, but want to participate, you can purchase 6 tickets for $5 to win the $1,000 cash prize.
Along with free admission, free parking and handicap access will be provided. Visa, Mastercard and Discover are accepted for food purchases, and there will also be an ATM on site. Proceeds will benefit community and ministry programs of St. George Greek Orthodox Church.
The post Greek Festival Comes to Ocean City appeared first on ShoreBread Eastern Shore Lifestyle Magazine.