Holiday Party Recipes: The Cheese Edition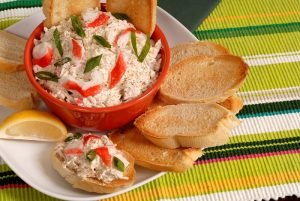 Tis the season for all things merry, festive and party food, of course! Whether hosting your own party or contributing a dish to the company pot-luck, these recipes are sure to be crowd-pleasers, which will bump you up the nice list in no time.
Jalapeno Popper Pinwheels
1 can (8oz) crescent roll dough
1 package (8oz) cream cheese, softened
½ cup grated cheddar cheese
1 large jalapeno, finely chopped and seeds removed
1 tbsp sugar
Preheat oven to 375 degrees.
Unroll the dough and firmly press the seams together.
In a small mixing bowl, combine cream cheese, cheddar, jalapeno and sugar.
Spread the mixture evenly over the dough.
Carefully roll the dough up along the long side, to create a long log.  Tip: you can make the dough earlier in the day. Cut the long log in half and wrap each half in plastic wrap and refrigerate until you're ready to cut and bake!
Cut the log into 24 pieces. Tip: it may be easier to cut the log into 8 pieces first and then cut down by 8 pieces per small log = 24 pieces.
Prepare a baking sheet by covering with foil and then spray lightly with cooking spray. Place the pieces on the baking sheet and bake for 12 – 15 minutes, or until golden brown.
Recipe Credit: http://www.lifeatcloverhill.com/2013/11/jalapeno-popper-pinwheels-easy-holiday-appetizer.html
Marinated Mozzarella
Bocconcini Mozzarella (tiny balls of fresh mozzarella)
Lemon Peel
Salt
Peppercorns
Garlic Cloves
Basil Leaves
Red Pepper Flakes
The author of this recipe does not give exact measurements because she wants you to make this marinated mozzarella your very own. If you want things a little spicier, add extra red pepper flakes. A little more garlicky? Add extra garlic. You get the idea!
Tip: begin to layer your items in a mason jar. Once the layering is complete, pour a good quality olive oil over the top until the jar is full. Put the lid on the jar and shake it up! Place the jar in the fridge for at least 2 hours before you plan to serve. Pull the jar from the fridge about 30 minutes prior to serving and serve with toasted bread. Enjoy!
Recipe Credit: http://bakedbree.com/marinated-mozzarella
 Classic Cheese Ball
2 8-ounce packages cream cheese, softened
2 tbsp. mayonnaise
1 tbsp. fresh lemon juice
1 bunch green onions
10 slices ultra thin ham, cut into ½ x ½ inch small strips
1 ½ – 2 cups chopped nuts – cashews, almonds or walnuts (you pick!)
In a medium bowl, mix the softened cream cheese with mayonnaise and lemon juice.
Rinse off the onions. Trim the ends of the onions and cut the onion and stem into tiny pieces with scissors into the bowl. Stir onions and ham into the cream cheese mixture. Form into a ball. Roll in the chopped nuts, cover in plastic and refrigerate for at least 2 hours before serving
Serve with your favorite crackers!
Recipes Credit: http://thefoodnanny.com/tag/cheese-ball/
Mini Calzones
1 box Pillsbury Pie Crusts
40 slices pepperoni
4 ounces fresh mozzarella, shredded
1 cup mushrooms, diced
1 egg
2 tbsp water
Garlic powder
Parmesan cheese, shredded
Marinara sauce, for dipping
Preheat oven to 425 degrees. Line a large baking sheet with parchment paper.
Unroll one sheet of pie crust. Using a 3" cookie cutter (or ramekin) cut into 10 circles. Roll out excess pie crust and cut into remaining rounds.
In the middle of each round, place 2 slices of pepperoni, a few mushrooms and some mozzarella. Don't over fill! Fold over the dough to create the calzone. With your finger, pinch the edges together. Using a fork, crimp the edges.
Repeat with remaining dough and filling ingredients.
Transfer mini calzones to prepared baking sheet.
In a small bowl, mix egg and water. Use a pastry brush to brush egg wash onto calzones.
Lightly dust calzones with garlic powder.
Bake for approximately 10 minutes until lightly browned.
Sprinkle on parmesan cheese and bake another 5 minutes.
Recipe Credit: http://scratchandstitch.com/mini-calzones-recipe-perfect-party-food/
The post Holiday Party Recipes: The Cheese Edition appeared first on ShoreBread.