Hooked: Executing Locally-Minded Dishes in Ocean City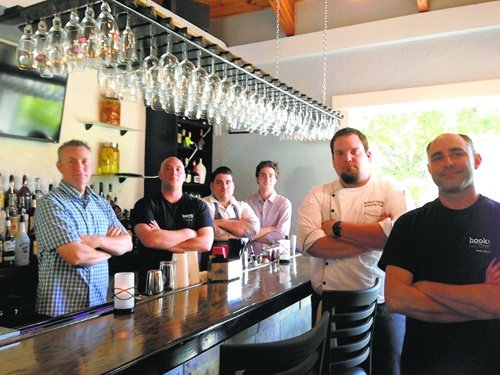 Food movements can be as trendy and short-lived as shoulder pads or stone washed jeans. One year its no carbs, the next, sugar is the enemy. One trend that we here at ShoreBread would certainly love to see exercise a true staying power is the local food movement. And with the addition of locally-minded restaurants like Hooked to the Ocean City dining scene, we can't imagine the local food movement fading anytime soon. Hooked owner Steve Hagan sat down with ShoreBread this week, to discuss local food, quality service, and the seemingly overnight success of his burgeoning restaurant empire – Indian River Seafood Company.
"There's a lot of trends, and I've seen them come and go but this local thing is not a trend. It is the way. The consumer is way more educated on ingredients and what they want to consume. We are very conscious of that. We want to give them a quality product and we want to do it at a fair price," said Hagan, who uses locally-sourced ingredients at all three of his restaurants, Hooked, Just Hooked and Off the Hook.  From the beginning, the philosophy has been simple and local, with the aim to maintain fresh and ever-evolving menu items and concepts.
Hagan and Kevin Frey partnered in 2010, launching their first restaurant, Off The Hook, in Bethany. While Hagan brought nearly two decades of restaurant experience, Frey was newer to the restaurant game and ready to get his feet wet. "Kevin was not a restaurant person, but he always wanted to try it out – it fascinated him." From the beginning they knew they were on to something, said Hagan. "It went well. It went extremely well actually." Before long, an opportunity to open a second location in Fenwick came knocking, leading Hagan and Frey to open Just Hooked, just one year after opening their first restaurant.
"We ripped everything out and did a complete renovation to it, everything from the outside in we replaced." Once settled, Hagan and Frey thought for sure they were done expanding, but they soon realized that the catering side of the business was growing beyond their working kitchen space. The solution was to open a market and catering kitchen in Bethany.
"And we really weren't planning on doing anything else at that point" said Hagan, but fate had other plans, and soon another opportunity came knocking, this time, calling for an Ocean City location. "We came up here and we thought there wasn't even a doubt. We fell in love with this property." Once again, Hagan and Frey found themselves undergoing major renovations. "We did a facelift on the place. We built the kitchen up to what we needed to be doing here." The aim was to create an atmosphere with a clean and simple décor. Coastal, local and clean were the inspiring forces, with the majority of the focus on building quality service and fresh menu concepts.
According to Hagan, quality staff has been a priority from day one. "These are some of the top notch people that I've ever worked with. We are blessed to have these people…from the top all the way to the bottom, we are really blessed." From managing partner and Executive Chef Matt Cornelius to the front of the house staff, Hagan boasted an outstanding team. But that doesn't mean it has all been smooth sailing. "We do have a ton of room to grow, but we worked really hard to get where we are."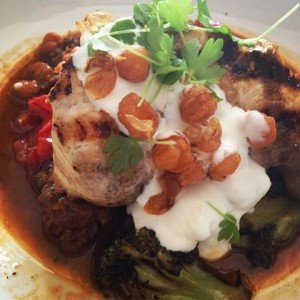 As for the menu, Hooked shares the same philosophy as Off the Hook and Just Hooked – simple flavors and simple textures. Hagan noted that instead of getting carried away in over the top presentations and highfalutin flavors, they chose instead to focus on simple, well-executed dishes. "We try to take dishes that are indigenous and traditional to our area and make them our own."
While each of the restaurants maintain a level of autonomy, there are a few crossover dishes that can be found at each location, particularly popular items like the scallops and grits or the calamari.
Hooked will also follow suite with its predecessors by staying open year-round, with menus and ingredients to be determined by the seasons and by the local produce. Menus change four to five times a year and are designed to reflect what is available locally, seasonally. "There are a lot of really cool farms that we've found that are doing all kinds of neat stuff…a lot of artisan foods, micro greens. Right now is our time of year when we get to be extremely local" explained Hagan, adding that the flush of local produce and ingredients lasts through the fall. Winter becomes trickier as consistent local products become less readily available, but for the Hooked team, the winter months are viewed as a welcome challenge. "The off season is a really fun time for us" said Hagan. "We have a lot more time on our hands to start playing around – we call it the 'test kicker' months."
Hagan continued to highlight the importance of supporting our local purveyors year round. "The places that aren't doing that are really missing the boat. It can't get an easier than it is right here – you can't throw a stone around here without hitting a chicken or a cow or commercial docks. We get sea bass and lobster from the Indian River, through almost the whole year. It's important to keep building those relationships." By supporting local purveyors, Hagan argued that we are really supporting our entire community.  "It's a fantastic movement and everybody benefits from it – the farmer, the customer, the local community – it's fun for every chef and its fun for me when I go out to eat now."
With three successful restaurants and a catering business (all in just three years) it's safe to say that for the Indian River Seafood Company, local, quality food is proving its staying power.
"I'm proud of what me, Kevin and Matt have done with our company. We're just three guys that wanted to own a restaurant."
Hooked
8003 Coastal Highway, Ocean City, MD
410-723-4665
hookedoc.com
Just Hooked
1500 Coastal Highway, Fenwick Island, DE
302-581-0098
justhookedfi.com
Off the Hook
769 Garfield Parkway, Bethany Beach, DE
302-829-1424
offthehookbethany.com