Horseshoe Crab Spawning Season in MD & DE Coastal Bay Regions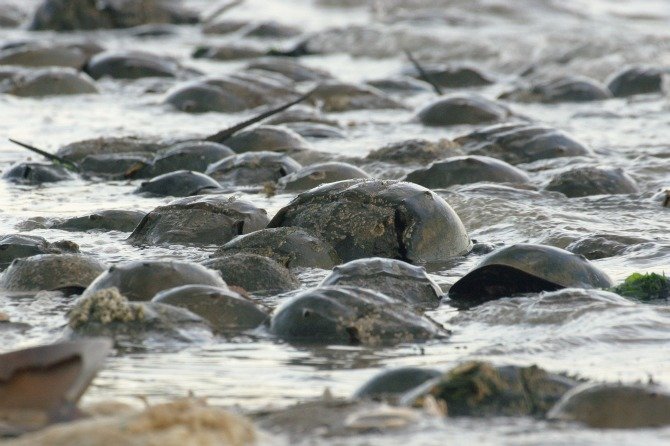 One of the most enchanting, creepy, and inspiring scenes will take place on the beaches and marshes of coastal MD and DE in the next upcoming weeks and months. Have you ever witnessed a creature that dates back to 400-million years ago lay eggs in the sand under a full moon? You have probably seen one of these creates many, many times, but never really thought about their habits, lives, or history before.
Around the new moons and full moons in late April, May, and throughout June – just before high tide or long after sunset – volunteers gather on the beaches to count horseshoe crabs.
Each year, thousands of horseshoe crabs come ashore to spawn. The crabs completely cover the shore, release tiny little green eggs (roughly the size of BB gun pellets), and mate before turning around and headed back into the bay waters.
Teams of scientists and trained volunteers track the crabs. They record and monitor the number of horseshoe crabs per beach, number of females nesting on the beaches, and the male/female ratio. Those recording the waves of spawning crabs pay close attention to the shores two days prior through two days after each moon event. Horseshoe crab spawning surveys have been recorded since 1990.
"Our well-trained and enthusiastic volunteers have made this program one of the most successful volunteer based wildlife surveys in the country," said Melanie Rapp, a member of the Delaware National Estuarine Research Reserve Public Affairs team.
The information collected will be used to determine horseshoe crab population status.
"I'm looking forward to seeing the oldest living species on Earth," said volunteer Wayne Martin of Ellicott City, MD.
Horseshoe crabs are one of the only species that predates earliest known dinosaurs. This crab species are closely related to spiders and scorpions. It's believed that horseshoe crabs have survived major transitions in time and climate due to their hard, thick, curved shells and their ability to go up to a year without eating. Horseshoe crabs can also endure extreme temperature changes and varied salinity levels.
On any of the following dates, female horseshoe crabs will deposit nearly 20,000 eggs each onto our DE and MD shorelines as male crabs wait at the surf line waiting for their females to return to the water…
Thurs. April 25th, 2013 (Full Moon)
Fri. May 10th (New Moon)
Sat. May 25th (Full Moon)
Sat. June 8th (New Moon)
Sun. June 23rd (Full Moon)
Sat. July 6th (New Moon)
Mon. July 22nd (Full Moon)
Wed. August 7th (New Moon)
Wed. August 21st (Full Moon)
It is suggested to wait until high tide, after dusk on the day of or within two days surrounding a full or new moon to see the horseshoe crabs line the shores.
If you would like to participate in the 2013 Horseshoe Crab survey, contact the Inland Bays Outreach Program ( 302-226-8105) or the Maryland Coastal Pays Program (410-213-2297).