Humpback Whale Gives Visitors a Show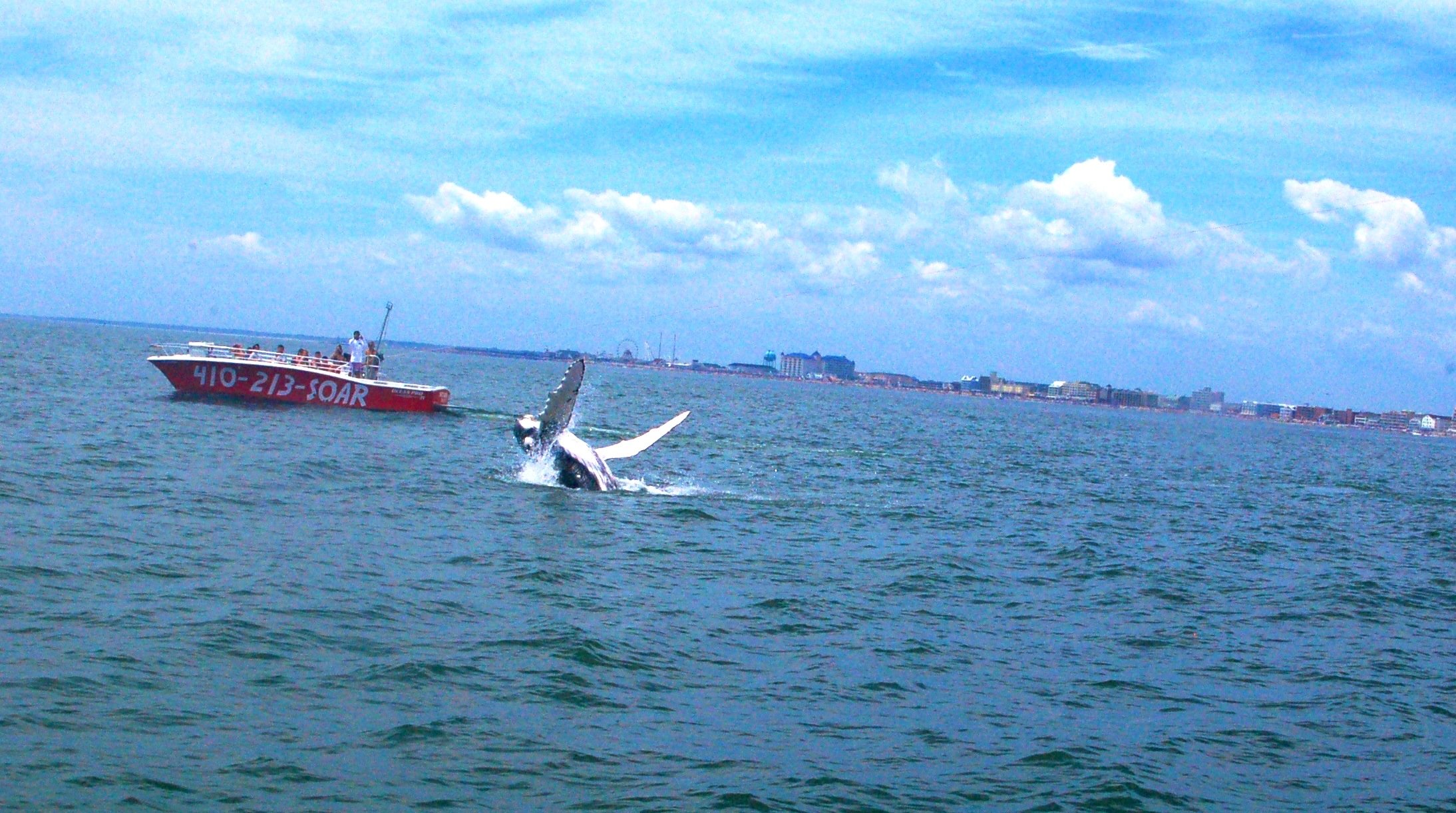 A tour off the coast of Ocean City provides all sorts of curious sights and surprises, but a humpback whale is rarely one of them. Passengers aboard a Paradise Watersports' boat were pleasantly surprised this past Saturday when they were visited by a humpback whale, just 50-feet from their boat.
The humpback was spotted about a mile off the Ocean City coast this Saturday, around the area of 17th Street. According to Paradise Watersports owner Tyler Barnes  "the whale swam as close as 50 feet to the boat." Barnes explained earlier this week that whale spotting isn't a typical part of the parasailing trip. "We see dolphins and sea turtles all the time but this was a real treat for everyone on the water that day."
The Paradise team was roughly a mile from the beaches, which according to Ocean City Beach Patrol Captain Butch Arbin, is a relatively rare event. "We do see whales a few times each summer," said Arbin, adding that sightings are more typical of the winter months. For example this January, during the annual Penguin Plunge swim on New Year's Day, a whale was hanging around for a portion of the event.
While it isn't a common occurrence to spot whales off of the coast of Ocean City, it's even more rare to see them close to the shoreline. Arbin noted that "most do not come close due to the shallow depth of the water just off of Ocean City. Unfortunately ones that have been very close are usually sick or injured and are coming on shore." When whales do become beached, the Ocean City Beach Patrol is prepared. "We are trained as Marine Animal Rescue Responders," explained Arbin, "and we work very closely with the National Aquarium."
According to the National Aquarium, the mid-Atlantic coast is a popular destination for migrating marine mammals. But as Arbin noted, it is not typical to see them playing so close to our shores.
Whether the whale was injured or just enjoying a Saturday at the beach like the rest of us, the Paradise Watersports crew and guests certainly enjoyed a show.