It's Not Goodbye, It's Hope To See You Again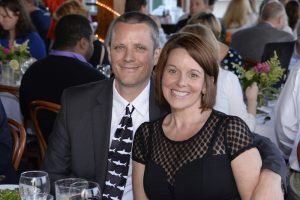 It's the last Saturday in October, and I'm sitting at the very back table in Culture, thinking about what I want to say in this piece that our dear friends at Shorebread have invited us to write.
It's busy. Not just steady -but busy. Like Culture Change busy. Those of you who have followed us throughout this adventure know what I mean. People are coming and going. The phone is ringing, and the online orders are popping up. I will never stop getting excited about those.
A nice young girl with notecards (teacher, maybe…or grad student) struggles with the failing hydrolics of our super chic yet functionally inept bar stools -a failed design choice of mine. Lesson learned….the sleek design is perfect, no go on hydrolics.
But our days are a series of lessons learned. If not, we're probably doing something wrong.
I'm sipping a glass of red wine and waiting for my chicken. Enjoying this cool place that we created. I'll get chicken for dinner again tomorrow. No question. I'm not sure when I'll have the chance to have it again. I won't allow myself to second guess that decision.
Unlike the decision to close this place. That's a decision I suppose we'll second guess for a long time. Maybe forever.
The Rolling Stones you can't always get what you want starts to play on the house music.
Two beautiful friends roll in after a Cross Fit class and order carry out. This was one of the reasons we opened Culture. Somewhere to get great food fast – that you can feel good about eating. With no worries about what you're wearing or where you've been. I remember actually using the example that someone should be able to swing by in yoga pants after a work out and enjoy a glass of wine and good food. And, here they are. Just as we had planned.
Hustle and bustle. Coming and going. It's how we imagined it to be.
The restaurant business is a tough business. Those of us who venture this direction are awarded honorary degrees in psychology and economics just for serving our time. After a hard earned tenure, we eek into the world of politics, finance, sales and marketing- whether we're ready for it, or not. Our experience is diverse and understated.
I've taken a few bites of my chicken, paired with yuca and veggie skewers, when James rolls through the kitchen door to ask how I'm enjoying everything. "Perfect every time?" he asks.
I smile and give him a thumbs up. Tears are pooling in my eyes, and if I speak, it might get awkward. That's our motto, "perfect every time." I wondered if everyone would embrace that as I did, or if they would just think it was another stupid instruction from the business owner. Clearly they did embrace it. And that brings another wave of mixed emotions and questioning of our decisions.
I watch our crew work. I've watched them work many times before. Been here as often as I could be while also keeping our other restaurant going. But I see it. They actually mean it. Perfect every time is what they strive for. And not just for my benefit. I witness our guests interacting with them as so much more than restaurant employees. They are their friends. The people who have guided them through each experience… each meal, each Culture change – with knowledge, pride and professionalism. I start to cry again, so I put my head down and write.
Culture was designed to grow. Our flagship is here, because we live here, and we have another business here. But our goal and dream was to replicate Culture / Authentic Eatery in other markets. Likely metropolitan in style….merely due to numbers. Our counter servers are called "guides" because they were intended to "guide" our guests through the process. And they do just that. Watching them execute this practice just as we imagined it gives me peace.
The phone rings again. Arielle answers the call while greeting some new guests. Gary, our manager, talks with some return guests. They can't believe we're closing. They just found us!
Goodbye Girl (Squeeze) starts to play on the house music. More tears – this time mixed with a smile.
We're quite proud of what we created. We're proud of our crew who have implemented our creations. We're grateful for every guest who found us and who allowed us to offer them this dining experience. We're thankful for everything we've learned and for all of the ways we and our team have grown throughout this experience. This restaurant is part of who we are, and we will all be better for it.
We appreciate the kind words and support we have felt since announcing our closing. We're sad, of course. But we have no regrets.
We've mentioned that you may see Culture again one day. While we aren't aggressively in search of a new home for Culture, we are stepping forward with our eyes open. If an opportunity arises that makes sense, we are most certainly going to check into it.
Thank you all for allowing us to exercise our creativity. For joining us in our second home and for embracing our vision. We hope you'll all continue to visit us at The Shark on the Harbor.
If you're cravin' a little Culture, you might just find some there.
Signing off for now,
Jody, Travis and the Culture crew
The post It's Not Goodbye, It's Hope To See You Again appeared first on ShoreBread Eastern Shore Lifestyle Magazine.