J. Millard Tawes Crab & Clam Bake Returns July 19th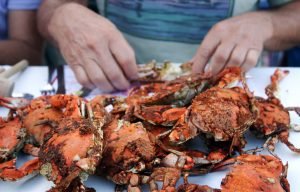 The third Wednesday in July is coming, and that can only mean one thing… time to get ready for the J. Millard Tawes Crab & Clam Bake!  When mentioning Crisfield in passing conversation, it doesn't take long to get to the topic of the Clam Bake. The Clam Bake has been a staple event of the Eastern Shore for 41 years and it's easy to see why.  Friends and family, businesses and customers, politicians and constituents all gather for a true Crisfield outdoor seafood feast.
On July 19th from 12pm – 4pm patrons will gather at Somers Cove Marina for all you can eat steamed crabs, clams, clam strips, fried fish, french fries, onion rings, corn on the cob, watermelon, soda and beer.  The air will be filled with the smell of Old Bay and the sound of crab mallets.  
The namesake of the event, J. Millard Tawes, was a Crisfield native, and the only person to hold a seat as the Maryland State Comptroller, Treasurer and Governor.  His accomplishments include starting the Maryland DNR, doubling the size of the Maryland state park system  and establishing Maryland's Community College system. While you're in Crisfield, you can drive by the J. Millard Tawes Governor's Mansion and Library located at 25 Asbury Avenue.
Tickets for the Clam Bake are $45 per person, which includes the feast, a souvenir mug and souvenir crab mallet. For an upgraded ticket that includes reserved tent seating and entertainment by a DJ, the cost is $60 per person.  Be sure to purchase advance tickets for the J. Millard Tawes Crab & Clam Bake to ensure you'll have a space before driving to Crisfield. Corporate Hospitality Spaces are also available for groups of 30 or more by calling Pat at 410-968-2500.
If you're not ready to go home after Clam Bake, there will be a Clam Bake After Party from 3pm – 7pm at Captain Tyler's Crab House located at 923 Spruce Street, featuring music by DJ Adam Dutch.
The post J. Millard Tawes Crab & Clam Bake Returns July 19th appeared first on ShoreBread.