Jewelers Offering Holiday 'Let It Snow' Campaign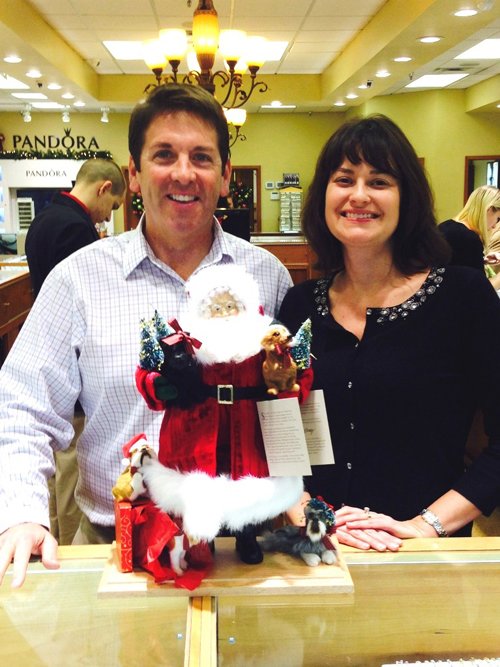 OCEAN CITY – "Let it snow, let it snow, let it snow," Park Place Jewelers customers are singing as the business has made a pledge to refund purchases made up to Christmas Eve if it snows an inch on New Year's Day.
Park Place Jewelers is currently running a new promotion, "Let it Snow and it's Free", from Nov.29-Dec. 24 that involves any jewelry purchase made at Park Place Jewelers being refunded, less sales tax, if the Ocean City Municipal Airport receives one inch of fresh snowfall on New Year's Day, Jan. 1, between noon and midnight.
Park Place Jewelers co-owner Todd Ferrante heard about Gardiners Furniture of Baltimore advertising all merchandise purchased in the days leading up to the Super Bowl last year would be free if the Ravens scored on a kickoff return to begin the game or second half. Jacoby Jones opened the second half returning a kick 108 yards for a touchdown, and Gardiners ended up paying $600,000 worth of furniture to hold true to the promotion.
Ferrante and his business owner and partner, Jill, teamed up and decided to give the concept a try at Park Place Jewelers.
"We want to do something different that would get people excited about Christmas by giving them the opportunity to receive something for free," Ferrante said.
In doing a little bit of research, Ferrante found that it snows over an inch in Ocean City on average three times in January.
"So what's to say that it couldn't snow on Jan. 1," he said. "What a better way to bring in the new year than with free jewelry."
Ferrante has had been asked "if he is crazy", however he is rooting for snow on New Year's Day.
"The nice thing is if it does happen it is going to be something people are going to talk about," he said. "If it doesn't happen, they still have a nice quality piece of jewelry and had fun with the promotion."
At this point, it is too early to say how much Park Place Jewelers has riding on the promotion, Ferrante said, but the Ferrantes are certainly making sure the word is known through a major marketing campaign and customers are coming in to take advantage of the offer.
If it does snow, it will take over a month for the refund checks to be prepared, but Ferrante is already planning on having a refund party to celebrate the occasion at Park Place Jewelers.
"It is just a crazy and fun way of enjoying ourselves during the Christmas season," Ferrante said. "It is certainly a gamble for me, but I am hoping that it works. The rest of it for me is fun and hoping they get their money back, so I can write them a refund check. That is my way of saying thank you for their patronage and being part of our extended family."
Ferrante reminded Park Place Jewelers, located in the White Marlin Mall in West Ocean City and on the Boardwalk inside the Park Place Hotel, has more to offer around this time of year on top of its typical unique jewelry.
Park Place Jewelers is a dealer of Christopher Radko Company that has been designing and producing fine European glass ornaments for more than a quarter of a century.
"They are hand-painted Christmas ornaments made in Europe lined with silver. It is the old-fashioned way of making Christmas ornaments, and a lot of times you don't see that anymore," Ferrante said. "They are absolutely gorgeous. We are the only dealer in the area."
Also, there is a selection of Lynn Haney Collection's Santa sculptures that have been hand crafted out of Texas since 1987.
In 1996, Ferrante opened Michael Jewelers on 5th Street and the Boardwalk. Three years later, he opened Park Place Jewelers between 2nd and 3rd streets and the boardwalk. When Jill joined him in his endeavor, he expanded to West Ocean City.
According to the Ferrantes, it is their primary goal to make their customers happy with their unique jewelry and friendly customer service. After 17 successful years in business, you will still find Jill or Todd working day and night to ensure that this tradition is carried on by their wonderful staff.