Local Musings: Chuck Cook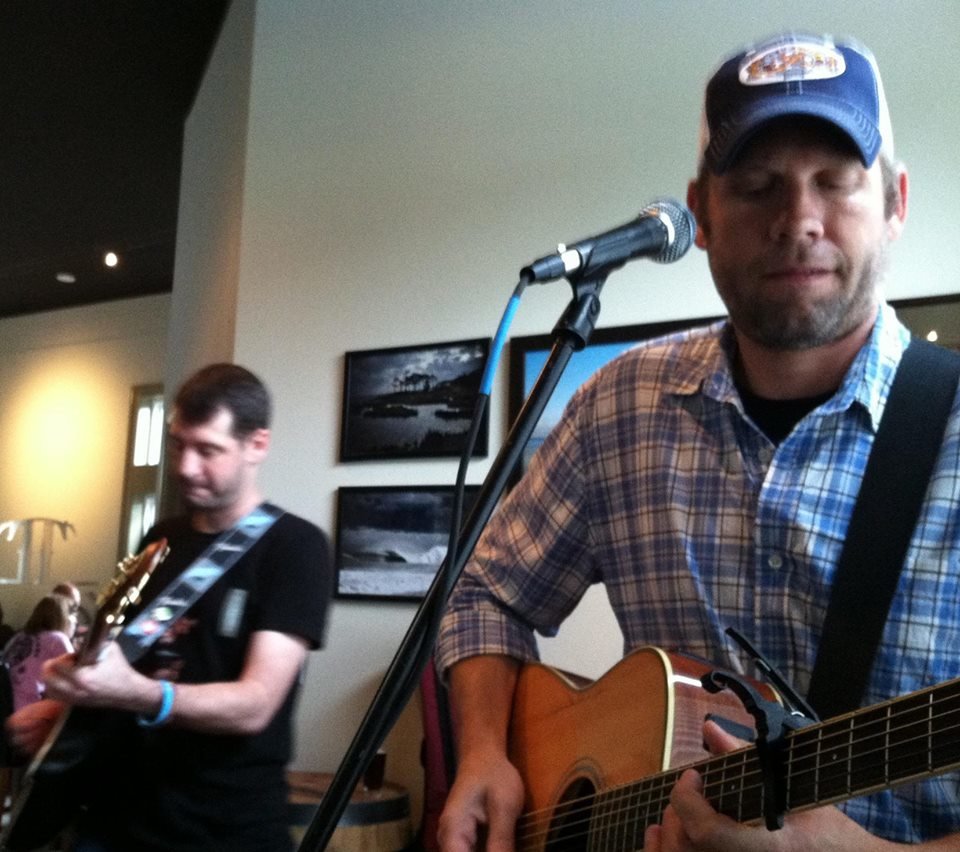 Governor's Intergovernmental Affairs Coordinator by day, guitar and vocalist by night; Chuck Cook has been playing with bandmate Chris Demone since 2005. After their band Dash Eight broke up in 2007 they decided to form an acoustic duo called Test Kitchen.
BH: How did you come up with the name Test Kitchen?
CC: We like to learn songs, on the spot. Once, at the old Flavors Italian Grill, the owner Nick Hess was walking by as we were trying to learn a song on stage. He stopped, mid-stride, turned to us and said "Why don't you play something you know? This ain't the test kitchen." Well, we were going by "Chris and Chuck" at that point… and "Test Kitchen" we then became.
BH: Test Kitchen is a little catchier then Chris and Chuck, so probably a good call.
CC: Indeed. That was very early on. We might have been playing together for only 3 or 4 months at that point.
BH: What was the first song you ever sang or played live?
CC: In my life?
BH: Yes, your entire life.
CC: It was probably a Dead song. I was in a band in high school called "Brand New Bathtub". We played Dead covers and wrote a couple of originals. Three guitarists and a bass player. Actually, Pete Bozick, from the Larks and Permilla Project was in that band. Somewhere he's got a video tape of us practicing in a chicken house in Powellville, back in 1992.
BH: Haha, classy.
CC: Hey, it's the Eastern Shore…. where else are you going to set up a high school garage band? Chicken houses, dude… that's the stuff.
BH: No you're right, that's where stars are made.
CC: Haha yeah… as evidenced by me living the high life.
BH: What's been your most embarrassing on stage moment? Assuming you have shame…
CC: I lack that, actually. My wife and I agree that I have a psychotic level of self-esteem. I don't get stage fright or any of that weirdness. I, honestly, can't remember being embarrassed on stage. Well, I take that back. Anytime you knock over a guitar, while it's on, and everyone hears it BANG on the ground, that's embarrassing. It's like a server dropping a tray full of dishes on the ground and everyone says "ohhhh" the same exact way. I've done that a handful of times. I'm clumsy.
BH: What's your favorite and least favorite songs to play live?
CC: I LOVE playing originals. Any of them. But of songs that people would recognize, my favorite right now is probably "Across the Universe". That's mainly because I think we NAIL the harmonies. Demone disagrees with that, but that's also because he has to sing a crazy falsetto to reach those notes, so he's not happy when I ask him to do it.
Least favorite song? I don't play songs that I don't like. That was one of the guidelines that Demone and I set up when we started this. I said to him "Hey, if we're going to be another acoustic duo doing covers, can we be the jerks who don't play "Brown Eyed Girl"?"
And from there, we set a rule that if either of us thinks a song absolutely sucks, we don't play it. And, we tell people that when they ask…"hey man, can you guys do a Shinedown song?" NO.
BH: Has anyone ever gotten angry with you over it?
CC: Yes. We were asked this past Friday night, at the beach, for "Brown Eyed Girl". Chris turned to the dude, and said "Sorry, man, but we don't play that song on principle" and the guy wanted to argue over the virtues of "Brown Eyed Girl," in the middle of our set. So, I just started the next song.
BH: I'm sure he had a really awesome argument.
CC: "I love Skynyrd. Do you guys do "Gimme Two Steps?"
NO, SIT DOWN.
"Know any Staind?"
GO HOME.
BH: Honestly that's good you guys do that, a lot of musicians won't.
CC: We've done okay sticking to that rule. At first, we thought we would lose gigs because of it.
BH: That and telling people to go home.
CC: Haha well, I was exaggerating for effect, but you feel me.
BH: Yeah I got it. Okay…so you're stranded on an island, you can decide how you got there; but you have a CD player and you can only take three CDs to listen to your whole life… go.
CC: Easy… "Amorica" by the Black Crowes, "Apostrophe/Overnight Sensation" by Frank Zappa, and "California" by Mr. Bungle.
BH: Wow no one has ever said that was easy!
CC: That list hasn't changed for me in 20 years. Actually, 5 years.
HOWEVER….."The Crane Wife" by the Decemberists, made it on there from 2005 to 2008.
And it's looking like the self-titled album by the Papermoons is creeping up for #3. They're working on their follow up album right now, and from what I've heard it's gloriously fantastic.
BH: How do you feel about the local music scene here on the Eastern Shore?
CC: Well, the opportunities for a full band are few and far between. It's kind of the reason why Demone and I settled on two piece. We have so many more options to play than a full act. So, you've got a lot of bands that play maybe once a month, or less, due to having to travel for actual paying gigs, or places that can accommodate them. But there's talent here, it's just under-utilized.
Then Ocean City just DOMINATES for 3 months, and everyone's trying to get in there but, those are all cover acts, so the original acts don't have a chance. My overall feeling on the music scene is simple: Anemic. With not enough venues or audience to sustain original talent. Then again…. we're rural, so what do I expect, right?
BH: I seem to be hearing that a lot. Of the venues around here where do you get to play originals the most?
CC: You used to be able to pull it off at Breaktime. But, I stopped being in an original band in 2007. We could still play Brew River then. I doubt so, now. But, I haven't checked. Coffee shops. Art exhibits. One really nice thing about Third Friday in Salisbury is that you can give those opportunities to original acts. And some of them sound really good.
BH: That's true; they do have a lot of covers during Third Friday but some originals too.
CC: If I were running 3rd Friday, I'd have nothing BUT original acts. to say
You can catch Chuck Cook:
October 12th Tall Tales
Every 3rd Wednesday Test Kitchen plays at Mojos in Salisbury, MD
Photo Credit: Michael Perry