Magee Family Brings Farm Tradition To Worcester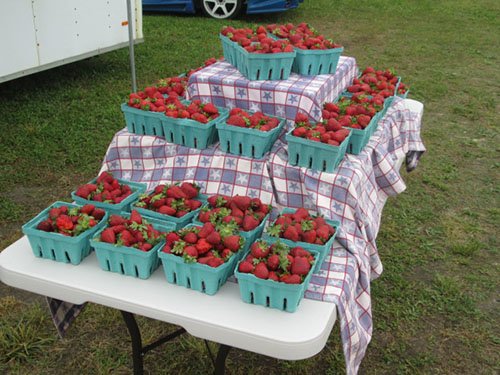 OCEAN PINES — Few things say spring like picking strawberries with the family. With more than a century of experience in produce in Delaware, Magee Farms has brought a fresh field of strawberries to the Ocean Pines community.
Fruit lovers are welcome to visit and purchase pre-picked berries but the real enthusiasts will take to the rows personally in search of the best picks.
The strawberry patch is located just across Route 589 from Most Blessed Sacrament School. At about 1.5-acres, the patch contains roughly 30,000 strawberry plants, each of which is capable of producing between one and one-and-a-half pounds of berries a season. That season is relatively short, with the patch opening for picking last month with plans to stay open for another two to three weeks.
Strawberry fans should be quick to take advantage of the remaining season but don't have to be afraid of only finding slim pickings at Magee Farms, promised farmer Ellen Magee.
"There are plenty of berries. I mean they are hanging full," she said.
The Magee family has been farming since 1865 and in the strawberry patch business for 27 years. They have locations in Selbyville and Lewes, Del. and produce everything from sweet corn to watermelon to squash to their signature strawberries. Five generations have worked on the farm and with produce, giving the brand an unusually high level of experience that Magee believes is reflected in the quality of their berries.
"I would say that we know what we're doing when we're growing strawberries," she said. "It's easy picking and we're growing something that's good for you. It helps prevent heart disease and cancer. We have experience. This isn't the first time that we've done this."
Berries are collected daily and available for purchase at the farm's roadside stand for those looking for a quick fruit fix. For those with a little time and energy to spare, walking in-between the rows and picking your own is a fun experience and perfect family activity, according to Magee.
"We thought there was a need in this area. There wasn't anything like this down here and there are a lot of people, a lot of families and we thought it would be a good outing and something fun and nutritious for the families to do," she said.
Late spring has the best weather for strawberry picking and Magee hopes the warm days and cooler nights will hold out a little longer, which in turn will stretch out the strawberry season further into June. During the summer, the Magee family will be re-locating the strawberry patch and planting pumpkins in their place. But the berries will return next spring nearby.
"We planted these [strawberries] in September, covered them up and we're harvesting them now. We only use them for one year," said Magee, "and then we're going to have pumpkins, we'll have a pick-your-own pumpkins in the fall. And we'll select another location for the strawberries."
The idea is to have "other attractions" to go along with the pumpkins in the fall as well since the farm has several acres off Route 589 to work with. Right now, however, the main concentration is getting the word out about strawberries. The response from the Ocean Pines community has been good so far but since this is the patch's first year most of the visitors have come through word of mouth or stopping after driving past on Route 589.
Magee believes that once someone visits the patch and picks a few berries for themselves they will be hooked. She challenged anyone to try a Magee Farms' strawberry and then want to go back to store-bought.
"If you did a taste test, there would be no comparison. These are the best," she said.
For more information, visit www.mageefarms.com or check out Magee Farms on Facebook.