Mysterious Boat Floats Ashore On Assateague Island Beach; First Reports Came Last Night, But Early-Morning Halloween Find Adds Spooky Intrigue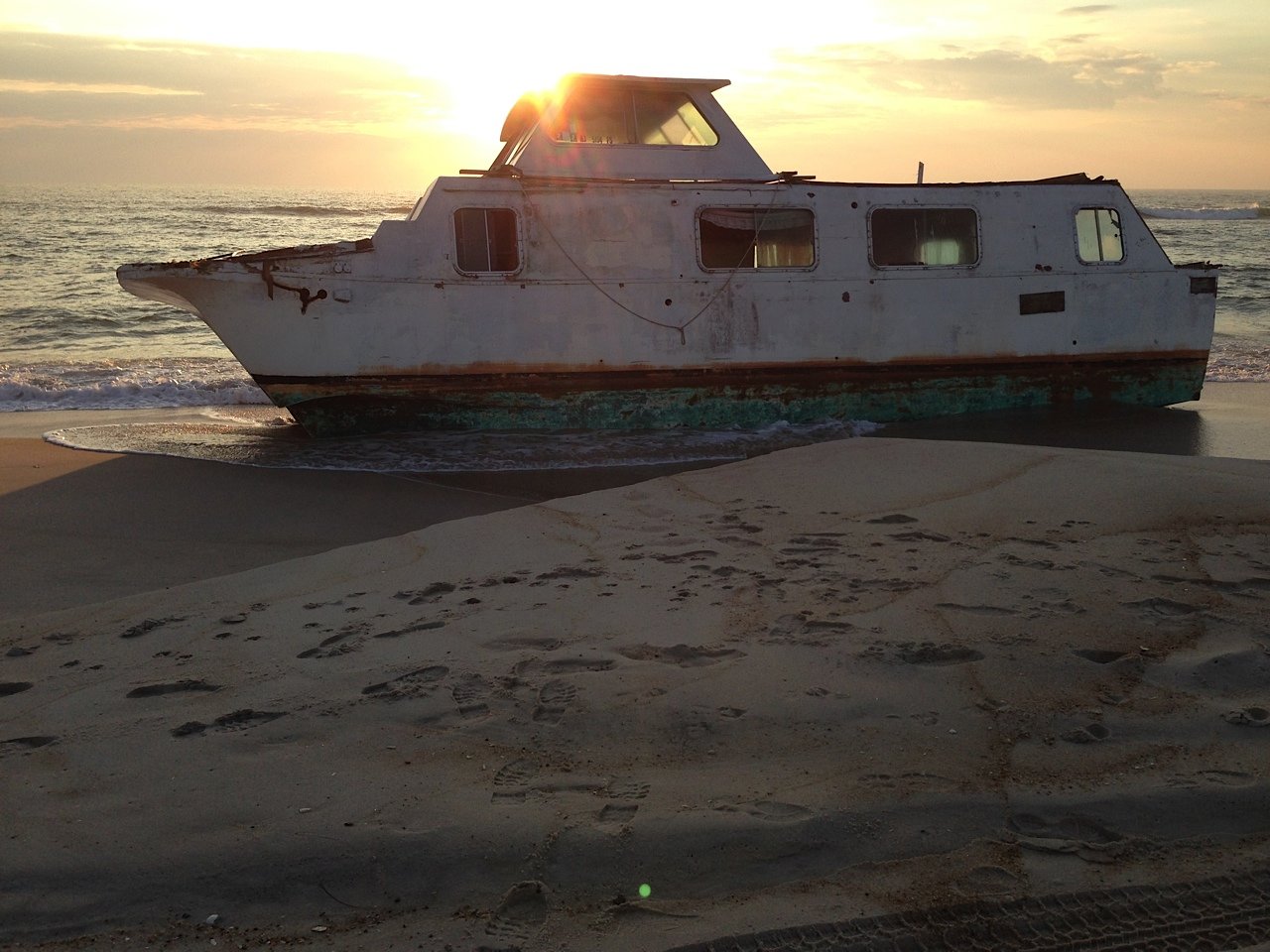 ASSATEAGUE — Visitors to Assateague Island on Thursday were treated to a rare ghostly sight as an old and unoccupied house boat beached itself on the barrier island overnight.
The 40-foot houseboat beached itself on Assateague sometime late Wednesday or early Thursday morning during foggy conditions. It was discovered at around the 17.5 kilometer marker just south of the entrance to the Over-Sand Vehicle (OSV) area. The vacant vessel beached near the high tide line on the barrier island in the early morning fog provided a Halloween jumpstart of sorts for those who witnessed it and conjured up tales of ghost captains lost in the murky morning off the coast of Assateague, but the real story is far less intriguing.
According to Assateague Island National Seashore Chief of Interpretation and Education Rachelle Daigneault, the early indications suggest the vessel was being towed from north to south by another vessel, whose operators either lost its connection with the derelict boat or cut in loose after encountering some problem during the tow.
Daigneault said park rangers on Thursday were attempting to determine who owns the vessel and how it came to rest on Assateague. If identified, the owner will be contacted and arrangements will be made to either salvage it, tow it off the beach or dismantle it.
"It could be a challenge to find out who owns it," she said yesterday. "They really don't have much to go on at this point. I don't know if it had any registration stickers on it or any other information that might suggests who owns it."
As of late Thursday afternoon, the "ghost" ship was still resting on the beach at Assateague just south of the OSV zone where it will remain until the owner can be identified. Daigneault said there was little or no concern about it departing just as eerily as it arrived at this point.
"It's just so high up the beach that there doesn't appear to be any concern about it floating off again on a high tide," she said. "With the new moon coming up, the tides could be higher than normal, so it's a possibility, but hopefully we'll find the owner and get it resolved one way or the other. If it floated out again, it could become a hazard to navigation, so we'll probably secure it somehow until we figure out what to do with it."