No Billfish On White Marlin Open Leaderboard; 220 Boats Fishing Today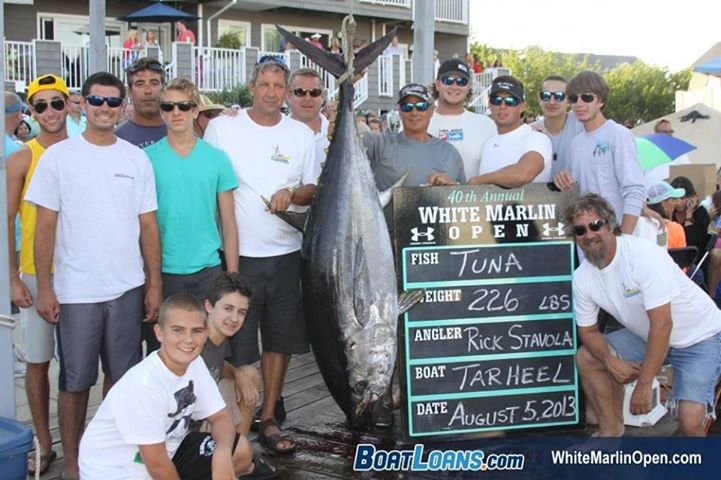 OCEAN CITY — With the leaderboard in the glamorous, high-dollar white marlin and blue marlin divisions still wide open after a couple of near misses on Day One, the second day of the 40th annual White Marlin Open began with promise this morning as 220 of the registered 262 boats chugged out the canyons early this morning.
No qualifying billfish were weighed on Monday, but there were a couple of near misses. The "Game On" out of Stuart, Fla. brought the very first fish to the scale at host Harbour Island shortly after the scale opened at 4 p.m. on Monday, a 67-pound white marlin that fell just three pounds short of the requisite 70-pound minimum. About a half an hour later, the "Reel Direct" pulled into the scale with a blue marlin that measured 103.5 inches, just an inch and a half short of the required 105-inch minimum.
However, there was no shortage of action throughout the rest of the day as the other major categories started to fill out. For example, angler Rick Stavola and the crew aboard the "Tarheel" weighed a 226-pound tuna to take the top spot in that division. After Day One, the tuna is currently worth $360,000 in prize money, but it remains to be seen if it holds up for the rest of the week.
Larry Hesse, Sr. and the crew on the "Goin n Deep" currently stand in second in the tuna division with a 200-pounder currently worth $65,000. Angler John Janaskie on the "Over the Top" is in third with a 188-pound tuna currently worth $26,000, while Joe Russen on the "Team Player" is in fourth with a 50-pound tuna worth $19,000.
In the dolphin division, angler Greg Fellers on the "Incorrigible" is in first after Day One with a 29.5-pounder worth $14,000. Kyle Clarke on the "Trash Man" is currently in second in the dolphin division with a 25-pounder currently worth $3,000, while Bill Trites on the "Triple Bypass" is in third with a 20-pounder currently worth $2,000.
Angler Mike Peet on the "No Quarter" is currently in first in the shark division with a 133.5-pounder currently worth $4,000. The "No Quarter" crew has already enjoyed a successful summer, having caught the first white marlin of the season off the coast of Ocean City and also winning the Ocean City Tuna Tournament.