Ocean City Dew Tour Kicks off Wednesday with Day for Local Fans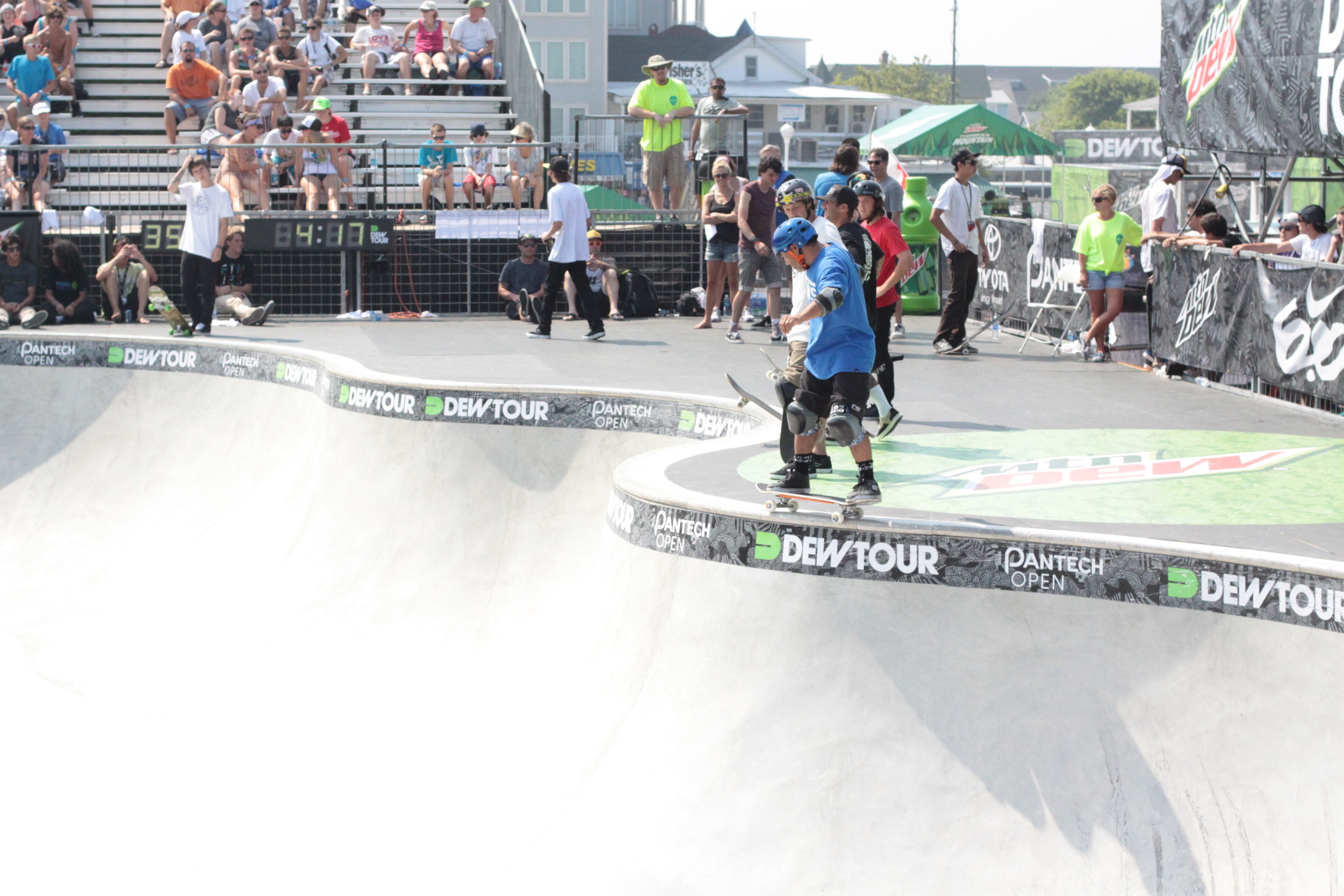 The Dew Tour Beach Championships kicks off today, Wednesday, June 19, with a day for local fans to celebrate the action sports lifestyle and get a sneak peek at this week's competitions. Join the Mayor Rick Meehan at 11:00am as he welcomes spectators to the events. Starting at noon, catch athletes as they begin practice on the road to the Dew Cup. The Dew Tour Experience opens at 2:00pm with activities, free merchandise giveaways and athlete autograph signings.
From June 20 – 23, spectators can watch all of the excitement unfold right on the beach as top-level skateboard and BMX pros lay it all on the line for a shot at the Dew Cup. A beautiful and vibrant beach venue, along with unbeatable fans have made Ocean City a true staple of the Dew Tour. The Beach Championships will host classic events such skate and BMX vert, BMX park, and BMX flatland. The Dew Tour's unique portable concrete bowl will be set up on the beach to host both pro and legends competitions. New for 2013 is the Battle of the Beach skateboard and BMX rail jam, as well as a local surf contest showcasing Ocean City's best talent.
WHERE:
Ocean City Inlet, just North of the pier (between Somerset St. and Dorchester St.)
WHEN:
Dew Tour Experience Opens 2:00pm Wednesday and 12:00pm daily beginning Thursday
Full schedule:

Wednesday, June 19th
12:00 – 1:45p.m.: SKB Vert Practice – Heat 1
12:00 – 4:00p.m.: BMX Park Practice
12:00 – 4:00p.m.: SKB Bowl Legends Practice
1:45 – 3:30p.m.: SKB Vert Practice – Heat 2
4:00 – 5:20p.m.: SKB Bowl Practice – Heat 1
4:00 – 7:00p.m.: Community Day: Open Skate Street Session
4:30 – 8:00p.m.: BMX Vert Practice
5:20 – 6:40p.m.: SKB Bowl Practice – Heat 2
6:40 – 8:00p.m.: SKB Bowl Practice – Heat 3
Thursday, June 20th
5:30 – 7:00p.m.: SKB Vert Semi-Final
8:00 – 10:00p.m.: Surf Shop Showdown: AM Tow-at Surf Comp
Friday, June 21st
12:00 – 1:00p.m.: Shop Battle: AM Skate Rail Jam
12:00 – 2:00p.m.: BMX Park Semi-Final
3:00 – 3:30p.m.: Mountain Dew Skate Demo
4:00 – 6:00p.m.: SKB Bowl Semi-Final
5:00 – 5:30p.m.: Mongoose BMX Demo
6:30 – 8:00p.m.: BMX Vert Final
8:00 – 10:00p.m.: Concert featuring Krewella and New Politics
Saturday, June 22nd
2:00 – 2:30p.m.: BMX Street Session
4:00 – 6:00p.m.: SKB Vert Final
7:00 – 8:30p.m.: SKB Legends Bowl Final
8:00 – 11:00p.m.: Dew Tour Recognize: Art
9:00 – 9:30p.m.: SKB Street Session
9:00 – 11:00p.m.: Concert featuring Talib Kweli and DJ Stimulus
Sunday, June 23rd
12:30 – 1:30p.m.: BMX Flatland Final
2:00 – 4:00p.m.: BMX Park Final
5:30 – 7:00p.m.: SKB Bowl Final