Ocean City Dew Tour Wraps Up; Barros Makes History with Skate Bowl Win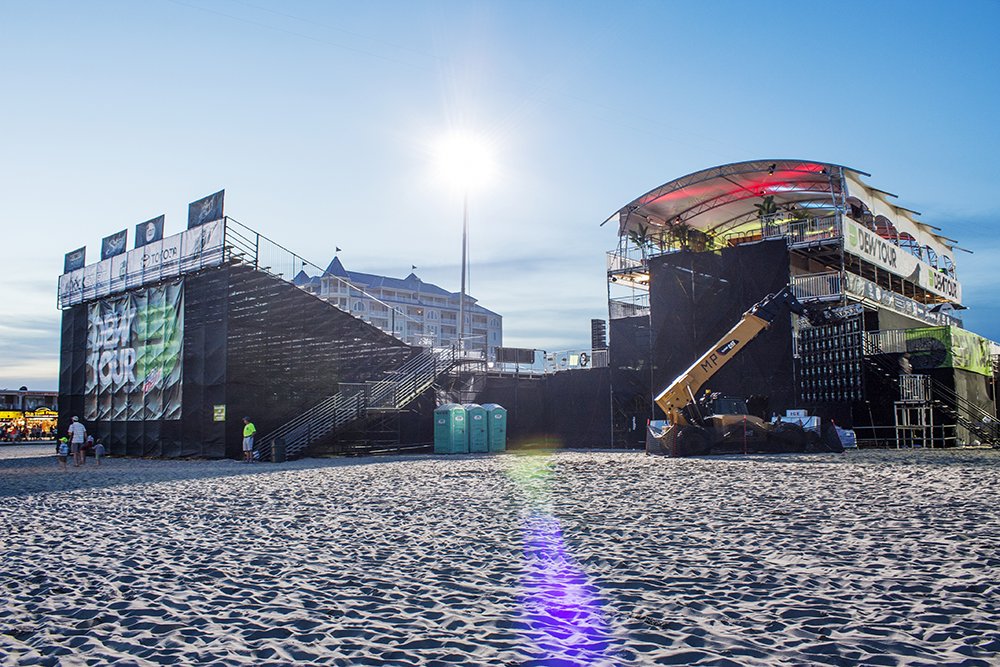 Pedro Barros continued his winning streak at the Skate Bowl in Ocean City today, claiming the Dew Cup at the Dew Tour Beach Championships for the third straight year. His fast and aggressive skating allowed him to boost above the rest of competition. Barros used his amplitude to his advantage scoring an 89.62 with a run that included an alley-oop indy over the hip, a huge 540 and a long Smith grind in the deep end. Hometown hero Bucky Lasek secured the second place position with Kalani David rounding out the podium in third.
"The competition was amazing," said Barros. "The level of talent was super high. They had a final with a lot of young people like myself, Kalani, and Tom and Bucky is still out there killing it." Barros also praised the beach location of the event. "Ocean City is always amazing. I really enjoy myself here. It's a pleasure to be here and skate this amazing bowl with everyone."
Earlier in the day, the world's best BMX Park riders competed in Finals in front of packed stands. Ryan Nyquist hovered near the top of the scoreboard before locking in the first place win in his third and final run. His consistent performance throughout the afternoon peaked with a 720 and a 360 double barspin on the box jump.
"I've done well in the past, but this is the first time I've won the Dew Cup in Park, so it's a big one for me," said Nyquist. "My goal was to get a podium spot. The fact that it was the top spot was just icing on the cake."
The Skate Battle at the Beach Street Session kicked off the afternoon with a high-energy contest in the middle of the Dew Tour Experience. Several top street skaters brought their best tricks to the street feature set up on the sand, but it was Jordan Hoffart who stood out in the group to take the overall win. Throughout the 30-minute jam, he landed a tailslide kickflip to fakie on the hubba and a big spin heelflip boardslide on the rail. Garrett Hill was awarded the Best Trick title for his 360 flip to 5-0 on the hubba.
"At first I was nervous, because I haven't been skating a lot of stairs and rails lately, but everything went super well," said Hoffart. "This win was a big confidence boost for me. Now I'm just gunning for the Dew Tour stop in San Francisco. I can't wait."
Dew Tour Beach Championships – Final Results
Ocean City, Md.
June 20-23, 2013

BMX Park Final Results
1. Ryan Nyquist, San Jose, Calif., 92.50. 2. Drew Bezanson, Canada, 91.25. 3. Scotty Cranmer, Jackson, NJ, 90.75. 4. Andrew Buckworth, Australia, 90.50. 5. Daniel Sandoval, Corona, Calif., 89.50. 6. Daniel Dhers, Venezuela, 88.75. 7. Harry Main, Great Britain, 88.50. 8. Patrick Casey, Yorba Linda, Calif., 88.50. 9. Chad Kerley, San Diego, Calif., 87.00. 10. Kevin Peraza, Tucson, Ariz., 84.50.
Skate Bowl Final Results
1. Pedro Barros, Brazil, 89.62. 2. Bucky Lasek, Baltimore, Md., 87.62. 3. Kalani David, Oahu, Hawaii, 84.12. 4. Tom Schaar, Malibu, Calif., 80.25. 5. Kevin Kowalski, Portland, Ore., 70.75.