Ocean Pines Flounder Tournament This Saturday!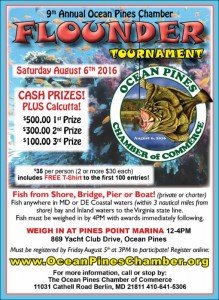 The Ocean Pines Chamber of Commerce kicks off its 9th Annual Flounder Tournament this Saturday, August 5th! The event is a perfect fit for anglers of all skill levels and is fun filled way to spend your Saturday with the family!
All fish must be caught in Maryland waters, Coastal Bays in and inshore waters to the Delaware and Virginia State lines. And all fish must be hooked within 3 nautical miles of shore. This also excludes the Chesapeake Bay. So fish from your dock, fish from the shore or fish from a bridge or a boat. The spot is up to you! Just be sure your fish meet all regulations for size and quantities (The 2016 recreational minimum size for summer flounder is 167 inches in all Maryland waters, and the daily limit of Flounder caught is 4). Lines can hit the water at 7 a.m. and must be out by 3 p.m. Top anglers will qualify for a number cash prizes:
CASH PRIZES!!!
$500 first prize
$300 second prize
$100 third prize
plus other prizes and Calcutta!
Registration is currently underway. The deadline to sign up is Friday, August 5th at 3:00pm. The entry fee is $35 per angler or $30 for groups of two or more…better yet, the first 150 registrants will receive a free t-shirt!
If fishing is not for you, but, you still want to be part of the fun. All weigh-ins for the tournament will take place at the Pines Point Marina between 12-4p.m.
For more information about the tournament or to register, visit the Ocean Pines Chamber Website at www.oceanpineschamber.org, stop by their offices at 11031 Cathell Road, or call 410-641-5306.
The post Ocean Pines Flounder Tournament This Saturday! appeared first on ShoreBread.