One Year After Fire, Waterman's Back With New Look, Many Changes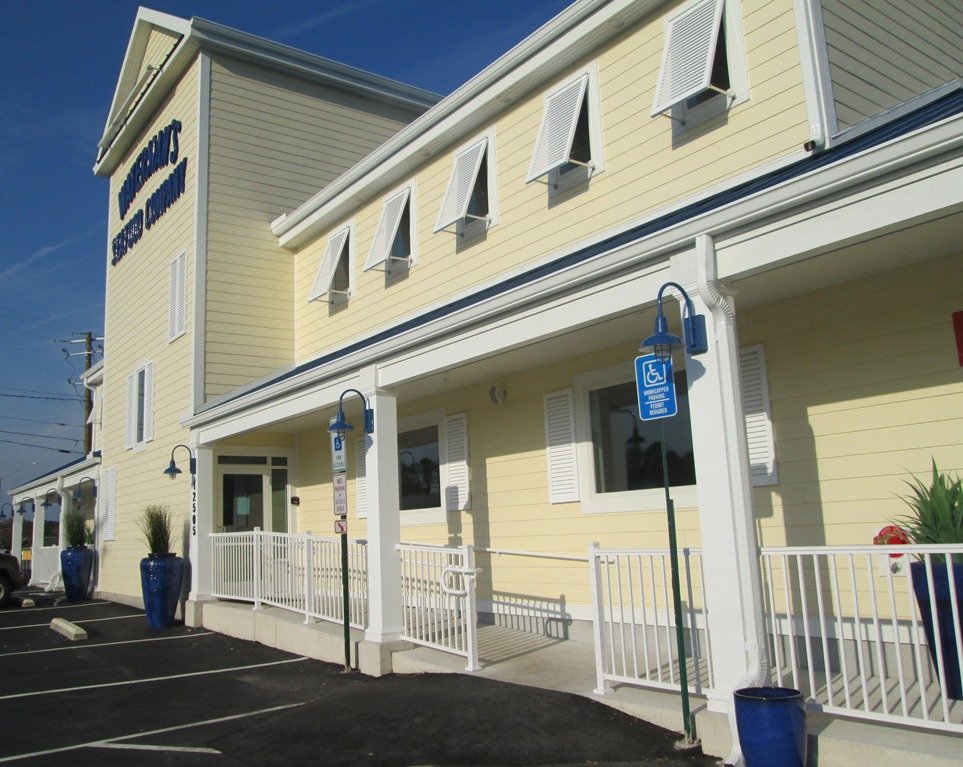 BERLIN — A West Ocean City staple since 1982, Waterman's Seafood Co. re-opened this month after a one-year hiatus for renovations following a fire back in October of 2012.
The physical look of Waterman's has undergone some dramatic changes during that time, including a much brighter and more modern interior and exterior, an expanded menu and a new banquet room.
The fire hit the restaurant hard, according to co-owner Jamy Davy, who bought into Waterman's in 2004. But despite having to be closed for a year to rebuild there was a silver lining since the damage resulted in the decision to modernize the entire operation.
"Oct. 5 of last year we had an electrical fire," Davy said. "It started out between it being a 30-year-old wooden building with the water and the smoke and the flame damage, the more we got into it the more we realized it was just time for an overhaul."
For decades, Waterman's had a distinct style. The exterior and interior featured a lot of wood, lighting was soft and all-you-can-eat crabs were a favorite. The new restaurant will keep the soul of the original, Davy promised, but looks and feels fresher.
"We came up with a design to try to modernize it so we could be here another 30 years. Rather than try to put it back together, we decided to take a step in a different direction a little bit," he said. "When you came in before, it was a lot more of a crab house feel. It had the wood everywhere, wooden tables and the old wood booths that had been here 30 years and of course all of that stuff got ruined."
Those wooden tables have been replaced with sleek stainless steel, the furniture has been upgraded and everything is more colorful and vivid. Seascape-inspired art lines the walls, which are much brighter and better lit than before. A new banquet room was installed on Waterman's second floor, which was previously only used for overflow seating.
"We renovated the upstairs and put in a banquet room so now we can do private parties," said Davy. "Most of the time the upstairs sat empty seven or eight months out of the year, so we wanted to utilize that space so we made sure we can do between 70 and 100 people up in a banquet room and rent that out for different events."
The upstairs sports bar has also seen some re-design with an outside entrance added to make coming and going easier.
From a culinary angle, the menu has been modernized a bit as well. Old favorites like all-you-can-eat crabs, steamed shrimp and fried chicken aren't going anywhere, but Waterman's will be focusing on new entrees and more steamed and boiled options for people who are looking for a healthier dining experience.
"People are about portion control and fresh food. That's just kind of the trend," Davy said. "So we're trying to do some more offerings."
There should be something at Waterman's now for returning life-long customers and those who have never visited before, he continued.
"We made the conscious effort to say, 'okay, what can we do to be more competitive?'" he said. "There are a lot of people doing a lot of stuff right and if you don't change and keep up with trends your clientele tends to go away."
It was tough to give up on an entire year of business during renovations, admitted Davy, but in the long-term should be worth it. Waterman's has been updated in a big way and is now ready for the next 30 years of customers. Davy believes it's coming at a good time, with West Ocean City becoming "its own little entity" outside of Ocean City's shadow.
As the community continues to evolve, Davy is confident that the newly renovated Waterman's will carry on as a popular seafood destination in West Ocean City. Between the carry-out seafood market, sports bar, restaurant and new banquet room, he's predicting a busy first year back that will be highlighted on Friday, Nov. 1 with a ribbon cutting and grand opening ceremony organized by the Greater Ocean City Chamber of Commerce.